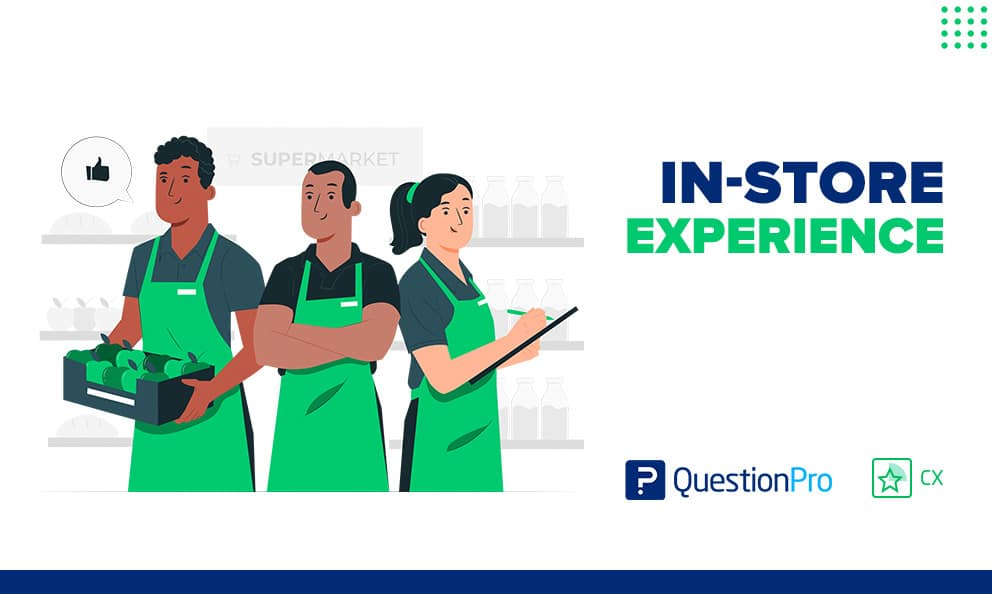 The in-store experience is the set of all the perceptions that customers receive while going through the process of buying a product or service, and even what they feel after closing the transaction.
As you can see, the focus is completely related to feelings, emotions and sensations.
Taking care of this strategy, without a doubt, can help you change your focus from "I want you to buy from me" to "I want to understand you to advise you better on what to purchase".
By creating a memorable in-store experience for your customers, you are considerably nearer to closing your next sale.
The question that begs to be asked is how to design an unforgettable, authentic and effective in-store experience to make your customers fall in love with your brand?
Read on to find out!
Why In-Store Experience is key to business success?
Well, before we get started we want to take a moment to make it clear why the in-store experience is crucial for businesses (and why it should be for you too).
Taking into account that the concept is not something new and is not limited to the digital environment, the in-store experience is a trigger for the consumption decision of current and potential customers.
In fact, 86% of shoppers are willing to pay more for a great customer experience. Sounds great, don't you think?
Indeed, the change in consumer behavior indicates that they no longer base their loyalty on the price or the product, rather they do it based on the experience they receive, being the main differentiator of a brand. In other words, if you manage to keep your potential buyer happy during their customer journey, you're off to a great start!
Thus, the in-store experience is crucial to creating loyalty towards your brand, generating brand awareness, make your customers like you, and conquering their word-of-mouth recommendations.
If you like reading about how to improve the in-store experience, you might find it interesting learning about Customer journey vs Customer experience.
Benefits of improving In-Store Experience
Implementing initiatives to offer an in-store experience can bring you great quantitative and qualitative benefits. 
Below we share some so that you can begin to consider it as part of your customer satisfaction program.
Loyalty and trust:

By focusing on the right initiatives, customers will feel committed and involved with your brand community, either because they identify with your values ​​or simply because you gave them a great time, connecting with your customers from the customer side. experiences build a solid bond.

Higher sales:

It is no surprise that standing out and being remembered is one of the main reasons why a consumer becomes a frequent and loyal customer, this can undoubtedly have a positive impact on your commercial numbers.

Brand reinforcement:

Relating your brand with activities and actions can be a great way to make your customers remember you and associate them with something positive. There are various experiences that you can carry out within your establishments or digitally to achieve this.

Word of mouth:

A great in-store experience will always give you something to talk about, and there is no better promotion than those your customers can give you. Creating great experiences will not only build loyalty but will make them invite more people to live that experience.
If you like reading about how to improve the in-store experience, you might find it interesting learning about the benefits of using a customer journey in your cx strategy.
Elements of an In-Store Experience
Now, what should you take into account when designing your customer in-store experience? Both for offline and online channels, we can use these five pillars that will guide your strategic actions. We will detail them one by one.
Ambient
The first element of the shopping experience is the atmosphere. This refers to all the decorative and visual aspects that are present in your store or e-commerce.
In physical stores, it goes from the color of the walls, the lighting, the posters, and the music.
In virtual stores are the colors of the page, the design and the size of the images of the catalog or the location of the purchase buttons.
Service
The second element is service.
It is all about generating a relationship of trust between you (the seller) and the client – focusing on a single purchase, but on building a long-term relationship.
Of course, in stores you should take into account how your frontline employees express themselves and if they are correctly advising your clients, while in the digital world you should observe variables that are related to user experience (UX):
The mobile experience,

the functioning of the payment mechanisms,

provision of a virtual advisor,

page load speed,

the ease of finding the products,

the content of the description of each offer,

among others.
Check out how to build your own Customer Journey Map.
Transparency
Contemporary buyers are increasingly aware of purchasing decisions and use the Internet to access information about your company or product before purchasing it.
In this sense, reviews made by experts on YouTube, comments on your website or user posts on social networks are some of their sources of information.
Therefore, it is crucial to be transparent and honest with the expectations that customers should have regarding your product and, once it is sold, to fulfill your promise of value.
Flexibility of options
Maintaining a wide and varied catalog of products and services goes hand in hand with the psychology of personalization. This is crucial to offer a satisfying in-store experience.
Think of it this way: When you walk into a clothing store, you want to see different types of fabrics, cuts, colors, and sizes. We want to feel different! The same is true in any type of business.
Personalizing your proposal will empower your clients, making them feel that you are speaking directly to them, that the product is tailor-made for them and that they are the ones who have the final decision in their hands.
Something that can work very well in this regard is to use recommendation tools so that customers feel that you know how to identify their preferences.
Communication
Keeping communication with your customers close on all your channels (offline, social networks, website, email) is one of the challenges and the most relevant actions to take care of the in-store experience.
In this sense, interactivity becomes incredibly relevant, especially for e-commerce.
When buying online, the consumer cannot touch or feel the product, so you must make the user feel the product and perceive that on the other side of the screen there are people working to satisfy their needs.
Enhance your company's digital customer experience by using in-store surveys. 
5 ways to improve In-Store Experience
The first step is to study your customer. Knowing and understanding their needs, their expectations from your store, their purchasing budget, and the time of purchase… will provide clues for you to offer just what they're looking for and close the sale.
It is also important to investigate how they reached your physical store. What were the key touchpoints throughout the customer journey map? It may be because of a recommendation, because the shop window caught their attention, because of the spaciousness and style of the store, because they discovered you through the internet because the store is on their way to work…
If you like reading about how to improve the in-store experience, you might find it interesting to learn about how to create a Customer Journey Map.
With this data in hand, now you're ready to design an in-store customer experience that differentiates you from the competition, providing:
1. Personalization
As a customer, you value when you enter a shop the staff employees not only recognize you -although you don't buy from them very regularly- but also know how to advise you according to your tastes and needs.
This generates closeness and personalization that translates into customer engagement and of course more sales and an increase in customer loyalty.
Personalization is at the fingertips of small businesses and online stores. It's within the reach of any business, really.
In premises with several vendors, using tech is a great way to achieve this, allowing you to consult the customer's latest purchases in situ and suggest new trends adapted to their needs. And also, when possible, assign a specific vendor to each client.
Another aspect of personalization is the design of the physical space, which must be unique. Entering your store has to be a different experience than entering other competitors' stores.
2. Immersion
The physical shopping experience must be immersive, managing to fully introduce the customer to your store.
The objective is that they go through the entire space, thanks to a good layout design, touch and try products, let themselves be carried away by music or smells, buy the accessories of what they were looking for…
The colors and materials must be aligned with the type of product. All the details count, but they should focus on the design of the premises and furniture, as well as the setting.
3. Accessibility
In addition to having a design store, it is important to work with what is not seen. For instance, that the store is accessible, the right air conditioning, the right lighting to highlight the products…
Visualizing and designing the in-store customer's journey, from the entrance to the checkout, and eliminating unnecessary obstacles, is essential at this point.
4. Coherence
If you have several stores, the shopping experience must be similar and recognizable in all of them.
Above all franchises work on this point with special attention. No matter in which geographical location, the customer must know and feel that they are in a brand store.
This is achieved by promoting branding, especially with the use of corporate colors, and with a furniture design common to all spaces.
5. Community
The final way to improve the customer experience is to create a community or movement that is bigger than your business or brand. Customers want to interact with businesses that support a cause, promote a way of life, or offer a special community that they can be a part of.
When your customers are part of a community, they don't just buy products from you, they become part of something bigger. Something more significant.
Do you want to start improving your in-store experience? start by defining your customer journey, here you will find a completely free template:
Download Customer Journey Canvas
4 Metrics to Evaluate the In-store Experience of your Customers
Remember there's a fine line between offering a great customer experience to thinking you are providing a good customer experience. If you want to make sure your in-store experience is paying results, it's imperative to run evaluations and focus on specific key performance indicators (KPIs). To that end, here are some metrics that you should take into account to understand how effective the in-store experience is and learn how you could optimize your strategies to generate a higher return on investment (ROI).
After all, metrics are the compass to understand where you are going and where to direct your actions. Check them out: 
1. Feedback Review
One of the characteristics of today's consumers is that they are always sharing their experiences regarding what they buy and consume.
Reviewing their feedback on your product page, social media, and review websites will help you learn what your strengths are and where you can improve your online reputation.
2. Net Promoter Score
The NPS measures the satisfaction of your customers. It's about directly asking your customers how likely they are to recommend your services on a scale of 1 to 10. This can be accompanied by open questions to identify more insights that help you outline your strategy.
With QuestionPro CX exclusive NPS+ question you get to know your customer score, uncover the reason behind that score and provide feedback.
3. Conversion Rate
The conversion rate is, in short, one of the main metrics of Digital Marketing. This reflects the percentage of users who perform a specific action, be it subscribe, register, reserve or buy.
Following this metric after implementing an A/B test will allow you to see how effective the action was in terms of the purchase experience.
4. Churn Rate
Another important metric to evaluate the in-store experience is customer churn. This is the cancellation rate recorded in your customer base.
In SaaS businesses, this is reflected in the cancellation of subscription plans, for example. Evaluating churn allows you to understand the causes of churn and plan strategies for retention.
QuestionPro CX provides a feature called closed-loop feedback ticketing system to reduce and predict the churn rate and eventually convert your detractors into promoters.
Conclusion
The in-store experience is decisive in being successful in your sales, you need to make the purchasing experience special for all your customers.
And this starts by putting yourself in the shoes of your customers, and understanding their needs and buying motivations beyond wanting to only meet your sales objectives. We all want that, the question is how we get there. This is where the quality of the in-store experience comes into play.
Now you know everything you need to start implementing strategies and improve the experience you offer to your customers. The use of the appropriate tool and constant monitoring is a key part of the success of this type of initiative. Platforms like QuestionPro CX will allow you to measure the level of satisfaction of your consumers, collect their feedback and identify areas for improvement with our multiple features. Start your free trial today!
Remember that with QuestionPro you can easily apply the aforementioned strategies, from the implementation of satisfaction surveys to obtaining real-time data for immediate action through the QuestionPro CX customer experience management platform.
If you would like to learn about this tool, we invite you to request a free demo or create a free account to take advantage of everything we have for you.