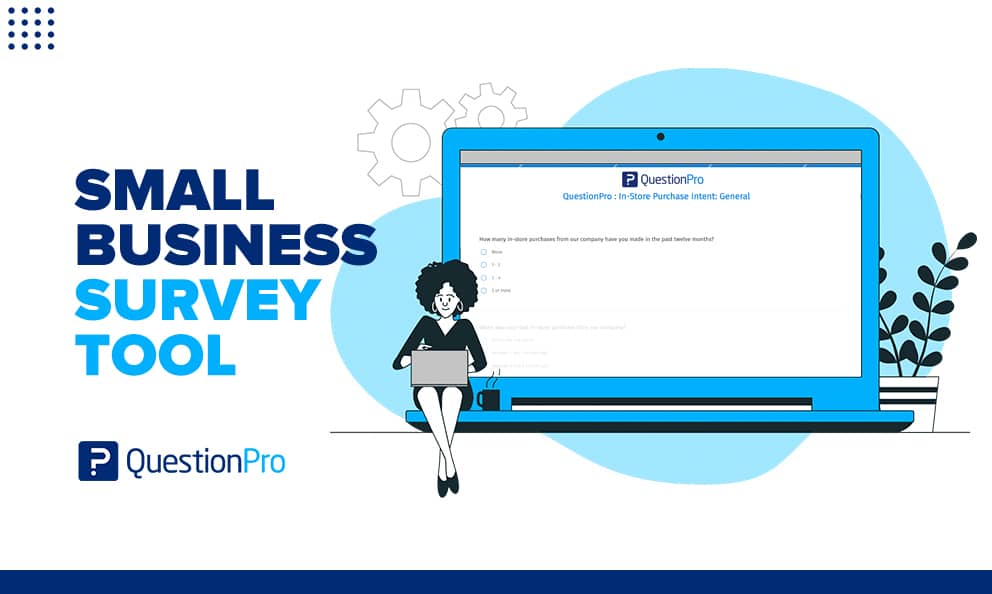 Are you looking for a small business survey tool? Have you gone through many options but haven't found the right fit?
Well, your search ends here. We'll help you today with the top 5 small business survey tools that will meet your needs as well as suit your pocket.
Small businesses need tools that are at the intersection of affordability and effectiveness. However, a vast majority of the applications are on either side of the spectrum.
Before we discuss the best small business survey tool and the parameters that qualify it, first let's talk about what defines a survey tool for small businesses.
What is a small business survey tool?
A small business survey tool is survey software that is perfect for small-scale businesses, typically with a team size of 100-200 people and collects data for quantitative and qualitative analysis.
It is used to gain insights into the audience's experiences, feedback, or opinions. This audience can vary depending on the type of survey. They can be existing customers, potential customers, or employees.
Characteristics of a small business survey tool
These tools may not require to do advanced market research like price sensitivity studies, conjoint analysis, maxdiff analysis, etc. Some of the typical expectations from survey software for small businesses are the ability to create a questionnaire, import lists, distribute surveys, and create reports. They must also be able to integrate with third-party apps like CRMs and database management systems.
Apart from the above features, a small business survey tool must be able to share the surveys, data and reports with the team and stakeholders. As most organizations stay connected with their customers on social media, it's great to be able to distribute surveys on social media.
One of the most important needs of survey creators is that they want to brand the survey. It makes them look more professional and increases the response rate. Hence, their survey software should allow them to add a logo, customize the header, footer and fonts, and import their own styling sheet.
Top 5 Small Business Survey Tools
If you're a small business owner or beginner-level market researcher, it can be daunting to find the perfect survey software to collect data. However, with the right small business survey tool, you can create custom surveys and analyze data easily.
We analyzed a number of online survey software and compared their performance to find the top 5 small business survey tools. Some of the parameters used in our analysis are:
Features

Free resources

Learning curve

Stability

Customization 

Integration capabilities

Security and compliance

Support

Pricing
You can use the below tools to create your next customer satisfaction survey or employee feedback form.
Tool #5 – Google forms
Google Forms is widely used by beginners who want to create a simple form to collect data. It is easy to use but cannot be used as a full-fledged survey software. Though it offers a very clean UI and good performance, it is quite pricey for small businesses. They offer limited customization and free resources like ready-made survey templates for newbies and small-business owners.
Tool #4 – SurveyMonkey
SurveyMonkey is one of the very popular online survey tools. Small businesses can use this software to collect data and gain insights. However, they offer limited integration capabilities with commonly used business applications like CRMs, marketing automation, and data visualization tools in their free and basic premium packages.
Tool #3 – TypeForm
TypeForm is an online survey software used to create quizzes, polls, and feedback forms. You can use this tool to create a simple survey. However, it does not offer too many free resources like how-to blogs, ready-made templates, etc. Hence, there is a steep learning curve required for this tool.
Tool #2 – Zoho
Zoho is another alternative tool to collect data with surveys. It has many features and is easy to learn and integrate with various third-party tools. However, based on our research and the customer reviews on G2, it works well if you want to calculate NPS score and generate reports.
Most small businesses focus on scaling up. NPS comes in handy when you have a large customer base and are focusing on reducing churn. Also, the existing users find it difficult to navigate through the tool while building the survey.
Tool #1 – QuestionPro
QuestionPro is online survey software that offers 80+ features for free with its Essentials license. It's free for a lifetime and doesn't require a credit card. With an Essentials account, you can not only conduct a survey but also customize the look and feel of the questionnaire.
Add logo, header, and footer, customize fonts, and do a lot more to create a branded survey. You can also customize the flow of your survey with 10+ logic types to ask the most relevant questions to your respondents.
A customized survey helps small businesses create a brand for themselves and keeps a communication channel open with their customers. You can select from a wide range of in-built themes or upload your custom styling sheet. 
QuestionPro offers tons of free learning resources as well as ready-made templates which you can access within your account. You can contact the support team via chat, email, or phone 24*7. QuestionPro complies with the major data protection and privacy laws like GDPR, CCPA, HIPAA and is an ISO:27001 certified survey tool for small businesses.
With stable performance and strong integration capabilities with over 20+ applications, QuestionPro makes the best small business survey tool.
How to plan a survey for a small business
A well-planned survey project can help gain the insights you need to make better decisions. You can use the data to reduce customer churn, create sales and marketing strategies, or create a product roadmap.
Follow these simple steps to plan a survey for your small business.
Identify your audience: Find out the right pool of people who fit the demographic needs of your survey. Choose a sample audience based on your target market and

survey goals

.

Create a questionnaire: This is the simplest step, yet the toughest! You need some time to think through how to phrase the questions correctly so that you don't ask the wrong questions, or collect data that doesn't make sense. Then all you need to do is simply drag and drop the question types in your survey software.
Brand your survey: Give a custom look and feel to reflect the brand voice and style to your survey. You can also a

customized thank-you page

to leave respondents with a good lasting impression.

Import contacts: Import lists from excel or CSV files in your survey software or add them manually. You can create

different types of survey invitation emails

in various languages and save them as templates.

Distribute survey: Send your survey through an email, mobile app, website, social media, or QR code. Choose a platform where your respondents are most likely to answer and will have fewer distractions.
Generate reports: Create reports and dashboards that give you an idea of your survey's performance. Identify trends and data points that bring out the pulse of your audience. Share the report url with the stakeholders and let them know the survey results.
Gain insights: Finally, it's time to analyze data after generating the report. Use the survey data to improve your business outcomes and plan for the future.
Conclusion
So, while there are many tools in the market, choosing the best one depends on your requirements. The best way out is to create a free account. Try different features and evaluate your experience. You can also go for a free trial account of paid plans. 
QuestionPro is trusted by the world's leading brands like Thales, Energizer, American Cancer Society, BMW, and many more. Get in touch with us at sales@questionpro.com if you need any help figuring out how to use surveys in your small business.