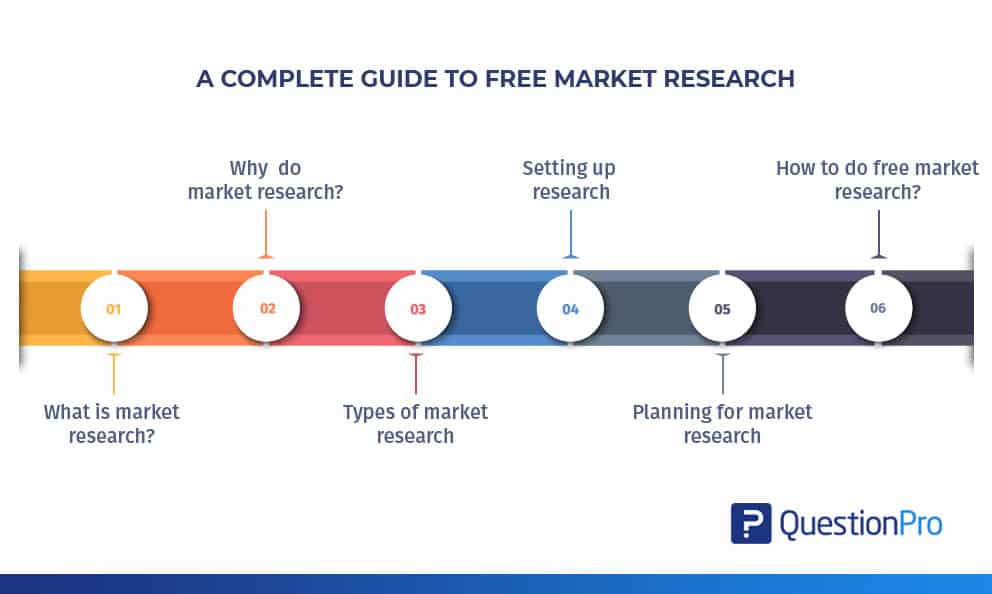 Wouldn't it be nice to know what the majority of your customers are thinking exactly? And what if you get it all free? You'd know what features to add to your next product or service and how much to charge. While there's no way to know the thoughts of every customer or potential customer, you can use free market research to help you discover what the majority are thinking. 
This guide will walk you through the market research definition, research survey setup, and how to do free market research and analyze the data.
Read on to get the information you need for a successful research survey. 
An overview of market research
Before you can conduct a survey or collect responses from your target audience, you should understand the purpose of your research. In general, research is the process of studying a particular problem or concern using scientific methods. 
What is market research?
The market research definition goes beyond general research to specifically study problems or concerns around a brand's market. It includes analyzing the reputation of competitors, previewing new products with customers, and learning more about the spending habits of customers.
Market exploration includes two types of data:
Primary information:

Data that you collect directly through a

market research survey

.

Secondary information:

This is data collected by third-parties, including trade groups and reports from government organizations.
Your primary information will either be exploratory or specific, depending on the goals of your study. Exploratory research asks open-ended questions to a small group of respondents to get a general idea of potential problems you need to address. Secondary research seeks to find solutions to individual issues that have already been identified, often from primary market research. 
Why should you do market research?
Understanding the needs of your customers is the best way to increase your sales. If you can create a service or product they need, at a price they're happy to spend, you set your brand apart from competitors.   
Market research allows you to reach out to customers and discover their needs directly from the source. Use research to help your business:
Understand gaps in the market to help you develop new products to meet an unfulfilled need.

Get a better idea of what features and upgrades customers want on your current product offering.

Estimate the inventory needs of a particular demographic in your market. With accurate demand forecast methods in place, you won't overproduce or underproduce a product.

Learn how your customers feel about your competitors – and how you can use these opinions to tweak your strategy and stay ahead of the competition.

 
Types of market research
Your business can collect primary information in a variety of ways using surveys and questionnaires. You may need to use several research methods to get all of the information you need for actionable insights into your brand's market.
These methods could include focus groups to interview small groups of customers, one-on-one depth interviews with customers, or online surveys to question a broader audience.
No matter what particular method you use for your research, there are two types of research questions:
Qualitative research:

Qualitative research

aims to get an idea of the general opinions of your audience. It seeks to understand how someone feels and why they feel that way. Most qualitative research involves open-ended questions and smaller sample sizes to get a basic understanding of customer opinion.

Quantitative research:

Quantitative research

focuses on the collection of structured data. It's more scientific than qualitative research and uses numerical or statistical facts to conclude. The data from quantitative research can be easily analyzed and developed into actions to improve your business.
A good research study uses both qualitative and quantitative research to determine the overall feel of customers and gain statistics on how those feelings shape their purchases. 
Setting up a successful research
To get the most out of your free market research study, you need to plan ahead of time. By taking the time to set up your research correctly, you'll get higher response rates and accurate insights that allow you to take your business to the next level. 
Planning for market research
Before you send your first free survey or gather your first focus group, you should prepare the most important aspects of your research. Known as a market research plan in simple terms, this is your overall guide to defining the purpose and steps of your research.
A good market research plan helps you and other stakeholders in your business stay focused on the goals and objectives of your current research efforts. To create your research plan, follow these steps:
Set goals for the research. In this planning stage, the goals can be vague so that they're flexible. For example, "increase product sales" instead of "sell 500 more units."

Create objectives for your research. Similar to your goals, your objectives can be vague as you plan for research. For the example above, you could use "find out who our ideal customer is" or "define the largest and smallest customer demographic groups."

Determine every way you can distribute your

research survey

, such as

email surveys

or

sharing on social media

.

Start thinking of potential questions. In the planning phase, just brainstorm as many questions as you can that could potentially help reach your goal and objectives. You'll narrow down to specific questions when you create your survey.

Categorize questions by distribution channel. For example, you might have questions that make more sense for an audience on social media rather than an

SMS survey

.
This plan will help you be in the right mindset when you're ready to create your first survey and start gathering information from customers. 
Things to consider before starting your research
There are a few more things to consider after you create your free market research plan, and before you start surveying customers. To get reliable, actionable data from your respondents, remember to:
Define what you hope to gain from the individual study.

Learn about your target audience, so you're connecting with the right customers.

Know who's

not

part of your target audience so you can avoid targeting them.

Take a look at the competition to see what they do right and wrong, then compare it with your business.

Get accurate and honest feedback from customers by asking questions that encourage them to tell you if they have an issue so you can fix it.

     
How to do free market research using a survey
You've finally got the knowledge you need to understand market research and how to create a good questionnaire. It's time to put your new skills to work and create your first survey.
These steps will help you learn how to do free market research.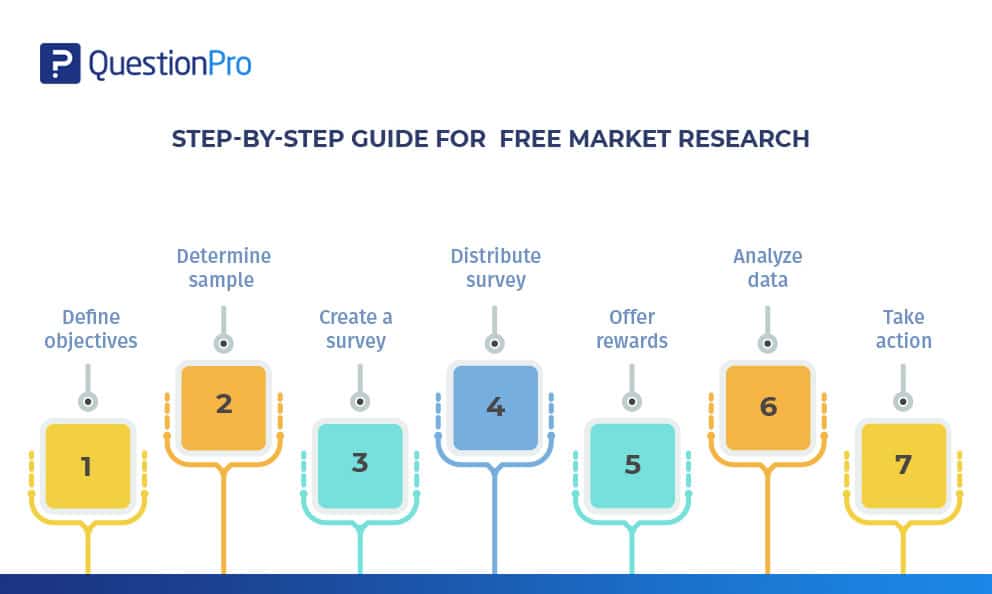 Define your objectives and audience
Before you input a single question, you need to know what you hope to discover from this free survey. Set your marketing research goal by defining a problem faced by you or your customers. The easiest way to determine your research objective is to ask, "Why are we doing this research?" "Who is our target market?", etc
This question also helps you define the audience for your survey. If you're hoping to learn about the movie-going habits of young adults, you shouldn't survey the elderly. 
Determine sample size
The sample size of your survey allows you to get a more or less accurate idea of the opinions of your audience. The larger sample size is usually better for accuracy, so long as you're surveying the right people. Asking 10,000 doctors questions about being lawyers probably won't help you much.
On the other hand, you can still get accurate results with a smaller sample by narrowing down your audience to accurately reflect the population. For example, you might want to know more about the energy drinks your customers consume regularly but can only survey 100 people. Make sure each person on your list fits into your desired demographic to help get the most accurate results. 
Create your free survey
Use the skills you learned in designing an effective survey to create yours. You can use a powerful survey creation platform to help you conduct free market research. If you're having a difficult time creating your questionnaire from scratch, consider using a market research survey template to get started. 
Distribute your survey
Go back to your market research plan and decide which channels make the most sense for your research. For example, assume you're surveying people about their use of mobile phones. An SMS survey or offline survey using a mobile app might be the best channel.
You can use multiple distribution channels to reach more of your audience. It's common for people to respond better to different options to take a survey. Even within a targeted audience, you might have someone who prefers an email survey or one who enjoys social media surveys. 
Increasing response rates
Consider offering incentives to increase your survey participation. You could offer an entry into a prize drawing or a discount coupon for those who complete the survey.
If you're on a budget crunch, survey incentives can even include the results of the completed survey. You might be surprised to see how many people are genuinely curious about how their preferences stack up against those of their peers.
In addition to incentives, many people are more willing to answer a survey if they feel special. Make sure to let your respondents know how you will use the data to help them ultimately. If you're surveying to improve your software offering, tell respondents you want to design the new products to meet their needs. 
Analyze your data
When you use a survey software platform, your market research results are sent directly to your dashboard. While it's tempting to get started as soon as the first result of free research comes in, it's best to wait to analyze the data until all responses are received.
Once you close the survey, you can take advantage of analytical reports on your data. Use your data analysis tools to get a better understanding of your responses. Many online survey platforms give you the tools you need to put together a robust report so you can make decisions based on your data.
Use the market research tools available to create reports with visual elements like graphs and charts. They make the data easier to read. Suppose you have a real estate company, then you are able to analyze your real estate market analysis through this process.  You should be able to export your report to share it with decision-makers and stakeholders in the company. 
Take action to improve your business
The purpose of market research is to understand your customers' needs so you can make changes to meet those needs. The final step to conduct free market research is to use your data and analysis to create a plan of action to improve your business, products, and meet customer demands. 
Using surveys for free market research
Online surveys offer one of the most powerful and flexible options to conduct your market research. They're readily available and cost-effective. Also, the online survey software allows you to reach your audience almost anywhere via text, email, websites, or social media.
In this section, we'll take a look at how to create an effective survey using customized design and questions that encourage responses. 
Use effective survey design
Your survey needs to be easy to follow and complete. If the questionnaire is hard to read, too long, or confusing, your response rate will decrease. A good survey layout and design should include:
Consistency and flow:

Help guide your respondents through your survey naturally by using a consistent design and a question order that flows. Think of your survey as a conversation, with general questions at the beginning and diving deeper as you go on. The exception to this is personal demographic questions, such as household income, which can be off-putting at the beginning of a survey.

Define terms:

You should always try to avoid industry jargon in your questionnaire. If you do have to use an industry term, be sure to define it clearly at the beginning of the survey to make respondents feel more comfortable. Even without jargon, it's often a good idea to explain what any terms mean. For example, you could say, "For this survey, the term 'phone' refers to any mobile or cellular telephone."

Start with industry before narrowing to brand:

Ask questions about your industry in general before asking about your brand or how you compare to other brands.

Consider avoiding branding:

A

customized survey

is a great way to promote brand awareness when surveying customers. However, custom branded surveys don't always make sense in market research. You want the honest, unbiased opinions of your potential customers, so it's often better to avoid branding the survey.

Keep it short:

Or rather, keep it as short as possible. It's easy to make free market research surveys too long. It's tempting to ask a lot of questions when you have direct access to the thoughts of your customers. A questionnaire that's too long, however, leaves respondents feeling drained and can lower your response rate as people drop out.

 
Tips for writing effective questions
Your survey design is only one part of an effective survey. The questions are the most important aspect of your survey. If respondents have to spend too much time understanding them, they will quit your survey. Thus, all efforts will go in vain if they aren't simple enough and easy to understand.
Increase your response rates by writing effective questions with these tips:
Include everyone:

Make sure your questions have options for people who don't fit the specified range. For example, if you have a question about brands of coffee, include an option for those who don't drink it.

Randomize answers:

The order of your answer options can influence responses. Randomize the display of answers to avoid order bias.

Keep questions simple:

Avoid compounded questions that ask multiple questions in one. Stick to one topic per question, and consider splitting more complex text into various parts.
Balance your range: Market research studies almost always feature questions with answers ranging from positive to negative. Make sure these questions have equal amounts of positive and negative options. For example, you ask the question, "How satisfied are you with the product?" Your answers should include very positive, positive, neutral, negative, and very negative response options. 
QuestionPro – The ideal choice for free market research
QuestionPro offers 88+ essential survey features for free – much more than any other survey software. Some of our exclusive free features are:
Free forever – no credit card required:
You do not need a credit card to use essential functionalities. Also, the basic features are free for a lifetime. Market researchers can use them to collect new ideas, test new concepts, and learn more about consumer choices. Students and academic institutions can use this wide range of features for free market research.
25+ question types:
QuestionPro offers more than 50 basic and advanced question types designed to meet the requirements of market researchers. They can be used to conduct all surveys aimed at collecting feedback, opinions, and experiences. Out of these, 25 question types are absolutely free, more than any other online survey software.
Google sheets integration:
This is the only survey platform to offer an integration with Google sheets for free. We know many students and professionals widely use Google sheets. QuestionPro assists such users with smooth integration of our survey software with Google sheets. It helps them to analyze the results of free market research across many other applications.
If you need any help with surveys and free market research, get in touch with us. We'd be happy to help you.