Creating a free poll
If you wish to know what someone's thinking – it doesn't hurt to ask!
The poll – is a powerful tool political researchers & organizations use to deduce the opinion of a large scale audience. A well-known example of polling is the election and pre-election poll. However, polling is not just limited to politics. Look online and you'll find everyday examples of polls on social media.
In the modern age, researchers & brands are able to pose questions online using a poll maker, to gather insights & predict the action of consumers.
In this article, we will take a closer look at what is a poll maker and how researchers use it to leverage their research methodology.
What is a poll: definition and uses
Definition: A Poll can be defined as an organized inquiry that aims to uncover the attitude or opinion of a cross-section of the population – to extrapolate insights into the behavior and beliefs of a larger audience.
Polls have long been part of American history, the first known poll being conducted in 1824. The earliest known form of polling was conducted by newspapers and newsletters tracking the U.S elections.
By the turn of the 20th-century, the merits of science and sociology were beginning to capture the collective minds of the government. Social statistics started to take precedence in planning done by administrative bodies and politicians. Manufacturers also began to comprehend the benefits of market research and this greatly increased the popularity of polls and public surveys.
The first public opinion agency was founded in 1936 by John Gallup. It was known as the American Institute of Public Opinion.
Uses of polls
From the definition of a poll, we can gather that it is useful in determining/predicting:
The opinion of the masses

The wants of the masses

The way the masses will behave
Polls play an important role in politics as well as market research.
Use of polls in politics: In politics, voting polls are conducted at different stages of the election or the candidacy of a politician to analyze public opinion and predict the result of the election.
These days, social scientists are leveraging the power of the internet to create and conduct election polls. Social media and email are just some of the examples of mediums that researchers use to conduct polls for political purposes. Polls contribute to the demand for data from online research organizations in the sector of political campaigning and government administration.
Use of polls in market research: In the last five years, growing business expenditure has increased the capital that businesses are channeling towards advertising and market research. This has greatly increased the popularity of public opinion polling in research methodology.
In market research, polls are used to gather data that can be processed to gain insight into consumer behavior, values, and opinions. Public opinion polling is also used by NGOs, economists, and activists to gather data about social issues and to measure the public's attitude towards issues.
Read more: Poll vs Survey
Free online poll maker
A Poll Maker is an online software that lets researchers create and customize online polls, and export them to various communication channels – such as embedded on websites or social media. Poll software is easy to use, and offers analytic tools to get real-time reports and data as the poll progresses.
QuestionPro offers a centralized poll creation portal that's free to use and accessible for large and small businesses. Sign up for free!
Creating an online poll: Samples and types
Using an online poll maker, researchers can create stunning polls in minutes. However, in order to derive accurate results from a poll, researchers must factor-in the type of sampling that will work best.
Poll samples: Probability and Non-probability sampling
Researchers must carefully choose their audience sample when conducting polls. The type of sampling that a pollster incorporates into his/her poll, influences the accuracy of the outcome.
Broadly speaking, there are two types of sampling methodology used for polls:
Probability Sampling

Non-probability Sampling
Probability Sampling is done using utilizing random lead generation. Researchers can further manipulate the sampling by incorporating stratification of the sample to represent the overall population and its sub-groups, for a more accurate poll. As a rule of thumb, the larger the sample – the smaller the sampling error.
Example: Random Digit Dialling (RDD) is the best example of probability sampling. In this method, phone numbers are selected at random and respondents are dialed to participate in the poll.
Learn more: Everything you need to know about probability sampling.
Non-probability Sampling is carried out without a random sample generation.  One example of non-probability sampling is to have a purposive group that is part of a pre-defined community or focus group. Participants can opt-in to be part of a poll or the researcher can request an audience depending on the purpose of the poll.
Example: The community type audience or focus group is an example of non-probability sampling. Participants can be selected based on what sub-group within the population they belong to, and can be evaluated to see if they fit the purpose of the poll.
Learn more: Everything you need to know about non-probability sampling.
With QuestionPro – getting an audience to participate in your market research focus group is easier than ever before. Sign up here, it's free!
Types of polls and their functions
Let's take a closer look at various polls that researchers use and their specific functions.
Opinion Poll: An opinion poll has one pre-defined purpose – to understand the opinion of a cross section of the population on a specific subject.
The function of the opinion poll is to predict the preference of a large audience by posing a question to a smaller sample of the population. The data collected from an opinion poll is used to infer the opinion or action of the actual audience, after factoring the error margin and confidence intervals.
Benchmark Poll: The benchmark poll is a preliminary poll that helps evaluate the audience and the political climate. Simply put, the benchmark poll helps researchers understand the 'lay of the land'.
Benchmark polls are conducted before a product is announced (in marketing) or before a politician announces his candidacy for an election. The purpose of the benchmark poll is to infer the political environment (or market) that a subject is going to be introduced to, beforehand.
Bushfire Poll: A bushfire poll is conducted soon after a campaign or candidate is launched within the general public. It is conducted after the benchmark poll and the subject has had time to sufficiently communicate his/her message to the public. A bushfire poll has three main objectives:
To measure the effectiveness and popularity of a message or candidacy

To evaluate the competition by comparing a subject with its rivals

It gives an organization an idea of how much it must spend to promote itself
Tracking Poll: It aims to measure and calculate the performance of a campaign along a linear timeline. A tracking poll is conducted after fixed intervals and asks a select demographic about the status of their opinion as a campaign progresses.
Entrance Poll: In politics, it is a poll that voters participate in before entering the voting booth. It offers a researcher data about who a voter will cast his/her vote for. Historically, entrance polls have a lower margin of error and are the final poll before voters cast their ballot.
Exit Poll: Contrary to an entrance poll, an exit poll is taken immediately after the voter leaves the election booth. Exit polls give researchers an idea of who their sampling has voted for and gauges the actual success of a campaign.
Push Poll: A Push poll is a marketing tool meant to influence an audience's opinion about a business. A push poll takes on the approach of informing an audience about a business by using strategically crafted questions that influence the respondent in a positive manner.
Creating a poll using QuestionPro's free poll maker
QuestionPro is an all-in-one survey software, researchers can use to create interactive and customizable online polls, that can be embedded on websites – or shared individually.
QuestionPro lets you create polls efficiently with just a few easy steps. As a comprehensive cloud-based survey making software, QuestionPro lets you drag-and-drop questions and elements to create a completely customizable poll/survey with live reporting and powerful analytics tools.
Steps to create a free and customizable poll:
There are 12 steps to create a free online poll.
Step 1. Create a free account in 30 seconds and Log in.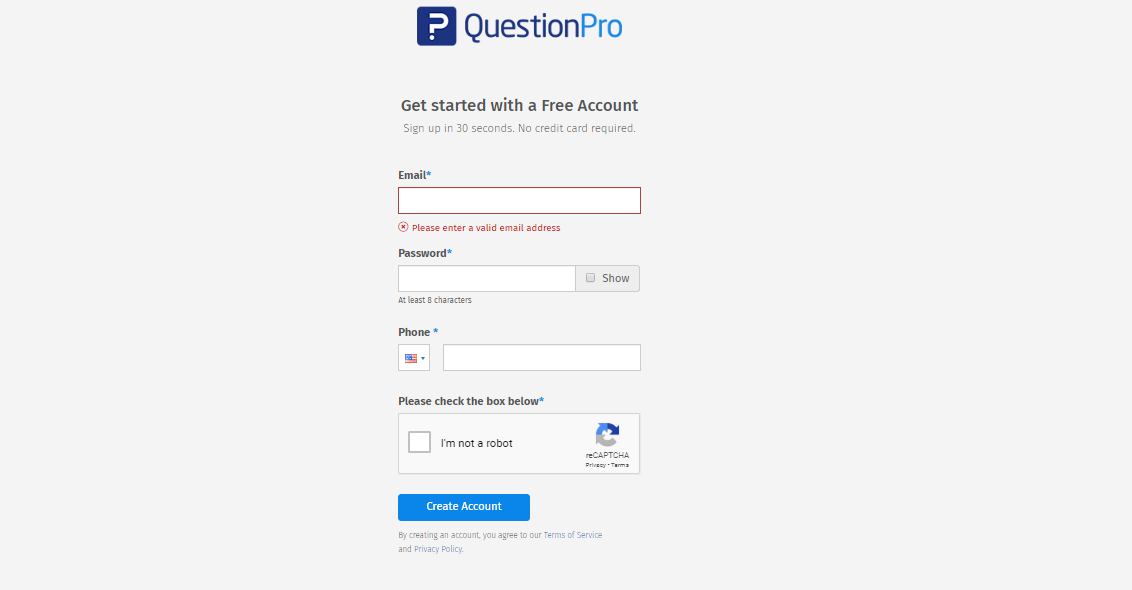 Step 2. In the menu bar on the top left corner – select Polls.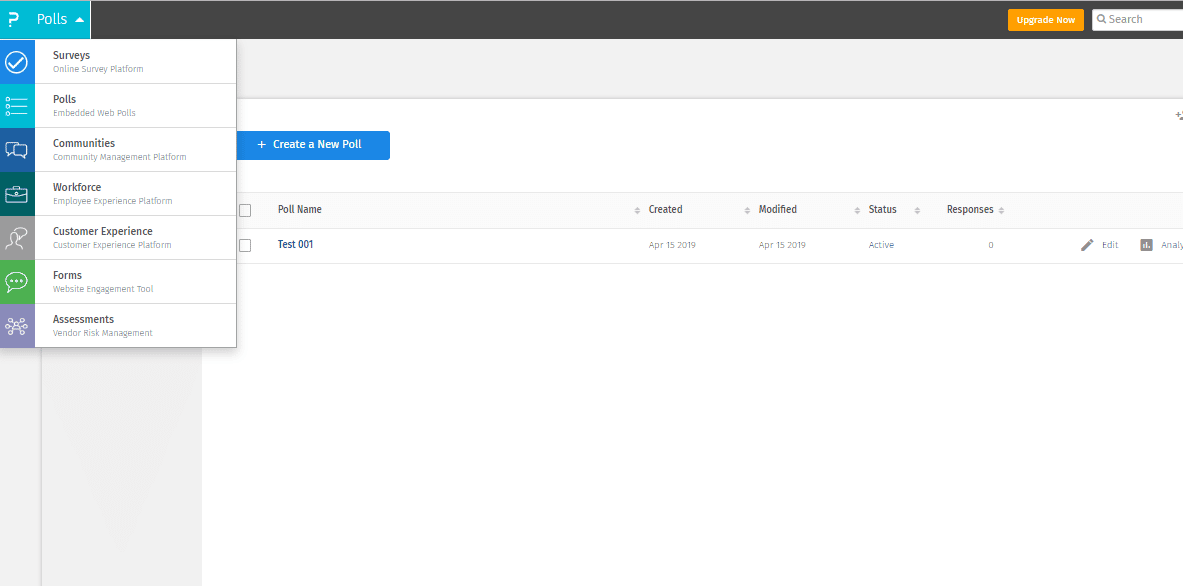 Step 3. Select the 'Create new poll' button.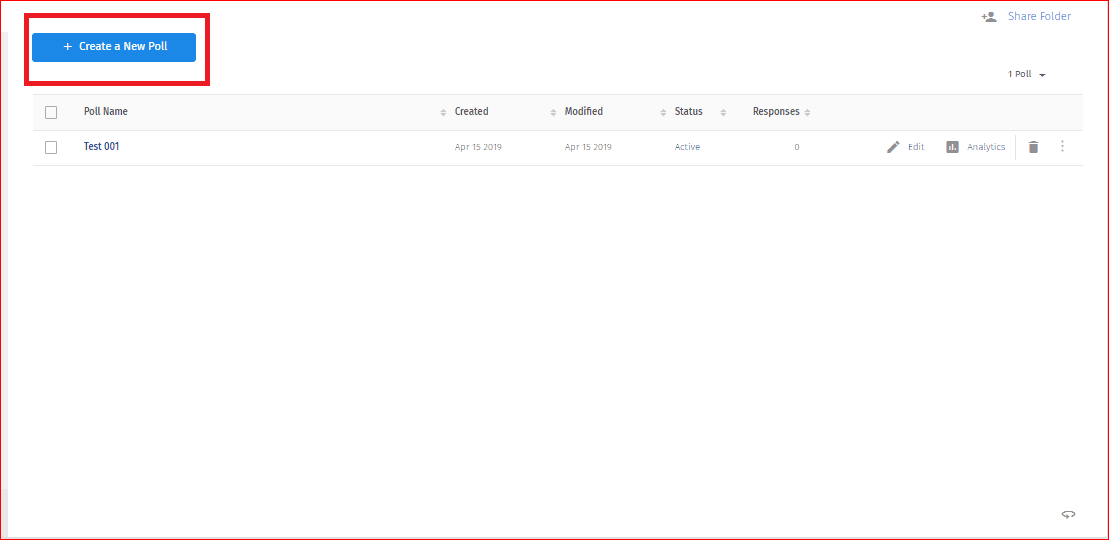 Step 4. Enter the name of the poll and select 'Create poll'.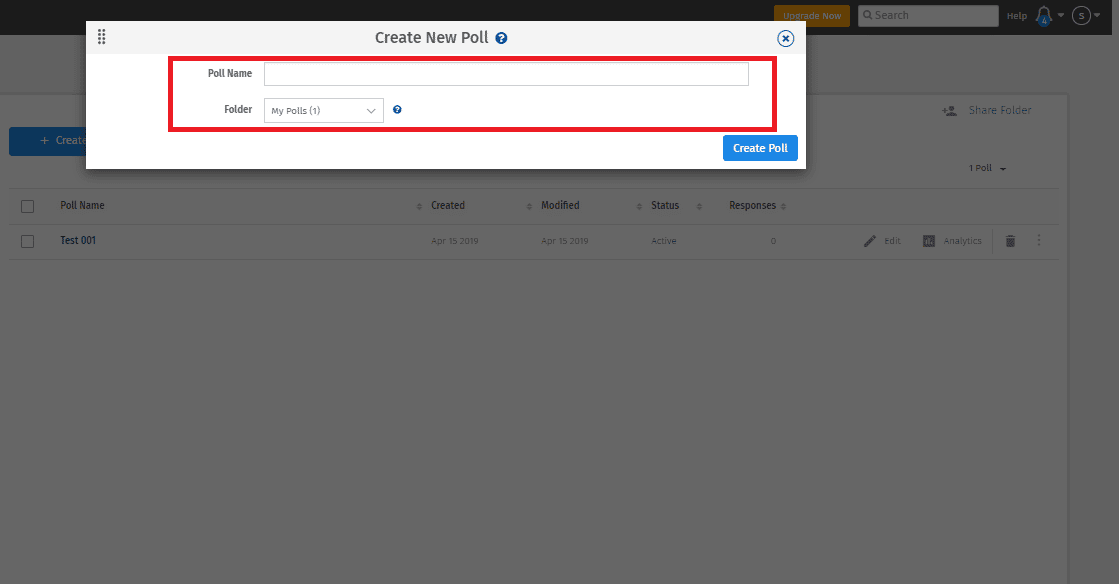 Step 5. Enter the question in the space provided.
Step 6. QuestionPro offers three popularly used Poll question types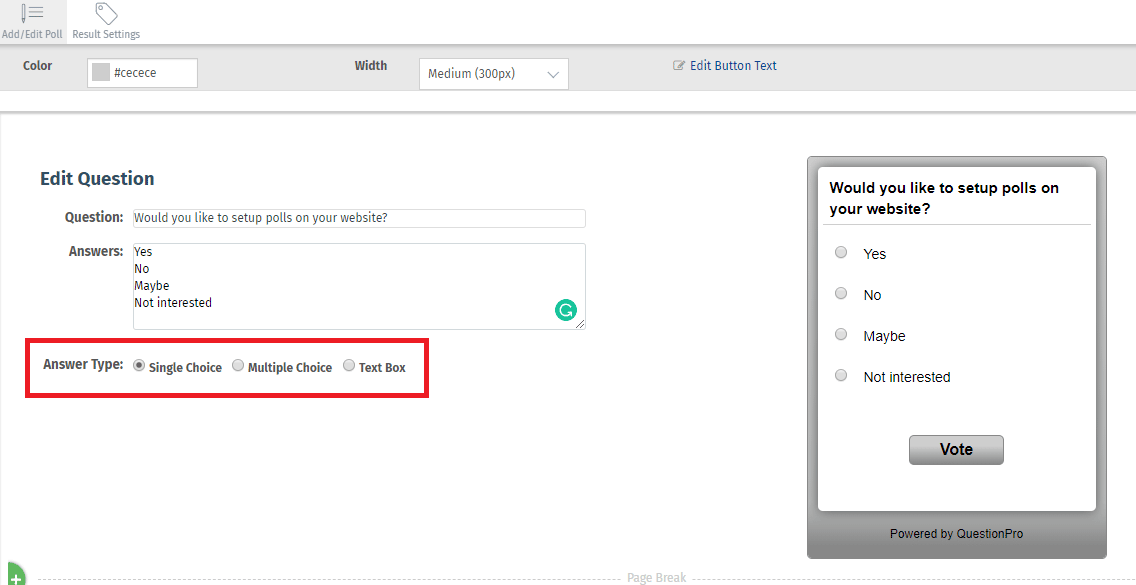 Step 7. Select Single Choice, Multiple Choice or Text Box type questions.

Step 8. Input the answer options in a list format. Data will automatically be previewed on the right of the screen.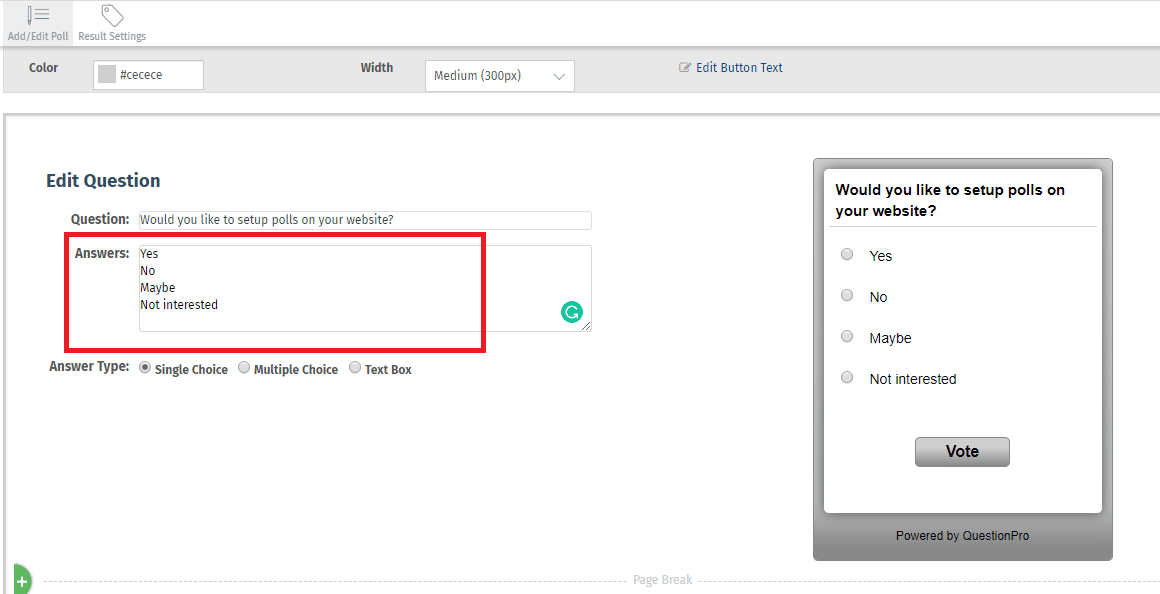 Step 9. Voila! Your poll is created.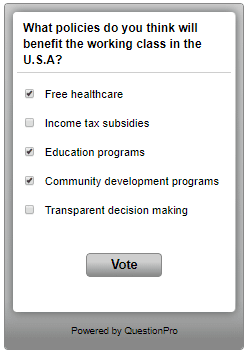 Step 10. You can embed the poll on your website using the HTML code provided or share it via mail or social media.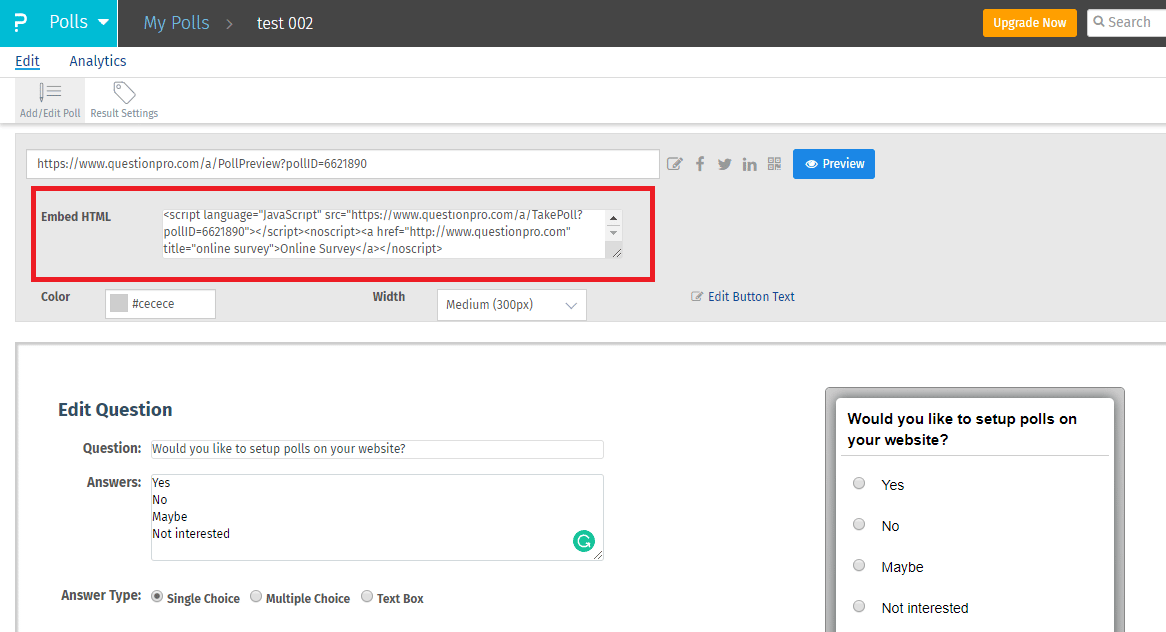 Step 11. To see the reports and status of a poll click on the Analytics button on the top of the page.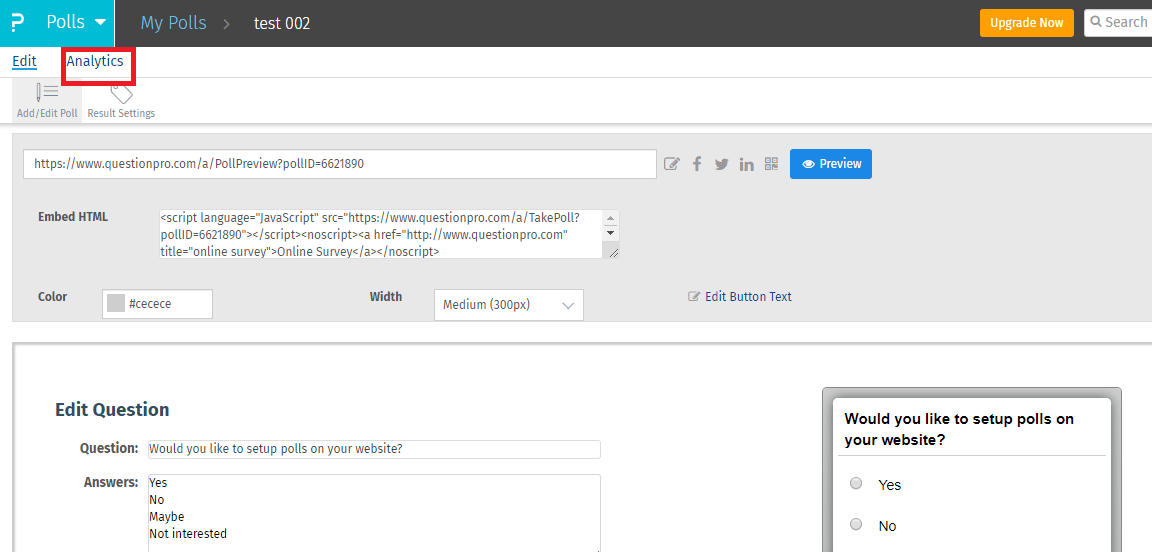 Step 12. The analysis dashboard allows researchers to see the status of their poll, get live reports, view charts and graphs of the results and much more.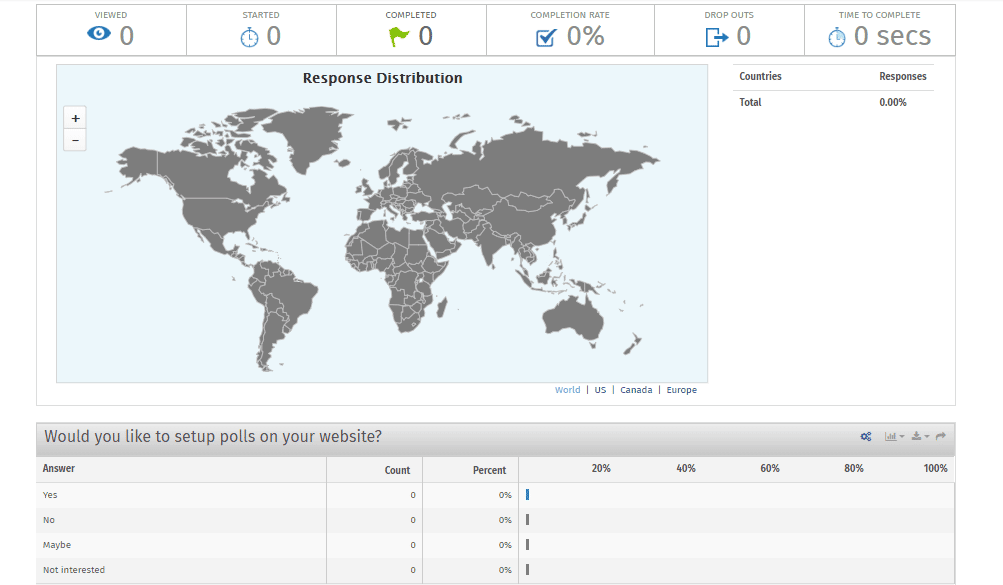 Learn more: How to write poll questions for online polls.
Join QuestionPro for free!
QuestionPro allows you to create polls and surveys, draw live reports, manage an audience, interpret data using formulas and infographics, spot consumer trends, create a lively research community and more!
Sign up for instant access and get a free account today!