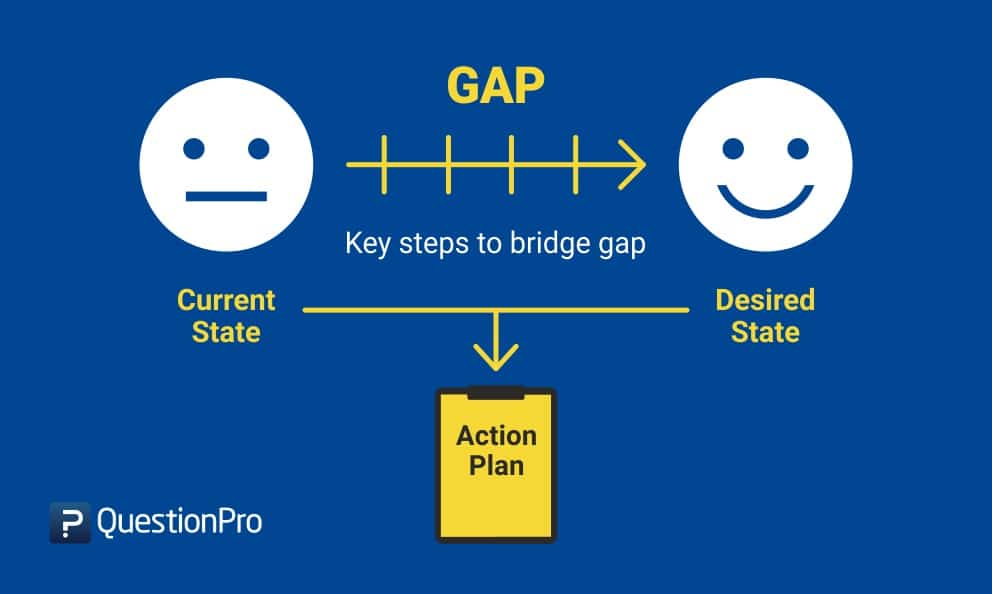 It's an old problem in business: you want to grow your company and put your strategy into action, but you need to know where or how to put your money to make it happen. Sounds familiar? You should do a gap analysis if this is the case.
An organization needs to make the best use of its resources, money, and technology to reach its full potential. A gap analysis can help in this situation.
A gap analysis also called a needs analysis, is important for the performance of any organization. It lets companies see where they are now and where they want to be. With a gap analysis, companies can look at their goals again to see if they are on the right track to achieving them.
So this blog will explain gap analysis, its methods, gap analysis template, and more.
LEARN ABOUT: Marketing Insight
You will read in detail about the 5 gap analysis tools that your business might need to learn and identify the gaps in your business and excel by analyzing the data collected by following the steps on how to do a gap analysis. Let us first understand the tools needed to conduct a gap analysis.
Gap Analysis: Definition
The term "gap" refers to the space between "where we are" (the present state) and where "we want to be" (the target state). Gap analysis assesses the differences between the actual and expected performance in an organization or a business. It can also be called a need analysis, need assessment, or need-gap analysis.
In the 1980s, gap analyses were often used together with duration analyses. It is harder to use and less common than a duration analysis, but it can still be used to determine how exposed you are to different changes in the term structure.
LEARN ABOUT: Level of Analysis
Consider hypothetically, as an organization, and you have manufactured product A. This product has reached the target audience in the market. Product A has all the qualities to excel in the market, including the right features, pricing margin, and demand. Yet the product didn't perform well in the market for some reason.
Learn more: What is Market Research?
Gap analysis can be performed on:
A Strategic Level– to compare the condition or level of your company with that of the industry standards
At an Operational Level – To compare your business's current state or performance with what you had desired.
Here is where a gap analysis process would play a crucial role in understanding internal and external factors, where the product is and what it lacks, where it needs to be to secure its place in the market and give a tough fight to any other competitor offering a similar product.
LEARN ABOUT: Test Market Demand
Importance of gap analysis
Here are some key points that show how gap analysis is important:
Gap analysis helps find areas for improvement in your processes, products, or services.

It helps to develop good plans to close the gaps between what they want to do and what they do.

It aids in setting priorities and effectively allocating resources.

Pointing out areas where organizations need to be more compliant helps ensure compliance with rules and regulations.

This can help improve performance, increase efficiency, and cut costs.

It enhances decision-making and enables companies to make smart choices by providing data-driven insights.

By identifying gaps in the market or customer needs, it can find opportunities for growth and expansion.

The effectiveness of improvement initiatives over time can be tracked using

it

to gauge progress.
Gap analysis is useful for businesses that want to improve performance, get more done, and reach their goals.
LEARN ABOUT: Data Asset Management
Types of gap analysis
Businesses can use different kinds of gap analysis, depending on their needs and goals. Here are a few of the most popular: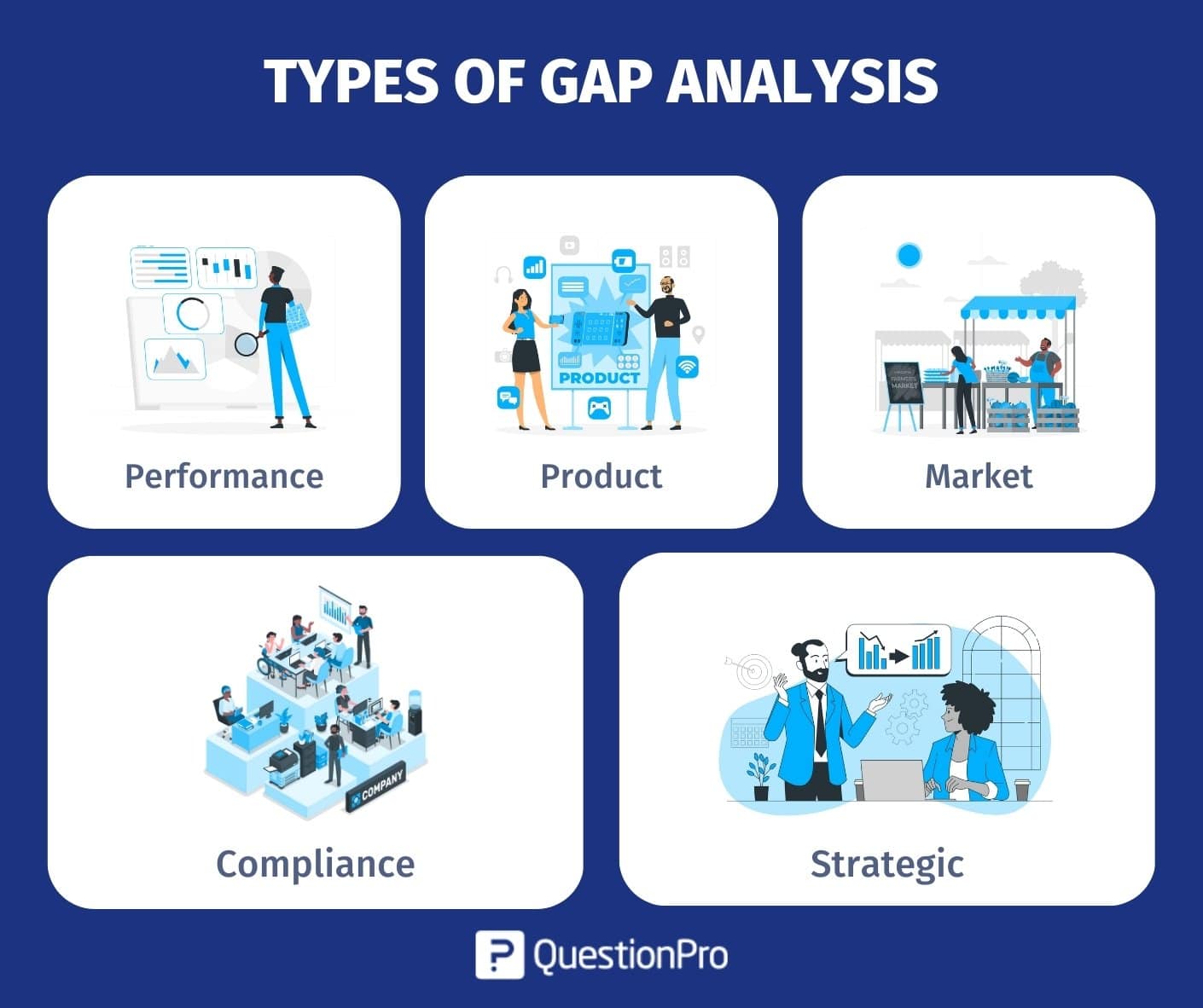 1.

Performance gap analysis
This type of analysis finds the difference between an organization's or person's expected performance and their actual performance.
2.

Product gap analysis
This analysis finds the difference between the features and capabilities of a product and what the customer wants.
3.

Market gap analysis
This analysis examines the gap between the market's wants and the company's products or services.
4.

Compliance gap analysis
This analysis shows the difference between the required regulatory standards and what an organization does.
5.

Strategic gap analysis
This type of analysis helps organizations find the gap between where they are now and where they want to be in the future regarding their strategic objectives and goals.
By choosing the right type of gap analysis, companies can learn important things about their performance, find places to improve, and develop effective plans to reach their desired state.
When to use a gap analysis?
A gap analysis can be used in many situations, including:
Process Improvement:

When a business wants to improve its processes or operations, a profit gap analysis can find areas of inefficiency or performance that need fixing.

Product Development:

this can be used to evaluate customer needs and expectations to ensure a new product meets their needs.

Compliance and Risk Management:

It can help find regulatory gaps and ensure an organization follows all laws and rules.

Organizational Change:

When a company's structure changes,

it can help find areas of misalignment or gaps in research skills, knowledge, or resources that need to be addressed.
Performance Management:

It can help find areas where employees, teams, or departments aren't performing as well as they could be and develop plans to improve performance and productivity.
LEARN ABOUT: Action Research
In these situations, companies can use it to find areas that need improvement, decide which actions to take first and develop effective strategic planning to reach their goals.
How to Do: A 5-step gap analysis template with an example
A gap analysis template shows employees where your company can improve by showing the difference between reality and target. It's a terrific method to visualize data and illustrate where your company is suffering and excelling.
In our discussion of the gap analysis template below, we'll cover the steps of conducting it that can be applied inside a department, your entire firm, or a particular process. The four phases in the template below will help you identify and fix your research problems.
The following steps of conducting a gap analysis template can be followed to analyze and identify loops in your entire business:
Step 1: Identify the area to focus on-
You need to know where to focus. That will be your primary requirement. Whether the issue is financing, product quality or marketing, etc, be specific so that you can focus better.
For example, suppose you want to identify the gaps in your ketchup business. In that case, you need to decide whether to focus on product quality or marketing to identify and eliminate those gaps.
Step 2: Identify what goals you want to achieve-
Now that you know the area to focus on, set your target or goals. Set realistic smart goals and make sure to align them with your business goals and needs.
For instance, your ketchup manufacturing business aims to produce and sell 162000 units of ketchup in the next year compared to 120000 being sold this year.
Step 3: Know your current state-
Before you go any further, know where you stand currently. By looking into your business reports, you will know your current position in the market, brainstorm and gather as much data as possible on your business's current performance.
In this case, your ketchup brand currently sells around 100000 units monthly.
Step 4: Determine where you want to be in the future-
Define and determine your parameters, and remember you have set smart goals. By achieving those goals, you will be able to achieve the desired position for your business in the future.
For instance, for your ketchup brand, answer the following question in this step:
Where do you foresee your ketchup manufacturing business in the next year? – The answer can probably be a 35% increase in monthly unit sales.
Step 5: Understand the gaps between the two states-
Now that you have a clear understanding of the attributes of where you stand currently (present state) and where you desire to be in the future (desired state), it is now easy for you to identify what is stopping you from achieving your targets. After you have identified your gaps, make yourself equipped to close those gaps.
You need to understand the drawbacks of your current situation compared to your aspirations. Understand factors such as: What are the efforts being made to achieve success? Or Are attempts being made to improve the quality of the product? Or What are the marketing activities being conducted to hike up the sales volume?
The production needs to ramp up along with a boost in marketing and sales activities. Many teams have to work in unison to sell 135000 units a month compared to the existing 100000 units. Marketing managers need to develop effective strategies for improvement on the basis of the identified strengths, weaknesses, opportunities, and threats in the business.
Learn more: Advanced Analysis with QuestionPro
Gap analysis tools
If you are a business owner, ask yourself
How far have you come from the work you had planned at the beginning of the year?

What products or services were you promised to roll out?

Are they already on the floor?

Do you have an idea about what worked and what didn't? And why?
This type of tool can help you compare your business or project's actual performance against the performance you had planned to achieve. This way, you can figure out what worked for you and what didn't, what decision you made right and what was not so right!
Learn more: Quantitative Market Research
Here are the 3 gap analysis tools you can use when conducting a gap analysis for your business or organization:
SWOT
SWOT focuses on Strengths, Weaknesses, Opportunities, and Threats in the internal and external environment analysis, respectively. SWOT analysis helps you determine your current industry or market position.
How to carry out SWOT to analyze Gap?
Gather a team of experts from the relevant department so that their expertise will help you identify the problem and the gaps immediately.

Create a

SWOT analysis

matrix.

Next, list down all the internal strengths and weaknesses.

Note down the opportunities and threats that an external environment might cause.

Rearrange each bullet point in order of highest priority at the top and the least important at the bottom.

Analyze how you can use your strengths to minimize weaknesses and use the best available opportunities to avoid or eliminate threats.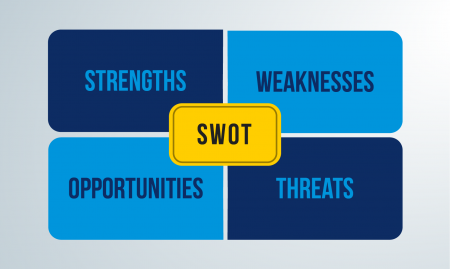 Fig: SWOT Analysis Matrix
Learn more: Strategic Analysis for business research
McKinsey 7s
McKinsey 7s can help you with the following gap analysis purpose:
To help you understand the gaps that are evident and that may appear

To help you identify the areas to optimize and boost performance

To align the respective processes during a merger or an acquisition, if you have had one recently or are planning to have one.

Helps you examine the results of future changes within the business.
Learn more: How to do Market Research for a Business Plan
The 7s refers to the key interrelated elements of an organization. They are:
Strategy

Systems

Structure

Shared values

Skills

Staff

Style
These elements are divided into two distinct groups: hard elements (tangible factors that can be controlled) and soft elements (intangible factors that cannot be controlled)
Hard elements are as follows:
Strategy – the plan that will help your company gain an advantage over any of your

competitors

.

Structure – the plan or the layout that will define your entire organizational chart structure.

Systems – business and technical knowledge your employees already use to complete their daily tasks.
Learn more: Employee Evaluation Survey
Soft elements are as follows:
Shared values – these are the set of beliefs or traits that the organization values.

Style – A leadership style that defines the organization's culture.

Staff – people who are the backbone or the asset of an organization.

Skills – The tool that the employees have to help you succeed.
How to apply McKinsey 7s?
Start with gathering a competent team.

Look for gaps and weaknesses and align the relationship between the elements.

State where the elements will be optimally aligned. When we speak about elements, we are referring to the 7s.

Come up with a suitable plan of action to realign the elements.

Implement the changes or the solution you have come up with and reduce the gap.
Learn more: Human Resource Surveys
Nadler-Tushman's Congruence Model
This model is based on the principle that business performance is the result of 4 key elements: work, people, structure, and culture.
How to apply this model?
First and foremost, gather all the data that point you toward any or all symptoms of poor performance.

Specify inputs i.e, whether it's environment, resources, or history that is causing these poor performances.

Identify which outputs are required at the organizational level so that the organization can meet all strategic objectives.

Now assess the degree of congruence among all the mentioned components.

Strategize and put down a plan of action.
Learn more: Qualitative Market Research
Gap analysis process using QuestionPro survey software
QuestionPro market research survey software is a platform that helps you identify gaps in your business by making available the gap analysis template. A new question type has been added to the QuestionPro survey system to run comparisons between expectation and delivery specifically.
LEARN ABOUT: Market research industry
In most cases, this realizes itself by asking customers/potential respondents to rate different attributes (Customer Service, On-Time delivery, etc.) on the importance and a satisfaction rating scale. We call this the side-by-side matrix question (the alternative name is a multi-dimensional matrix) — basically two (or more) matrix questions placed next to each other. Follow these simple steps to run a it.
How can you access Gap Analysis?
Login » Surveys » Reports » Choice Modelling

Select

GAP Analysis

.

Select the question from the drop-down menu and select the Gap analysis option.

Once you have analyzed the question, you can also download the report in excel, PowerPoint, or even print it.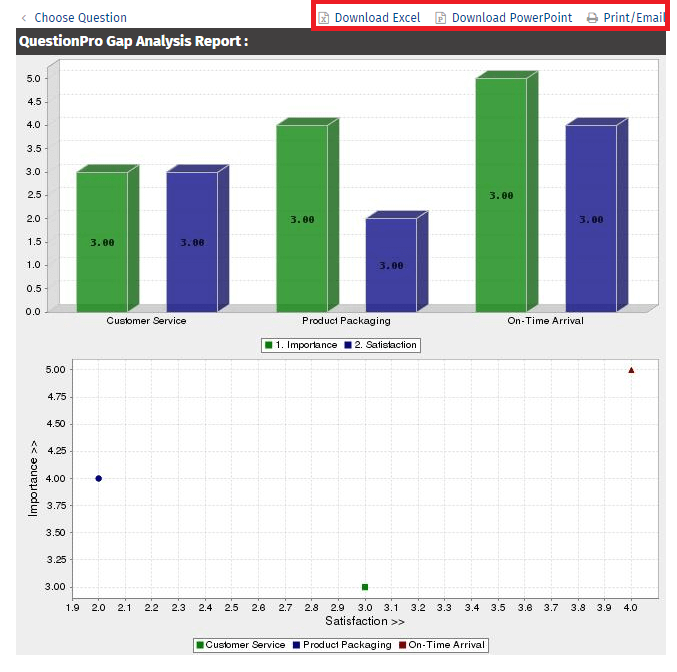 Learn more: Trend Analysis
Conclusion
Gap analysis is one of the most effective ways to find growth opportunities. It gives your company a strategy based on data and the standards of your industry.
LEARN ABOUT: 12 Best Tools for Researchers
Meeting people's expectations is never easy, but the analysis helps you make a plan by taking things one step at a time. It is a thorough, step-by-step process that gives you a detailed action plan. You can use it to fix a specific problem or just be proactive about making new strategies.
QuestionPro has useful tools that can help you do a good gap analysis. By using its survey and research tools, businesses can find out where they can improve and develop plans to close the gaps in their performance.
QuestionPro's easy-to-use interface and customizable features make it a complete solution for companies that want to improve their processes and grow. So sign up now to get your desired outcome!