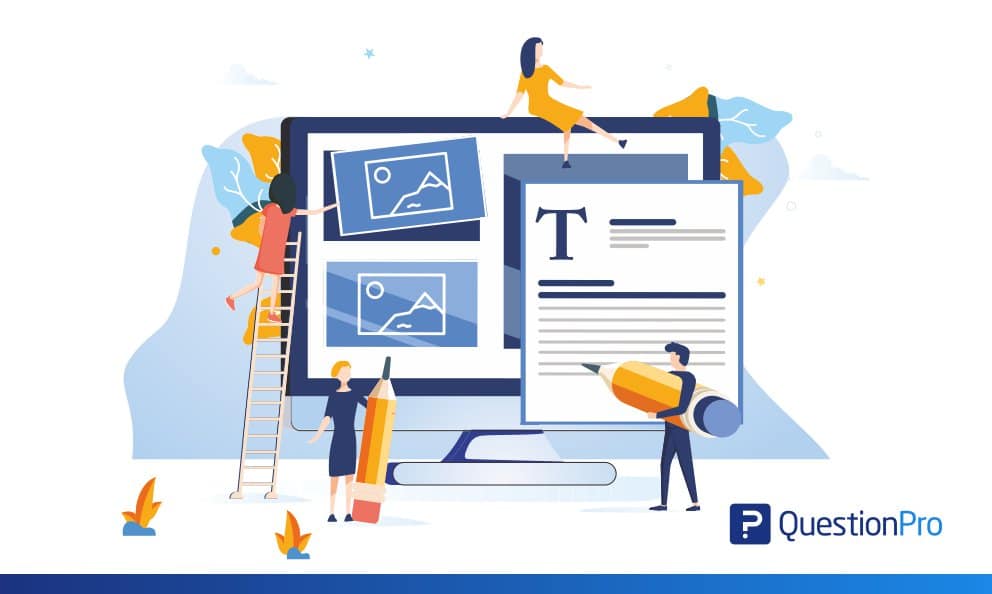 Do you remember the last survey you took? Did the design, color scheme, and questions stand out?
Or did you forget about it because the overall experience was bland?
The tools you use can make or break the success of your research study, and feature-rich surveys increase responses and give you accurate data. Robust features like report sharing and custom design allow you to connect with survey takers. The better you connect with participants, the more effort they'll put into answering your questions. The result is data that is accurate, reliable, and useful.
In this article, we'll look at how different features can change the results of a study. Read on to see how the right features give you impactful data.
Data collection
Market research collects data to improve your business. 
Successful research uses the right type of data collection to give you useful customer insights. Choosing the wrong methods leaves you with an incomplete picture of people's opinions; the last thing you want is to spend time and money on a study only to wind up with the wrong type of data. 
Improving your business takes more than raw data – it requires the ability to analyze the collected information into actionable steps. Your survey software needs to both collect and evaluate data. 
Quantitative vs. qualitative
Before you can choose the right collection method, you need to understand the types of data. Most data falls into two categories: quantitative and qualitative.
Quantitative

:

 This research focuses on numerical data. The information you gather provides a set of facts and figures that you can measure and analyze. For example, you send out a survey asking people to rate their satisfaction with your business on a scale of 1-5. The responses are an exact depiction of customer satisfaction you can measure.

Qualitative

:

 Qualitative research seeks to identify why someone holds a particular opinion. You use a conversation to observe how a person thinks and feels. Although it's not numerical, you still analyze qualitative data. Thanks to their interpretive nature, qualitative studies are often much smaller than quantitative studies.
Using both quantitative and qualitative research together shows you how a customer thinks, as well as why they feel a certain way.
Popular data collection methods
There are many ways to collect data, but the most popular methods include:
Surveys are an easy, cost-effective option to collect the information you need. They give you quantitative data, but you can also ask for qualitative answers through open-ended questions.
Design features
Survey design is critical to success. Professional-looking surveys inspire confidence in users, encouraging them to think about each question and provide accurate answers. Generic surveys often bore respondents, leaving them open to distractions.
Using all design features available to you increases response rates and data accuracy.
Use of emojis and images:

 A study from Claremont Graduate University explored emoji-based survey answers. Participants completed two surveys, one text-based and one emoji-based, to rate their experience using an app. The study found that using emojis excited respondents and encouraged participation for the following reasons:
Emojis are easy to understand and make taking a survey more fun than reading text answers. Using images also aids in the decision-making process. It's easier to make a decision looking at emojis rather than text-based answers.
Additionally, the facial expression of emojis helps respondents relate answer options to their feelings. For instance, a customer receives an emoji-based satisfaction survey. The survey asks them to rate their feelings about their customer service experience. The customer can choose a frowning or smiling emoji to express the way their experience made them feel.
Survey customization:

 Custom colors, logos, and other branding options make surveys more inviting. The polished look of a 

custom survey

 puts users at ease, and participants are more likely to complete a professional-looking survey than a generic one.
Customization also increases brand awareness. As users complete the survey, they see your logo and color scheme throughout. This subtle, constant reminder of your business keeps you at the forefront of their minds. 
Pre-made templates:

 You don't need advanced coding or design skills to offer great surveys – you can create questionnaires in minutes using 

survey templates

.
Unlike creating a survey from scratch, templates give you immediate access to the best questions for your needs. These questionnaires are put together by an expert to save you time and effort. Say you want to measure customer service at your business. Customer service evaluation templates let you access a variety of question types and survey designs to find your perfect fit. 
Logic and branching:

 One of the most advanced features of survey software is 

logic and branching

. Participants receive relevant questions using data from their previous answers.
For example, you ask for a user's location. Your survey then asks questions about the city from their initial answer.
Alternatively, you can use branching and logic to filter out irrelevant users. Let's say you want to know more about coffee drinkers. Your initial question asks if the user drinks coffee. If a user responds with "No," then they're moved to the end of the survey, saving time for both of you.
Varying question types
Good design increases the responses to your survey, but high response rates don't equal reliable data. A user who breezes through without processing your questions doesn't provide accurate results. Varying question types throughout retains participant attention and cuts down on distractions.
Consider two surveys with the same overall design. One consists of text-based multiple-choice questions, while the other includes image-based answers, video clips, and visually appealing tables. The different question types keep the second survey interesting and allow it to hold the attention of the participants.
QuestionPro offers a variety of question types so you can engage respondents and receive the most accurate data. These types include:
Scaling questions: Rank order scaling lets users interact directly with the survey, and involve a drop-down, slider, or drag-and-drop feature. Participants must physically move answer options or sliders to fit their preferences. Scale questions help slow respondents by encouraging them to think about their answers. 
Audio and video questions:

 Human voices and imagery add a human element to your surveys and foster a connection with your respondents. 

Matrix tables:

 Regular multiple-choice questions can feel stale when covering similar topics. 

Matrix questions

 arrange multiple-choice questions in a table format. Say you want to gauge customer satisfaction on several aspects of your business. The top of your matrix might have columns ranging from "Very Dissatisfied" to "Very Satisfied." The left-hand column features attributes such as "Cost, Customer Service, and Packaging." Survey respondents can quickly pick their satisfaction levels for each element.
Survey distribution
The way you send surveys changes your results, as various populations congregate in different areas. It makes sense to send surveys to teenagers through social media; business owners are more accessible through email.
You'll also get different results depending on where you reach people. A person is in a different frame of mind when using email than they are when texting.
Using multiple distribution methods and varying them between surveys allows you to collect numerous opinions from customers. The data you receive through different channels lets you pinpoint which customers need more attention. You can use this information to improve customer experience and increase brand advocates.
Reports and analysis
Response collection is only part of the survey process. Once you have responses, you need the ability to analyze them. Reporting and analysis tools allow you to form data-driven insights and actionable plans to meet customer needs.
Research reports let you share recently collected data with stakeholders and decision-makers. Customer experience reports, for example, explore strengths and weaknesses in your interactions with consumers. Pinpointing weaknesses allows you to develop and implement improvements.
Using features to your advantage
Greater access to survey features allows you to create engaging surveys that will generate responses, and QuestionPro will help you do both. Schedule your demo today to learn how our advanced features help you develop more insights from your surveys.