Whenever you hear the words customer satisfaction survey – you're probably thinking about online surveys, or surveys you fill out on a card and hand into a retail establishment.   But those aren't your only options.
The biggest mistake small businesses make when it comes to customer satisfaction
A lot of businesses run customer satisfaction surveys as a sort of scorecard or report card.  But that's really not the point.  The  reason for doing customer satisfaction surveys is to find out what's important to your customers and then see how you can deliver on that.
What should you measure in terms of satisfaction?
While it's easy to think of customer satisfaction in terms of a grade or scorecard – it won't help you get and keep more customers.
There are three primary elements of customer satisfaction that are important in helping you structure your business in a way that attracts new customers and delivers the most value to the customers you already have:
What's important to them when they are choosing or thinking about buying  your type of product or service.
How satisfied they are with their experience of your organization (your performance)
How loyal they are or how likely they are to refer your product or service to friends, colleagues or family.
Granted, this sounds like a report card – and you can look at it that way — OR — you can choose to look at this as a foundation survey that you do to target exactly those areas where you have the most opportunity to set yourself apart from other alternatives that they consider.
Run this foundation survey at least once per year – preferably twice per year.  Treat the results as an index.  In fact, the third measure "loyalty" is actually the
Net Promoter Score
element of the survey and serves as an excellent metric to track.
Use the insights you get from the bi-annual surveys to inspire OTHER ways of gathering feedback using a variety of other tools.  Here are some examples:
Say that your bi-annual survey uncovers that your customers often choose another alternative because the lines at your location are too long or it takes too long to check out of your retail location.
Given this feedback, you can now set up a "feedback" opportunity at each checkout counter in the form of a sign that asks the question — did you wait too long?  Next to the "YES" response, use a thumbs down graphic with a QR code and next to the "NO" response use a thumbs-up graphic with a QR code.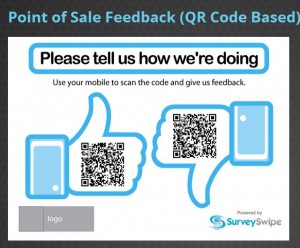 In this case we used SurveySwipe, a mobile survey app that integrates seamlessly with either QuestionPro or SurveyAnalytics surveys.  When your customers download the app, they can then provide you feedback via QR codes places all over the store.
If your product or service is online based, you can place a button on your site that leads people to a survey where they can leave feedback.  When you think about people landing on your site, you can imagine that something might come up for them where they will want or need to tell you what is missing for them on your site or what would work better.  When you give them the option for feedback on every page on your site- you can actually improve their impression or experience by simply giving them this option.
As you can see from the examples I've given you – you can easily transform the way you look at customer satisfaction from a scorecard to an opportunity for your customers to connect with you and provide you information that will allow you to radically improve their experience.