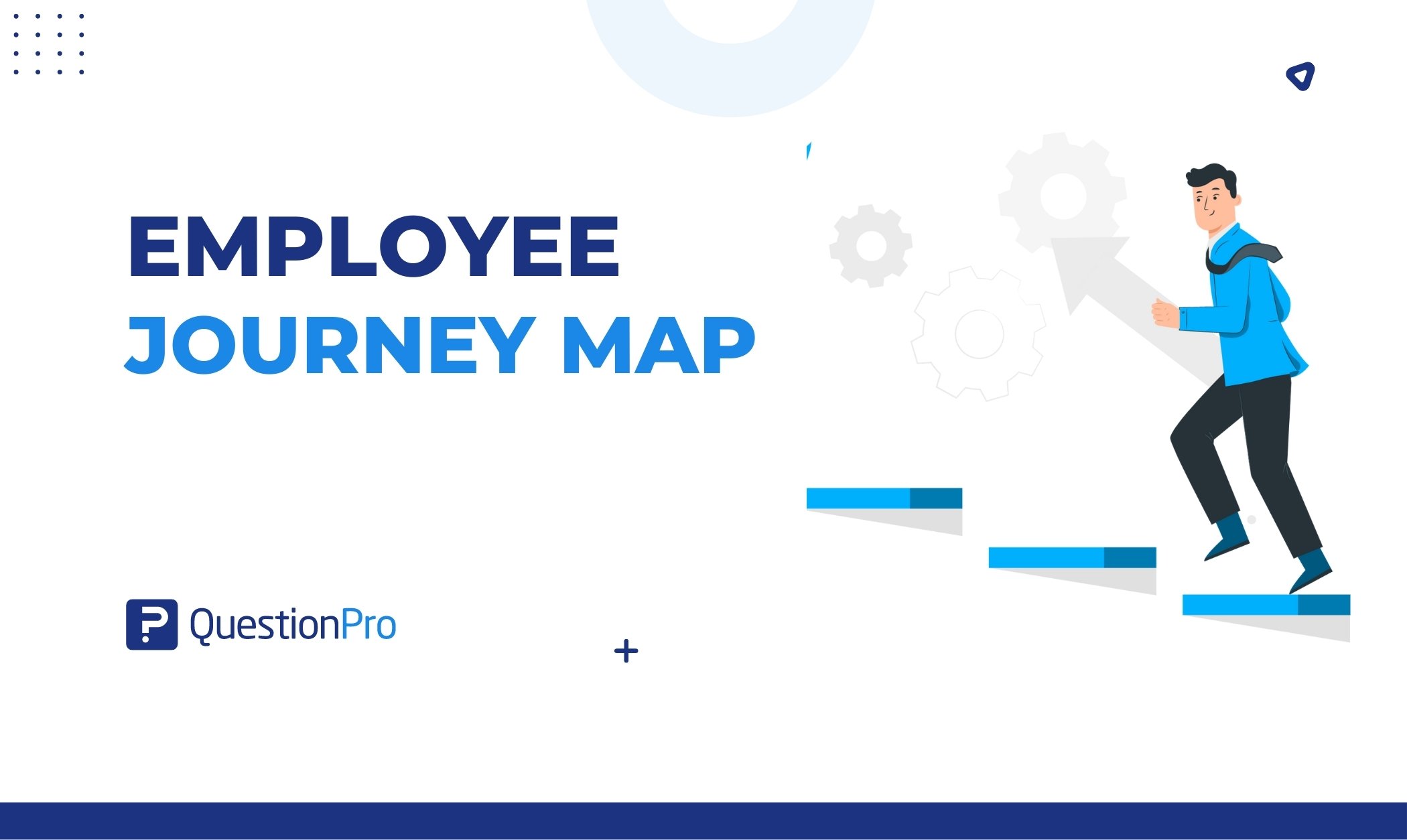 Working life is quite a journey, so today, we will talk about the employee journey map and how to follow it up to understand our workforce's journey better. It bases the construction of a map on the employee lifecycle.
To better understand your employees, you must create detailed maps of their journey and organize activities around their essential steps within a company.
This will allow you to plan your employee development, employee engagement and ensure you hit KPIs related to employee retention, productivity, and more.
LEARN ABOUT: Candidate Experience Survey
What is an employee journey map?
An employee journey map is the visualization of a timeline of the complete employee experience. This data mapping process raises employees' perspectives, emphasizing the moments that matter most to them.
It can be argued that the employee journey includes the employee's touchpoints with your company, even when they are just candidates. However, most consider that the exact duration of the customer journey map is from the moment of hiring until the moment the employees leave the company.
Unlike the Customer Journey, the employee journey is closely related to the employee experience, so tracking it is an important step in improving the employee experience.
Advantages of the employee journey mapping
Understanding the employee journey is crucial to its success, so it became an essential topic for HR teams. It is a helpful method of increasing employee spotlight & satisfaction, and loyalty by providing a better understanding of your needs at different times.
By understanding the employee journey, you will be able to:
Improve employee experience

An employee journey mapping allows you to understand better what your employees encounter at different career points. It helps you better plan activities related to onboarding, development, employee feedback, employee engagement, and more.

In other words, it helps you become more aware of the different operations that need to take place based on the individual paths of your employees.
Enhance employee satisfaction

Creating an employee journey map also allows you to plan to improve the employee experience journey map in multiple ways, thereby improving employee satisfaction. Remember that employees who feel their employers treat them respectfully are more satisfied with their jobs

By charting the employee journey and improving their experience, you ensure that your employees feel respected and earn their loyalty.
Decrease employee turnover

When your employees are satisfied with their work, there is less reason for them to quit and leave your company. Poor training could cause them to leave the company, while most would stay longer if you invested in their careers.

Fortunately, an employee journey map helps you determine when and what type of training to provide to employees and plan for their development. The result is a decrease in employee turnover, but also the employee growth of your company.
Increase employee engagement

By understanding your employee's journey, you have a great opportunity to spot and correct any gaps in their experience. Plus, you can plan different employee engagement activities at different times and track the success of your initiatives along the way.
Build a positive company culture

When everyone in the company has their career plans drawn up, expectations are known, better employee relations and a healthy company culture result.

Defined work culture is important to the success of the company, so employee journey mapping out the employee journey and creating conditions in which a positive culture can flourish is vital.
Stages of the employee journey map
There are several stages that every employee goes through, such as hiring, beginning employment, and retirement or resignation. However, every company is different, and it's up to you to recognize and create employee journey touchpoints that help you give them the best experience and keep them working in your organization.
Here are all the proposed stages of the employee journey that you should include in your employee journey map: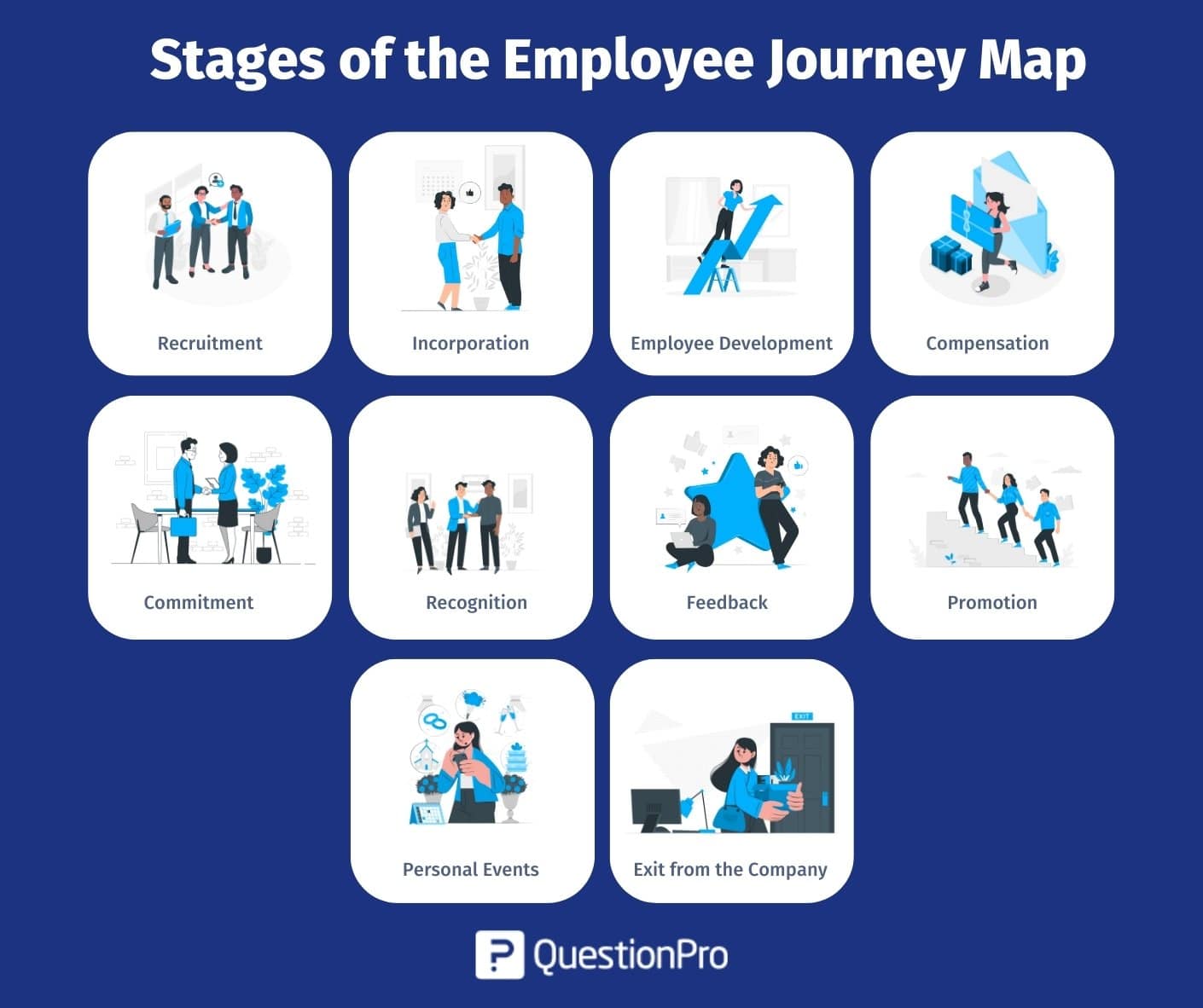 Recruitment

The first contact your employee will have with your company occurs during employee recruitment. Therefore, you should carefully plan this stage of the employee lifecycle to offer your future employees the best candidate experience.

Consider the channels to attract your candidate, prepare a detailed job description, and facilitate the process. Then keep in touch and let your candidates know how they are doing during the hiring process.
Incorporation

Did you know that a strong onboarding process improves productivity? You want to ensure your new hires don't feel lost during their first days, weeks, or months on the job.

Therefore, make sure you provide them with a plan of tasks to be done. Also, explain the hierarchy, introduce your new hires to their superiors, and ensure everyone understands their expectations.

Depending on the management style of your managers, they will establish different relationships with their employees. So work with them to explain the importance of onboarding and ensure your employee journey goes smoothly.
Employee development

Training and development are among the most essential policies of a company. Therefore, you should include workforce planning for employee training, learning, and development in your employee journey map.

In addition, facilitating employee development will allow you to increase your experience and, in turn, ensure your organization's business success. This could be the most important step in the employee journey between hiring and retirement.
Compensation and benefits

Not only is it important to offer employees fair pay and competitive benefits when they are hired, but it is also vital to update the terms as the employee grows and develops.

The latest trends in employee benefits emphasize work-life balance and more. Be sure to review these benefits as your employees develop and encounter different situations in their private lives, such as the birth of children, when parental leave will be an important benefit to offer.
Commitment and continuous communication with employees

Engagement efforts must be ongoing and persist throughout the employee journey. Productivity is rewarded: Highly engaged teams show more profitability.

An important aspect of the employee journey map is also communication with them. You must carefully design your internal communication strategy and know when and how to communicate with your employees.
Employee Recognition 

Employee expectations and recognition is one of the most effective ways to increase employee retention, maintain productivity, and improve employee satisfaction. While recognition is often tied to milestones like employee anniversaries, it's a good idea to recognize them by displaying positive behavior.

By including job recognition within your employee journey map, we guarantee a positive experience for employees.
Employee Feedback

Another activity that should be implemented is employee feedback since they are looking for an idea of ​​their performance. Feedback is more than just its frequency: it must be practiced downward and among peers, and positive feedback must prevail.
Employee Promotion

By investing time and resources in developing your employees, they will advance their careers and earn promotions. Not only do you have to include this important step in your employee journey map, but you also have to encourage it.

Do not miss the opportunity to recognize the merit when it is due and promote them from within. It's one of the best ways to keep employee retention high and your investments in employee development paying off.
Personal events

As mentioned above, you must consider the personal events of your employees in their careers. For example, events such as the arrival of a child in the family will also change the dynamics of a person's workplace. Therefore, you must adapt your benefits to the current personal situation of your employees.

Other private situations that can affect the working life of your employees are illness, moving to another place, or others. Ensure you have prepared scenarios for these situations in your employee journey mapping.
Exit from the company

Whether due to retirement, resignation, or dismissal, an employee will end up leaving the company, and you must consider this. Since it's an unavoidable part of the employee journey, you need to put it on your employee journey mapping and plan events around it.

If an employee resigns, conduct an exit interview and discover what caused it. Also, make sure he leaves on decent terms and keep the doors open for your ex-employees to return to the company.
LEARN ABOUT: Employee Rewards Ideas for Employee Engagement
How to create employee journey mapping
Where should you start to create an employee journey map? How can you make sure it suits everyone in your diverse workforce?
Here are the steps to offer your employees a great experience from the beginning to the end of their stay in your organization:
Segment your audience

Think about how your employees' journey differs between the different departments: from the hiring for each of the positions, the journey is very different. Thinking about what different employee journeys look like helps you prepare to create multiple employee journey maps.
Create multiple employee journey map

You don't necessarily have to create as many employee experience journey mapping as you can, but be inclusive and allow for sub-maps or smaller variations within maps. It would help if you considered not only the professions of your employees but also their ages.

Namely, your employee engagement efforts and the development opportunities you offer will be valued differently.
Survey your employees

Find out what your employees think based on their own experience. Conduct employee surveys regularly and see what they find good about their current efforts and what has failed.

Use their responses to learn how to adjust your employee journey mapping to engage them more.
Revise based on feedback

Surveys can provide cumulative data, but asking for qualitative feedback helps you improve your employee journey map. The most important thing about asking for continuous feedback is acting on it.

Check if your new employee found the training you organized useful or if they had all the necessary assistance during onboarding, and change your activities according to the feedback.
Measure the success of your employees.

Measuring relevant data to track your KPIs and the success of your employee journey map efforts is important. Therefore, you must set your parameters to measure the success of their incorporation, recognition, development, and more.
Conclusion
The employee journey map is essential to understand how your employees are experiencing their journey within your company. Armed with that information, you can improve the experience, transforming your organization from the ground up.
LEARN ABOUT: Workplace Employee Experience Examples
Start working on yours, talking to employees, identifying their values ​​and the steps they follow within your organization, so you can get some ideas on how to start mapping and integrating employee journey.
Learn more about how to get ongoing feedback from your employees and start taking action to positively impact your organization with QuestionPro Workforce.