Why should organizations conduct HR surveys?
Human Resource (HR) surveys are questionnaires sent to the entire staff in an organization to check up on them and highlight any issues, ideas, or concerns they may have. Depending on the focus of your study, HR surveys can be classified as employee engagement, workforce morale, staff productivity, staff motivation, etc.
Times are constantly changing, and so is the workforce. The global workforce now is more diverse than it ever was. It brings with it many opportunities, challenges, learnings, etc. Traditionally, managers would meet with their staff or subordinates only during appraisals or when needed. Now, however, you need to meet with them frequently, address any challenges they may have, understand their needs, etc. There are multiple avenues of doing that; you may conduct team meetings, outings, schedule one-on-ones, etc. Conducting HR surveys is a way that definitely works when it comes to communicating with your employees or soliciting feedback from them.
An HR questionnaire can be designed to get employee inputs on the work environment, the organization's people processes, or checking the effectiveness of a new initiative. It purely is dependant on the scope of your survey and what you wish to achieve from it. If designed and executed properly, your surveys can provide data that will help improve your people processes significantly.
3 Amazing HR survey examples
Conducting an online survey is quite easy; what's difficult is having the right questions and flow to it. It has to be designed in a way that ensures maximum responses from employees and data that is enough and good to act on.
1. Google Hire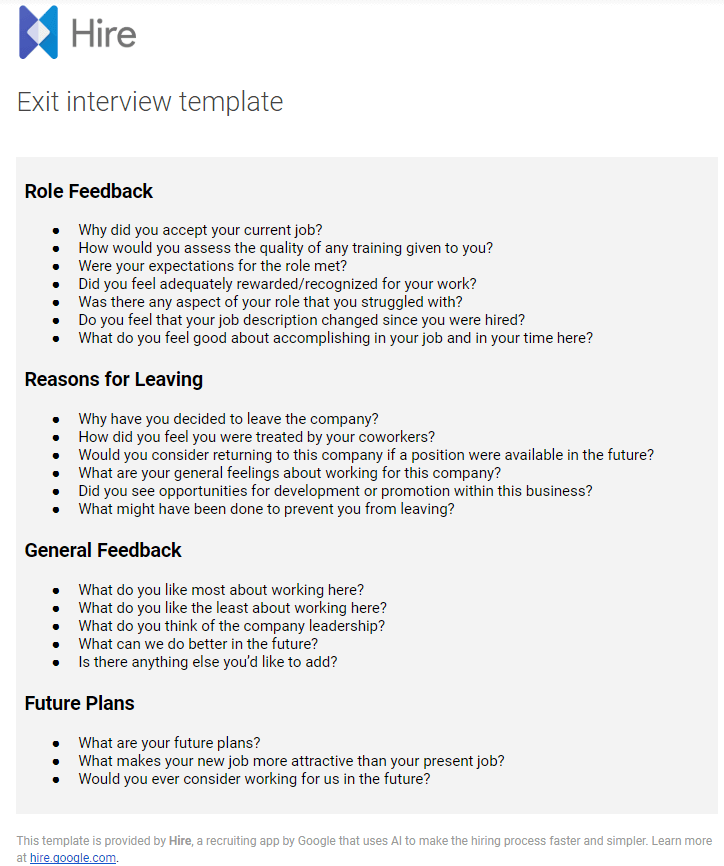 Source: https://hire.google.com/
Hire is an AI recruiting app made by Google to make the talent acquisition process very simple and quick. HR managers and recruiters can sync with Google Calendar, Gmail, and other G Suite integrations to streamline their administrative processes, conduct interviews, and hire people quicker.
The reason this template is efficient because it contains very clearly mapped out employee aspects. This paints a clear picture of the reason behind an employee's exit. This helps HR managers and teams better prepare themselves to try and curb employee exits.
2. Wellness Council of America (WELCOA)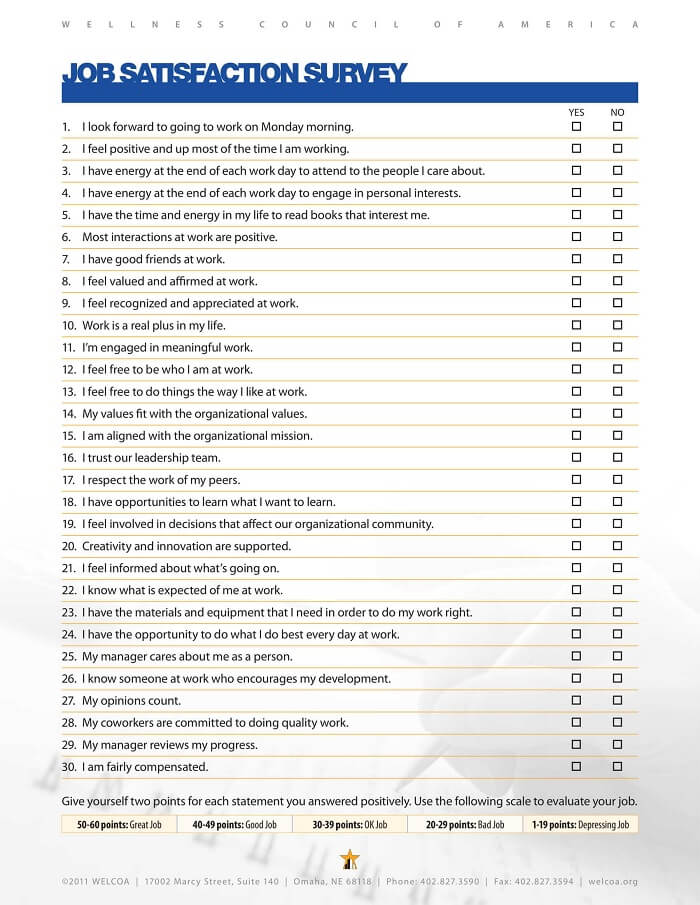 Source: https://www.welcoa.org/
WELCOA, a non-profit organization, is one of the most highly respected resources for building healthy and high-performing workplaces. It serves business leaders, workplace wellness practitioners, public health professionals, and consultants.
The second template is for a job satisfaction survey used by WELCOA. The template works because it has a lot of questions and works on a points system. It takes into account the negative aspects too and how it affects the overall satisfaction score.
3. Transamerica Center for Health Studies (TCHS)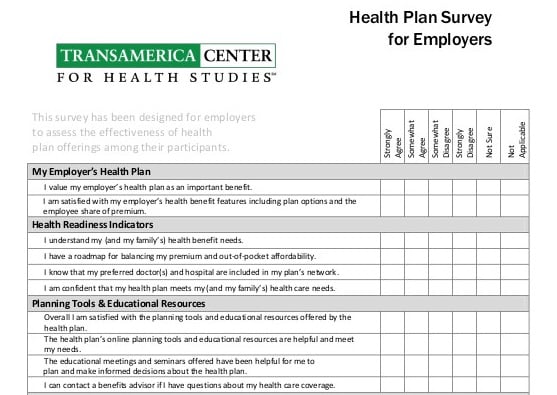 Source: www.transamericacenterforhealthstudies.org
Transamerica Center for Health Studies (TCHS) is a not for profit organization dedicated to researching health care issues facing employers and consumers today.
Health benefits are important to all employees; the costs are quite high, which takes a serious toll on employees' earnings. Organizations, therefore, have health plans to help their employees and their loved ones out. This employee health benefits template stands out due to its detailed sections and questions.
Key benefits of conducting online HR surveys
Rapid responses: Online HR surveys can be taken by your employees anytime and anywhere and hence help get accurate, quick, and maximum staff responses. Higher the survey response better the data size and quality. Online HR surveys help counter the issue of survey fatigue.
Agile: Using an online HR survey platform or tool like QuestionPro Workforce helps your development and deployment process become more efficient and fast. You can use from an existing library of templates, customize them, or make new ones entirely from scratch. This helps organizations, in turn, get agile in terms of their people initiatives.
Actionable data: You get valuable and actionable insights from your employees right away. This makes it easier to devise new plans for improving your staff initiatives.
Study trends: Online HR surveys help understand how your workforce's sentiment about certain aspects over a period. You can study these trends and how it's affecting your staff and their morale, productivity, engagement, etc.
Better employee engagement: Employee engagement is key to arresting your organization's employee attrition. Engaged employees are better performers, team players, and are aligned with organizational goals. Conducting HR surveys ensures you are monitoring employee engagement levels and can take necessary, immediate measures to improve those in case of a decline.
HR survey tool or platform
Using QuestionPro Workforce, you can conduct your online HR surveys. It helps HR managers and supervisors use the online survey tool and software to design and deploy online workforce engagement surveys, collate data, and use that data to bring about improvements in their people processes. Let's look at the top benefits an online HR survey tool or platform offers:
Saves time

: With a bunch of pre-set templates in-built into the platform, you can send your employee surveys as soon as you need them. You can also either modify the existing templates or create new ones. The tool is user-friendly and a big time saver.

Lets you customize

: Customize your organization's portal to match your brand themes and colors. This lends credibility to your staff surveys and significantly improves the survey response rates.

Provides data security

: When conducting employee engagement surveys, HR professionals need to take care of privacy, data security, and anonymity. They can do this by limiting interview access for some people in the organization. Such tools have the settings and ability to allow and restrict access to certain employees, which ensures data security and privacy.

Provides credible insights

: Collecting employee data or feedback is only just the beginning, and failing to act on that data is worse than not gathering staff feedback. Using these tools helps collect data that can help revamp and improve your HR initiatives.
Types of HR surveys you can conduct online
While there are several types of employee surveys that you can do, it clearly depends on what you wish to achieve through these surveys. Let us look at some of the many types of HR surveys that you can conduct in your organization.
Induction surveys
Induction surveys are carried out for employees who have recently joined an organization. These surveys are important to know if the candidates are properly inducted or not, if they feel comfortable in the new organization, etc. It is as important as any other employee survey.
A recent report showed that 22% of staff attrition happens in the first forty to fifty days of joining.
Benefits of induction surveys
Hiring the right employee

: A prospective employee that may look appealing on paper may not be the ideal fit for the job in question. While several interviews can be conducted to gauge if the fit is right, it is hard to be 100% sure. Conducting induction surveys can give you the information in that regard and also data for future hirings. This, along with the supervisor's comments, will make your processes smoother and reduce any kinks that may exist.
Identify your best source

: Sourcing the right candidates for a role is quite tough. There are several aspects, such as capabilities, employee benefits, pay expectations, etc. If you gather feedback from new employees, you can identify the best source to hire new candidates, an important step in optimizing your recruitment process.
Pulse surveys
Employee pulse surveys are a set of quick questions that are rolled out frequently to employees to gauge an organization's health. The survey is conducted every week or few weeks. It helps organizations get a good read on aspects such as employee communication, work environment, employee engagement, employee satisfaction, etc.
Benefits of pulse surveys
Deep insights:

With employee pulse surveys, you can look into the micro aspects that stand to affect your organization's employee engagement, morale, experience, and work culture.

Agile:

Unlike traditional surveys, you do not have to wait one full year for pulse surveys. This helps in addressing concerns as and when they arise, making organizations more agile.
Diversity and Inclusion (D&I) surveys
Not all organizations have inclusive policies and support all employees. Organizations try and make genuine efforts but may fall short in some aspects due to various reasons. A Diversity and Inclusion (D&I) study helps identify any such shortcomings so that organizations can act on them right away. You also get to know if all employees are comfortable with the existing initiatives and policies, can freely express their opinions, and are respected in the organization, etc.
Benefits of Diversity and Inclusion (D&I) surveys
Address challenges:

Organizations need to identify and address uncomfortable situations for employees proactively.

This will help in improving employee engagement and reducing staff turnover.

Customized learning programs: A diverse workforce has diverse requirements when it comes to learning and development. Conducting a survey helps organizations understand those and develops training programs accordingly.
These are just some examples of HR surveys for your consideration; there are many more such work culture surveys, performance management surveys, employee satisfaction surveys, employee engagement surveys, etc. Conducting which surveys depend on your organization and your HR initiatives. So meet up with managers, get some conversations going and see which surveys you want to connect to take your people initiatives to the next level.