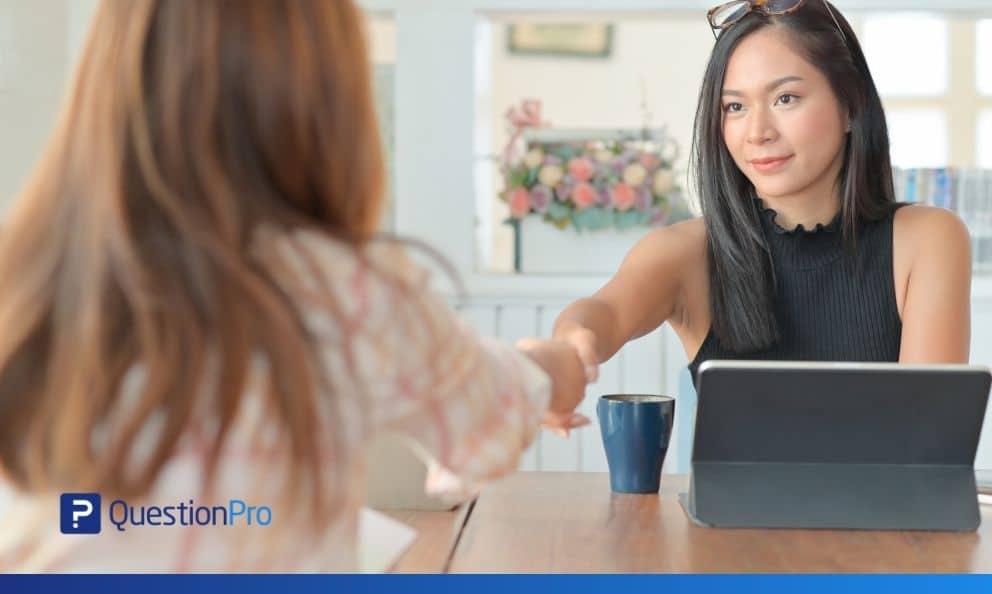 It comes as no surprise that a company's employees are an organization's backbone, big or small, global or local. As companies grow, Founders and C-Levels often find themselves farther and farther away from interacting with their employees directly. Depending on the infrastructure, often, there are many layers between employees and the executive level leaders who then depend on direct reports and status updates for employee information. This can result in a trickle-down effect of priorities. That priority is often set on the customer, who hasn't hard the mantra "the customer is number one." While this ethos has its place, this traditional approach given to prioritizing customers by organizations can result in ignoring their most valuable asset – the employees. 
Employees are a company's first line of customer interaction often. From sales clerks,  call centers, or retail workers, employees who know that they are valued, supported, and feel part of the drive to grow a company will go to extraordinary lengths on behalf of the business. The American Psychological Association found that 91% of workers say they feel motivated to do their best when they have leadership support. Employee's feelings and loyalty can often be dictated by how employees are treated or the atmosphere of the internal culture. That internal culture and atmosphere can directly result in an employee's attitude impacting their performance and translating into the quality of their work.
With a rise of new generations entering the workforce, organizations are coming around and realizing that they need to focus on employee experience (EX) as much as they focus on customer experience (CX). EX and CX are inextricably linked. If EX is excellent, so will be the CX. Happy, engaged, and satisfied employees contribute towards an improved CX. Happy employees tend to exhibit their enthusiasm when interacting with customers, and this can directly impact a business's success.
So, how do organizations go about improving EX?
While every organization has people processes in place, it's hard to know which initiatives are working and which aren't. Only employees can give you real information. This makes communicating with the employees all the more important and necessary. There are various options when it comes to keeping in touch with your employees; it can be via team meetings, one-on-one meetings, online surveys, etc.
Online employee surveys or human resource  questionnaires are being embraced by organizations more than ever. It is quick and easy to get feedback from employees; the information is trustworthy, and you can use the feedback to make rapid and positive changes. Let's look at some significant benefits of conducting online employee surveys:
Quick and easy

: Whether it be drafting questions for the survey or respondents answering survey questions, they are definitely quick and extremely easy.

Multi-language support

:

The same surveys can be sent to multiple teams across various office locations. This is quite handy for multi-national companies and saves a lot of time.

Templates

:

There are several ready-to-use online employee survey templates; all you have to do is hit 'send'.

Improve reach

: Unlike traditional employee surveys, online surveys help reach a wider audience. Survey respondents can attempt the surveys as per their convenience.
Here are 11 amazing HR survey templates that organizations use
HR is a wide function and pertains to various aspects of employee management – pre-boarding, on-boarding, performance management, benefits management, exit, etc. HR managers need to be mindful of these aspects while designing and conducting employee surveys. A study focus is imperative to design a survey with the right questions in order to get accurate staff feedback. An employee engagement survey would have a different set of questions than an employee communications survey. Let us view some of the frequently commonly used and important human resource survey templates.
Company communications evaluation survey template
Smooth and regular internal communication is crucial to any organization's success. An average working adult in America spends about 47 hours, i.e., 6 days a week at their workplace. This makes it even more essential to have a uniform and smooth constant communication with their colleagues; it directly affects the smooth operation of the organization. The communication can be through mediums such as phone, email, face-to-face, team meetings, online chat, etc.
The survey template or questionnaire helps analyze the employee perspective on matters pertaining to frequency of communication, type, and content of the communication, etc. Using feedback gathered from employees, you can make a call to create one or add additional mediums for employee communication, on message clarity, etc.
Company communications evaluation survey template by QuestionPro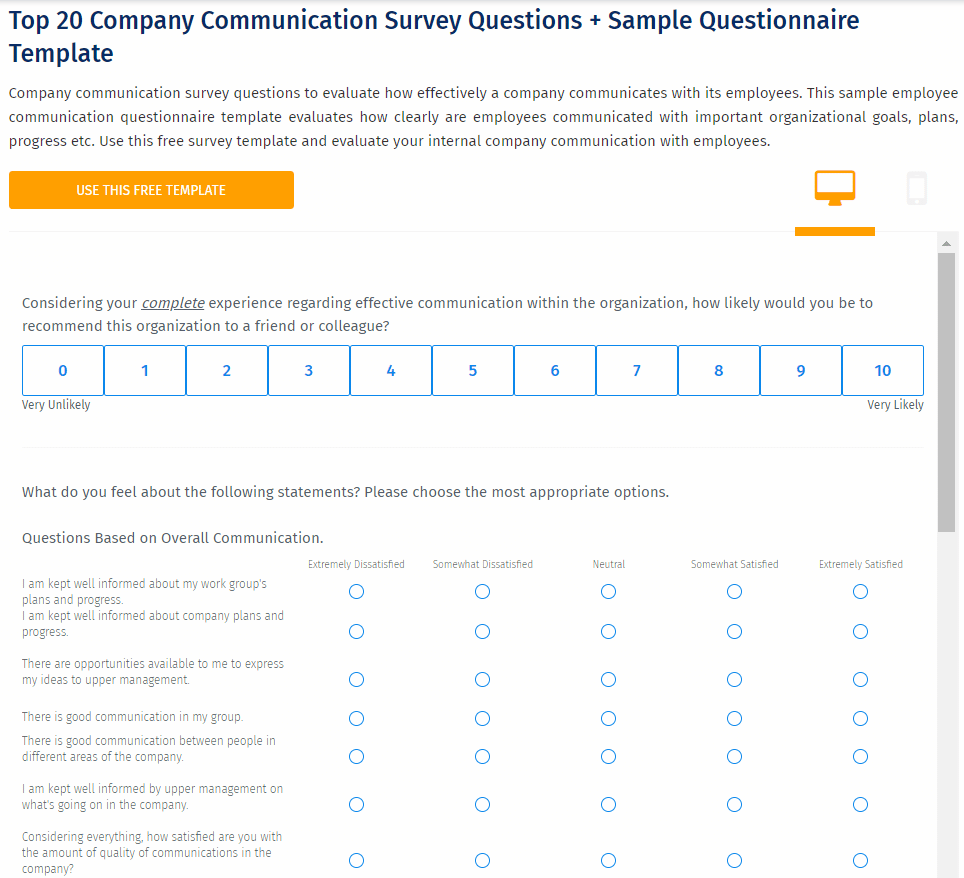 Source: www.questionpro.com
Employee engagement survey template
Employee engagement indicates the level of enthusiasm and emotional connection an employee feels towards their organization. Disengaged employees cost organizations more money than engaged employees. Engaged employees are better team players, more productive, better aligned with organizational goals, and tend to stay with organizations longer. Online employee engagement surveys are an excellent way to measure an organization's staff engagement levels. Here are some reasons for conducting staff engagement surveys:
Understand engagement levels at your organization

Gather inputs from your employees

Get actionable information

Track and measure your people initiatives
Employee engagement survey template by Society for Human Resource Management (SHRM)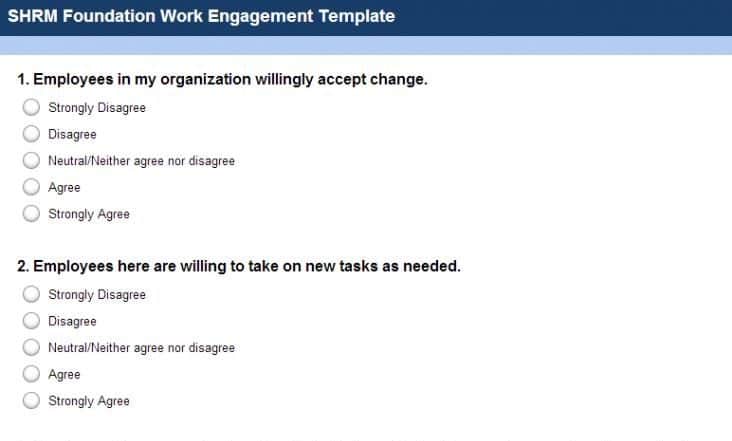 Source: www.shrm.com
Employee satisfaction survey template
Employee satisfaction plays a crucial role in employee productivity, engagement, and morale. This survey provides more information as to how satisfied the employees are at the workplace, and what measures can be taken to improve staff satisfaction levels.
Some reasons why you should be conducting employee satisfaction surveys are:
Get honest feedback from your staff: With anonymous online surveys, employees tend to be more forthright about what they feel. They share their ideas and concerns willingly.

Gives actionable data: Getting details on what the employees actually feel helps the management team and HR managers take necessary actions. These help in improving existing people processes or launching new employee initiatives.

Give them a channel to express themselves: Conducting online surveys is a medium for employees to express their feelings. While an organization may have communication channels, surveys surely come in handy.

Improves employer perception: Employees feel their voice will be heard through employee surveys. If organizations take immediate and necessary measures on the employee feedback received, they respect the management team more, improving the overall perception of the organization.

Improves employee trust:

Organizations that conduct employee surveys and act on the information received to have the trust of the employees. It is a crucial aspect of an employee's intent to stay.
Employee satisfaction survey template by Wellness Council of America (WELCOA)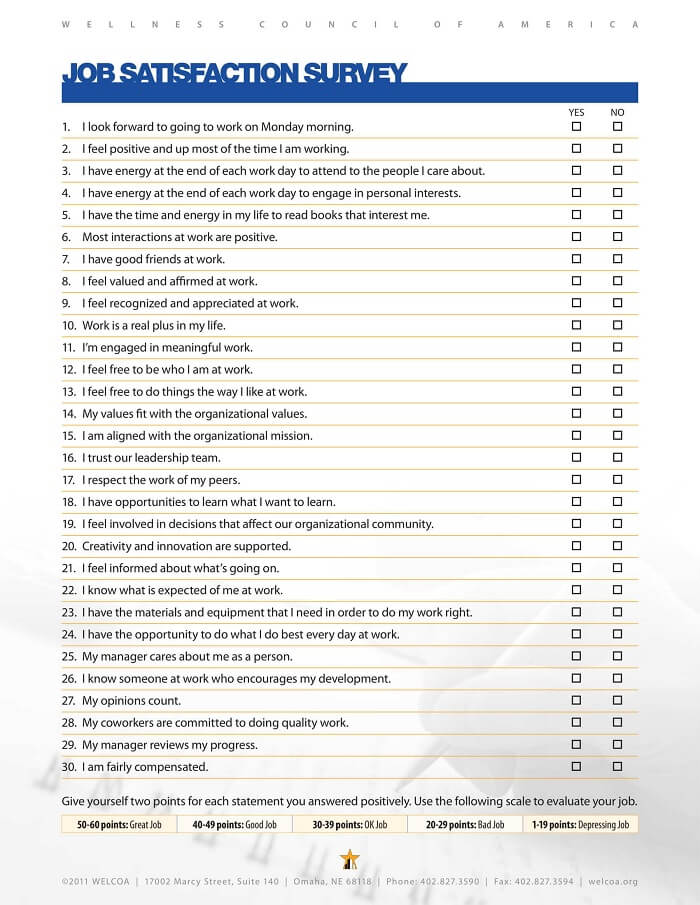 Source: https://www.welcoa.org/
Employee satisfaction survey template by a nursing home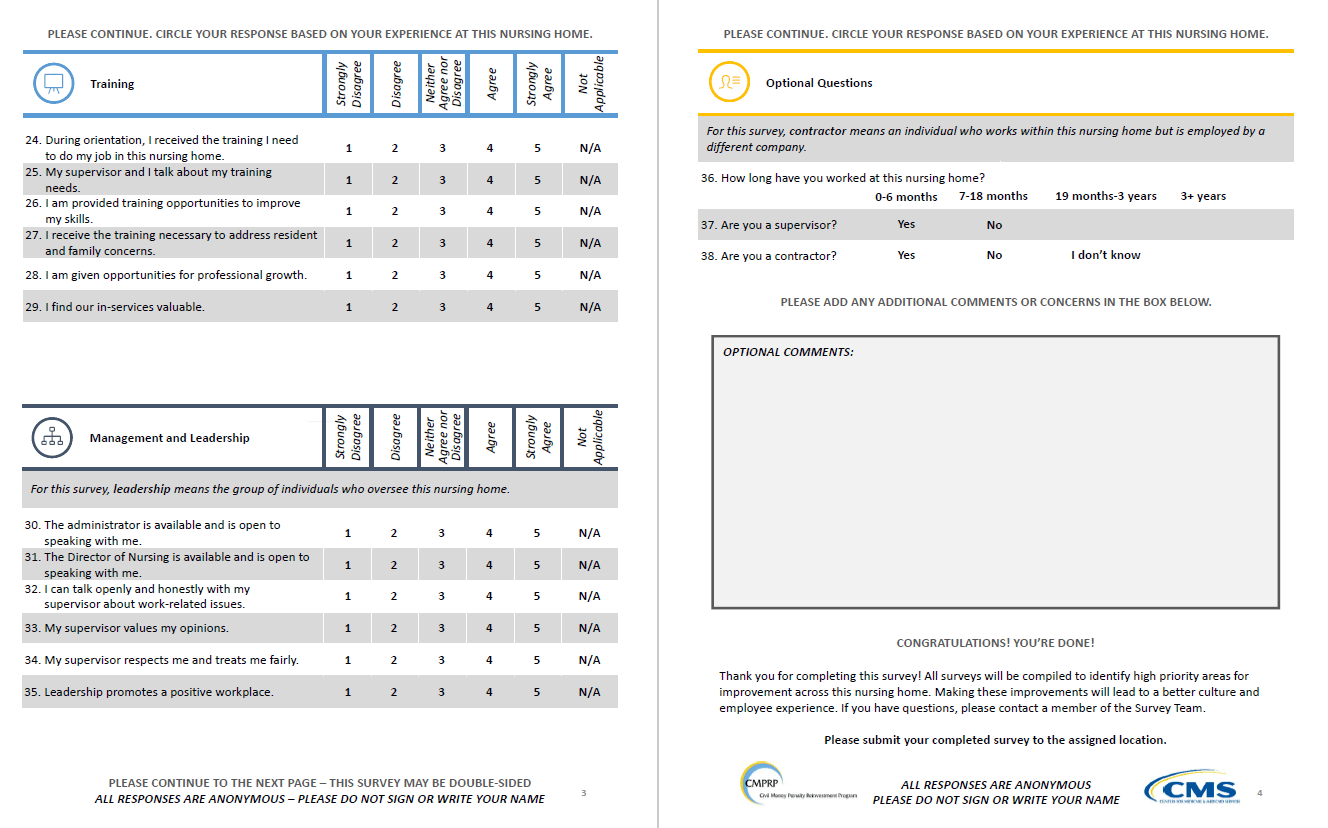 Employee Satisfaction survey template by Eco Canada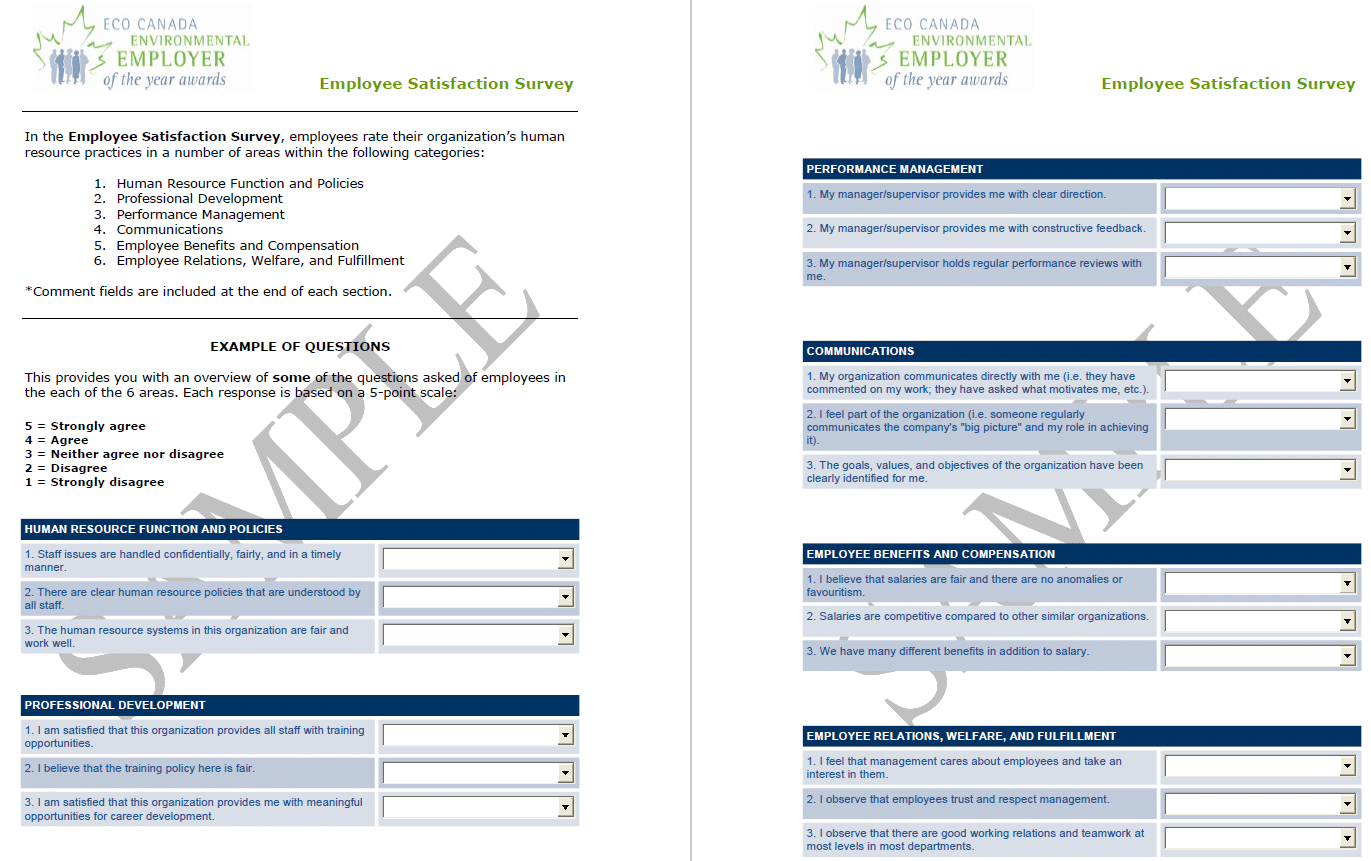 Source: www.eco.ca
Employee Satisfaction Survey Template by Zarca Interactive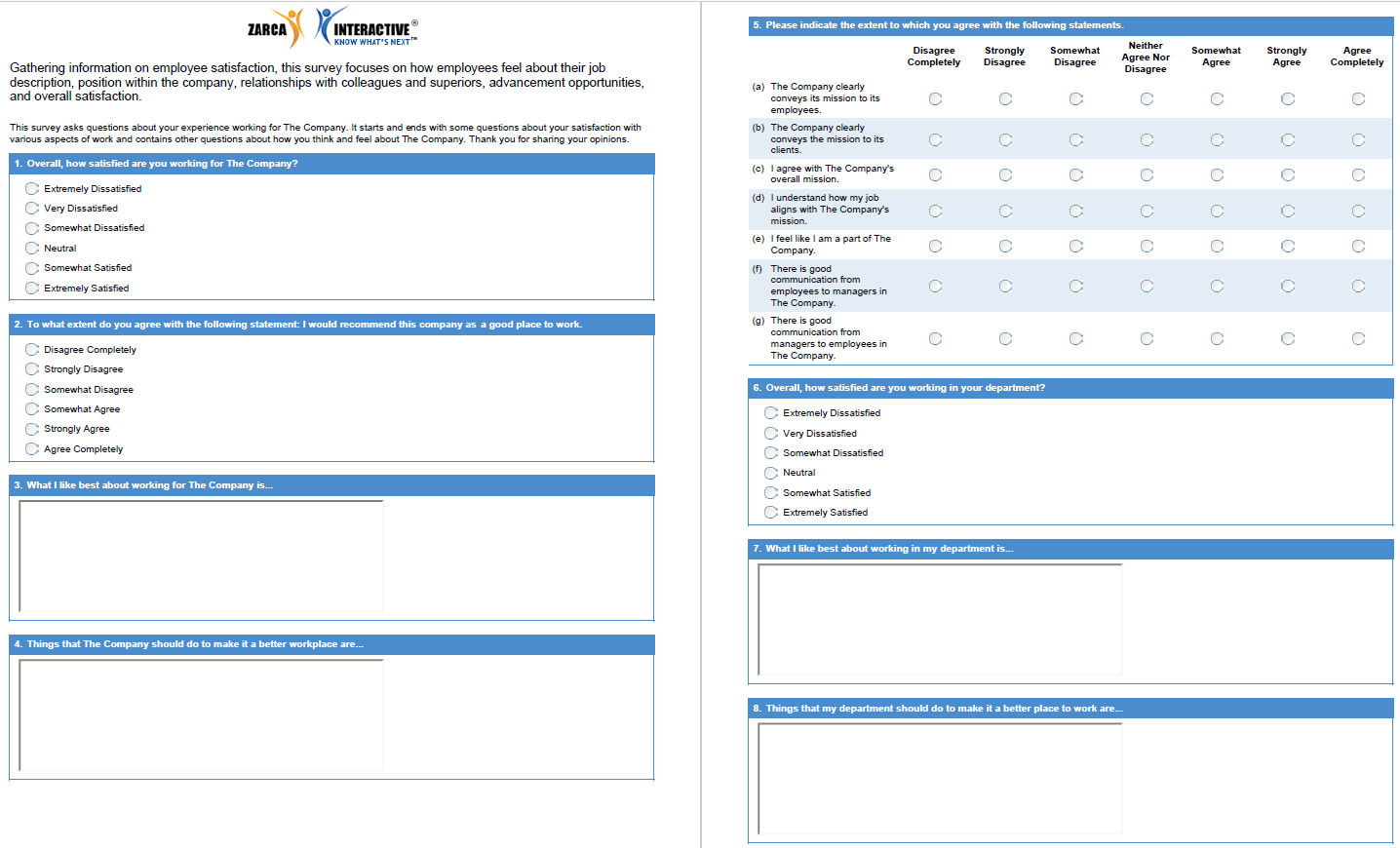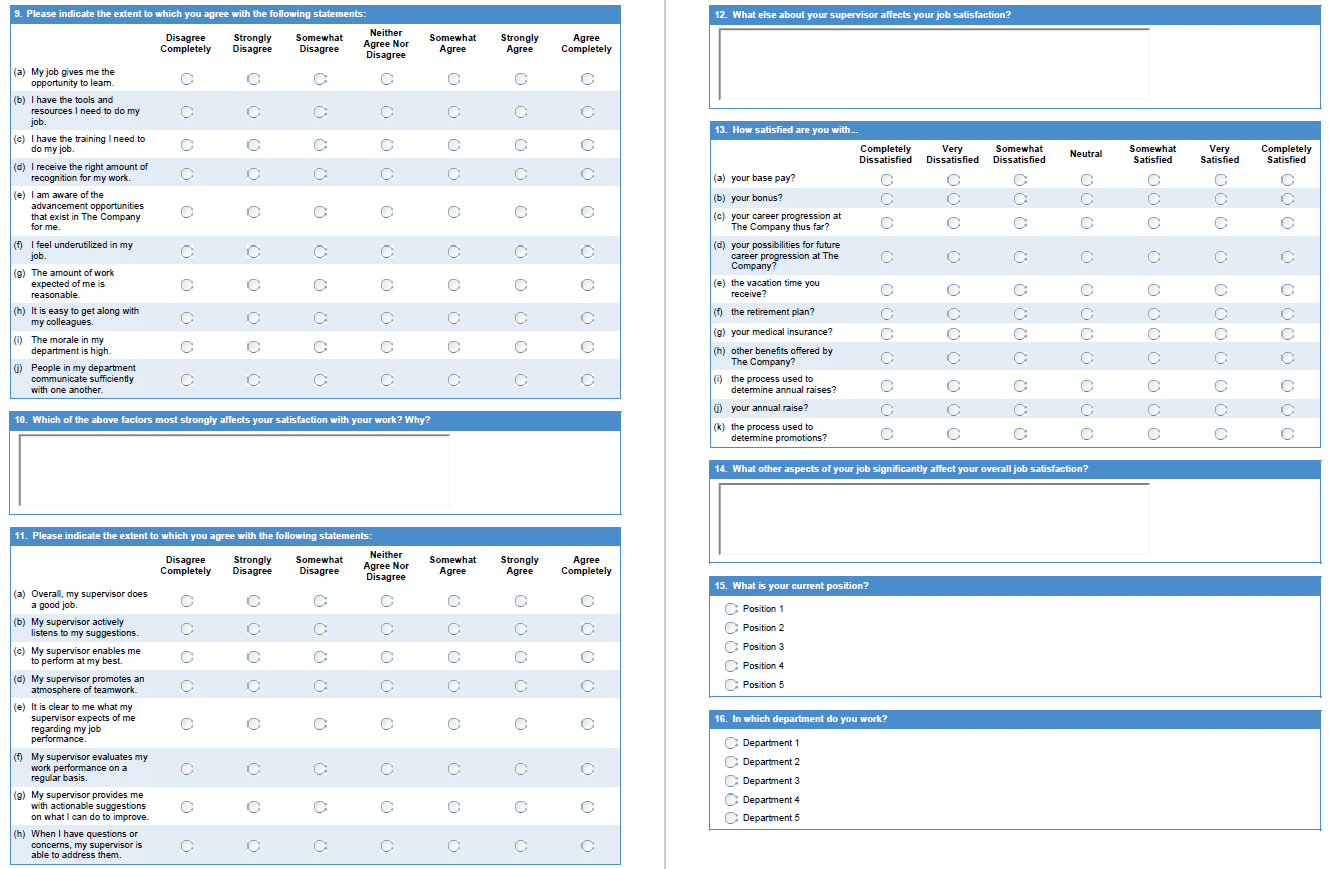 Source: www.zarca.com
Employee health benefits survey template
Organizations provide various health benefits to their employees, and this usually is unique to organizations. The health or insurance plans differ from organization to organization. Doing health benefits surveys helps organizations understand what sort of benefits are crucial to employees, what benefits need to be added, or will make employees happy, etc. It is not enough to have benefits such as flexible hours or telecommuting; employers need to have proper health plans in place for employees.
Employee health benefits survey template by Transamerica Center for Health Studies (TCHS)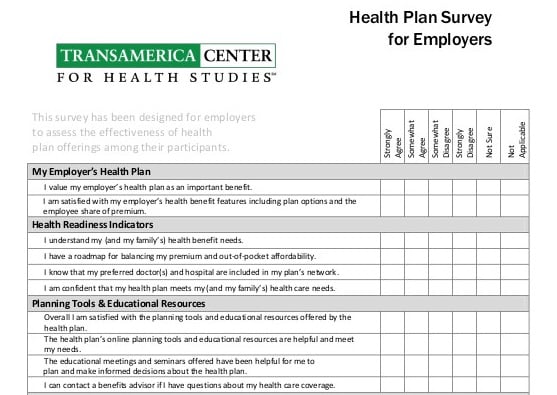 Source: www.transamericacenterforhealthstudies.org
Employee onboarding survey template
Employee onboarding is an exciting but somewhat arduous experience. Onboarding experience for an employee will decide whether that employee stays and succeeds or barely passes at their new job and team. Having a good onboarding process that works smoothly can effect a substantial increase in team's productivity. This is turn makes a positive effect on organizational success. Due to this reason, gathering feedback for employee onboarding is crucial; it lets you know of the successes, and what more can be done to improve it further.
Some key reasons why an employee onboarding survey should be conducted are:
To know more about what employees think about the employee onboarding process and the organization.

Understand if new employees get their new roles and are well equipped to fulfill goals and assignments.

Set and clarify the expectations of new employees.

Understand if further training and development are needed for the employee to perform in the new role successfully.

Collect feedback from the new about the organization's employee onboarding process and to fill gaps wherever necessary.
Employee onboarding survey template by Honestly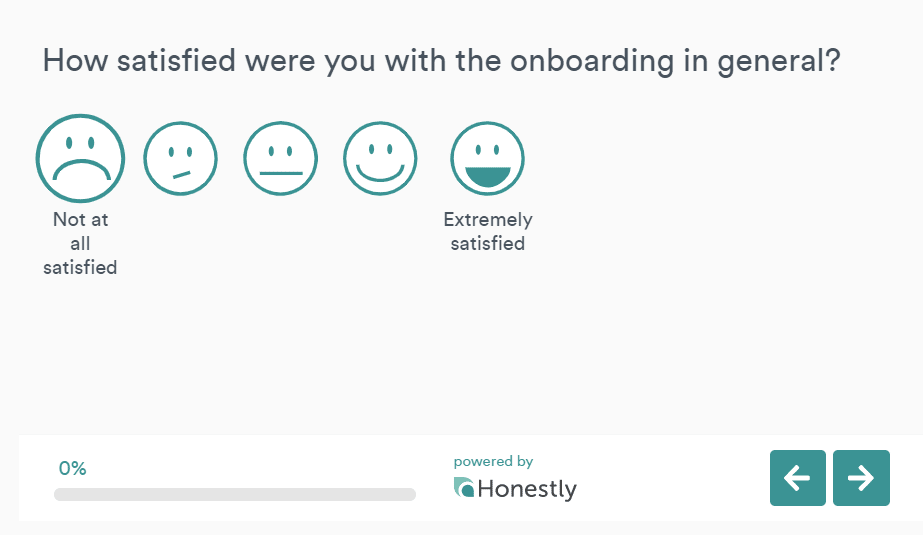 Source: https://www.honestly.com/
Employee exit survey template
Employee exits may be voluntary or involuntary, retirement or resignation falling in the voluntary bucket, and an employee being asked to go in the involuntary bucket. With hiring best practices, training and development sessions, positive workplace culture, etc., organizations can contain voluntary exits.
Exit surveys have pre-defined questions that are used in exit interviews; these can verbal or an online survey. With an online survey, you can run various analyses and look at different trends. You can use this data to understand why employees are leaving the organization and what can be done to bring that under control.
Let's look at some key benefits of conducting staff exit interviews:
Reasons for leaving

: You get to know the reasons behind employees' departures. While some reasons may be known, you may uncover areas that were unknown and need looking into and improvements.

Analytics

: With exit interviews, you get a lot of feedback that you can later view and make comparative notes on. This helps in uncovering trends and areas that need immediate attention. You can also look at what periods of the year see more attrition, by what percentage, etc.
Employee exit survey template by Roger Williams University

Source: https://www.rwu.edu
Employee performance survey template
Employee performance evaluation is the process that measures an employee's work, productiveness, and results concerning their job responsibilities. It is used to measure the value added by an employee in aspects such as business revenue, team management, etc.
Most successful organizations have known to rely on a systematic and robust employee performance evaluation system that regularly measures and evaluates performance. Staff performance evaluation plays a key role in giving employees feedback to improve performance metrics. Most organizations perform annual evaluations. While this is followed by many organizations, it is ideal to do it at least twice a year. The problem with annual reviews is that they are quite generic and follow a one-size-fits-all approach. This way, all recent victories, shortfalls, achievements can be factored into. If done annually, many of these get forgotten by either the employee or the manager. The typical memory span for this is 3-6 months. Hence, a quarterly review system is the most ideal.
Employee performance survey template sample
Source: https://www.slideteam.net/
Employee communications survey template
Employee communication is the flow of information between the employee, the management team, supervisors, peers, and vice versa. An organization's success depends on the presence and amount of communication channels in it. These channels are both internal and external. When it comes to external communication channels, it pertains to a dialogue between employees and customers, vendors, etc. Thanks to social media, the options for communication channels have gone up. You can share information with your employees, customers, vendors, etc. almost instantaneously. Not only has this brought everybody closer but has improved communication and productivity significantly. What works for an organization may not work for the other. Identify the right mode of communication is crucial for an organization. 
Effective employee communication is when your employees are fully aware of what is happening in the organization. Not only should they be aware but also should be able to contribute their thoughts and ideas. If the flow of communication is not two-way, there will be a breakdown in communication.
Let's look at the benefits of effective employee communication
Improves employee engagement:

Organizations that strive to make employee communication smooth and effective have significantly high levels of employee engagement.
Consistency and clarity:

With an effective communication channel, the message going out from the management team or supervisors is clear and without any ambiguity.
Goals management:

Employees need to have clear goals and work towards achieving them. Employees need to be mindful of organizational goals and need to align themselves accordingly. Effectively communicating with employees will help organizations get there.

Employee feedback:

If information flows both ways and uniformly, then employees are forthcoming with their feedback. This is crucial since it can have ideas that can improve productivity, business revenue, etc. and grievances or concerns that can help improve your people operations.
Employee communications survey template sample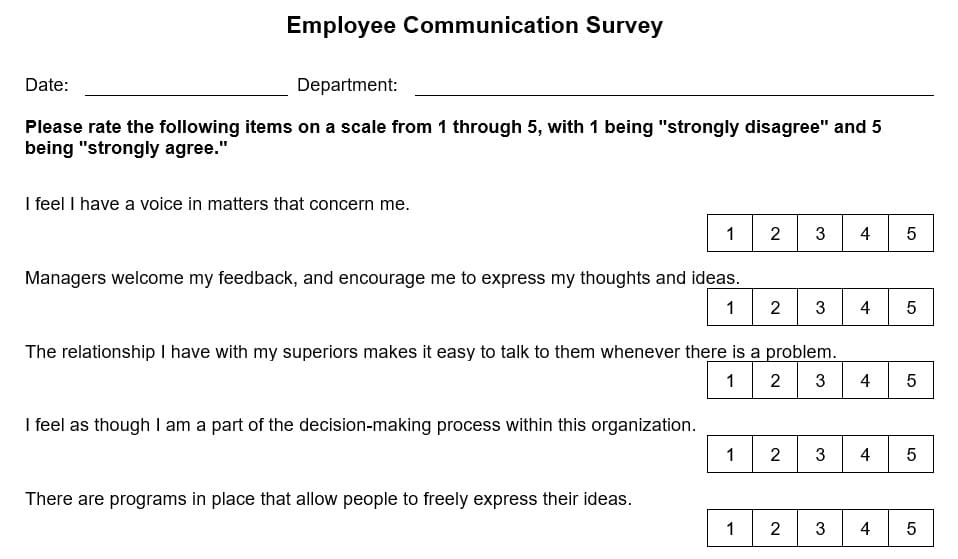 Employee survey tool or platform
There are many tools or platforms available in the market to conduct online employee surveys. QuestionPro Workforce helps you manage your work culture and employee experience surveys and is trusted by organizations globally. Workforce is used by organizations working in sectors such as technology, hospitality, retail, automotive, healthcare, etc. Using the software, they can effectively track and measure changes in HR functions such as:
Workplace culture

Employee experience

Employee engagement

Employee turnover

Performance management

Workforce analytics
Here are some benefits of using Workforce:
Comes with a customizable employee portal

Software is mobile-ready

Provides in-depth analytics

Supports software integrations

Has robust data security

Comes with a library of survey templates