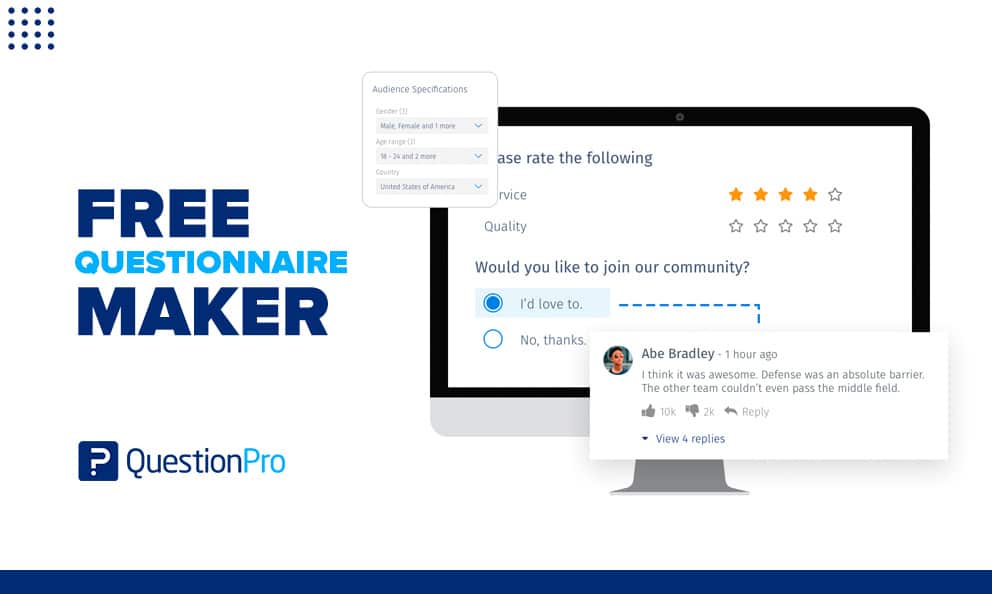 How often have you searched for a free questionnaire maker and weren't happy with the one you found? Maybe, quite a few times, isn't it?
You might have found a number of tools, but how do you decide which is the best free questionnaire maker? Well, we're going to talk about the characteristics of an excellent tool to create surveys, their uses, and how you can collect data through surveys, polls, and quizzes from your target audience in no time.
But, before that, let's understand more about the questionnaire maker.
LEARN ABOUT: Online Trivia Maker
What is a free questionnaire maker?
A free questionnaire maker is a tool that lets you create questionnaires for online tests, polls, and surveys through a simple drag-and-drop interface. You can add different types of questions, import contacts and make distribution lists, and generate reports. A free questionnaire maker lets you do all this for free. 
But here's the catch! Many online tools let you create free questionnaires for 14 days only. Or there is a limit on the number of surveys you can create. There are often hidden limitations on the number of questions you can add to surveys or imported contacts to create distribution lists.
We analyzed a number of applications and found that QuestionPro makes the best free questionnaire maker. Apart from the basic functionalities, you get tons of features for free that enable you to make surveys that create a strong brand, gather responses and help you make better decisions.
Let's delve deeper into why QuestionPro is the best free questionnaire maker.
6 Reasons that make QuestionPro the #1 Free Questionnaire Maker
QuestionPro is free for a lifetime, and you don't need a credit card. You can create any number of questionnaires templates without any limit on the number of contacts you can distribute to or export reports.
You might think that we are biased with QuestionPro. But, believe us, you can research and compare us with other online tools. Below are some reasons that make us the #1 free questionnaire maker.
1. Highest number of free features in the industry
QuestionPro offers 80+ features to design questionnaires and collect data for free. You can distribute a survey via email, website, QR code, or an offline mobile app. Customize the look and feel of your questionnaire to suit the style and voice of your brand. Choose from in-built themes or select the colors of your choice. Add your company logo, header, footer, images, and more to create a perfect-looking survey form. We help you gather feedback and understand experience of your target audience, all for free. 
2. Free resources
We offer 350+ free pre-made survey templates prepared by our experts to let you make your questionnaire in no time. You can also customize these templates as per your needs, all with a free account.
QuestionPro offers tons of resources to help you learn the tool, including free online training, webinars, self-service documentation, blogs, and lots more.
3. Wide range of question types, logic, and reports
Select from 20+ basic question types like multiple choice questions, rank order question, sliderscale, matrix, open-ended questions and many more. You can also add a video to the survey and gather input from your respondents. 
With different types of logic such as branching, text piping, randomization of answer options, and more, you can customize the survey flow. It helps you ask relevant questions only to your respondents and improves their experience, thereby boosting the completion rate.
The dashboard lets you quickly check the survey's performance along with the filters that allow you to dig into the details. Generate different types of reports to identify trends and get insights that impact your business. 
4. Automation
You can schedule survey reminder emails to save time, gather data on time, and keep the momentum going with your research. You can also schedule automatic delivery of reports; just set the frequency, date and time, and other settings like data filters.
These features make you a smart questionnaire maker and improve your efficiency while collecting the most relevant data.
5. Collaboration
Often you need to share the survey results with your team or work on a survey at the same time. QuestionPro allows you to share the dashboard and report URL with the stakeholders so that everyone onboard has the insights they need. We also let you share survey folders so that various team members can simultaneously work on the same questionnaire.
6. Integration
Integrate QuestionPro with various third-party applications to get a holistic view of your data. You can analyze survey results along with customer behavior data and create a marketing strategy that will most likely win more sales.
7. Security and Compliance
We are an ISO:27001 certified company and compliant with major data privacy regulations like GDPR, HIPAA, CCPA, FERPA, and many others. We have stringent processes in place to ensure the data security of our customers' data.
LEARN ABOUT: Powerful Survey Generator
Free Questionnaire Maker Uses
Now that you know why QuestionPro is the right free questionnaire maker for you, why not start using it! Here are a few ways to use QuestionPro survey software for free.
While QuestionPro is used by 10M+ users worldwide across various verticals, below are some of the most common use cases.
Educational institutions

–  Schools, private coaching institutes, and other educational institutions can our tool to create online tests, surveys and quizzes. It takes hardly 5 mins to create and distribute a questionnaire, and it's so simple that any fifth grader can do it on their own. 
Example: Schools can use our free questionnaire maker and gather data to learn more about student feedback, experiences, expectations, and behavior. They can create different types of surveys for parent-teacher conference questions.
Organizations

– Know more about your customer's experience with something as simple as a

smiley face survey

. Or you can use live polls

 to boost employee engagement and create fun trivia quizzes.
Example: If you want to evaluate various car designs and wonder which one would be the most favorite among the population aged 18-35, show them multiple pictures using an image chooser question. 
Non-profits

– You can create an employee feedback survey to learn more about their experience working with your organization. Non-profit organizations can use QuestionPro in various ways to create free online surveys and improve the experience of donors as well as beneficiaries.
Example: Create a feedback survey for donors and ask them how likely are they to refer your non-profit to their friends and family.
Conclusion
QuestionPro can be used across a wide range of scenarios and makes the right choice for your free questionnaire maker. 
Still, don't believe us? Read what our customers say about us on the popular software review site G2. 
Sign up for your free account now and unleash the free benefits forever. If you have any questions, feel free to reach out via chat.