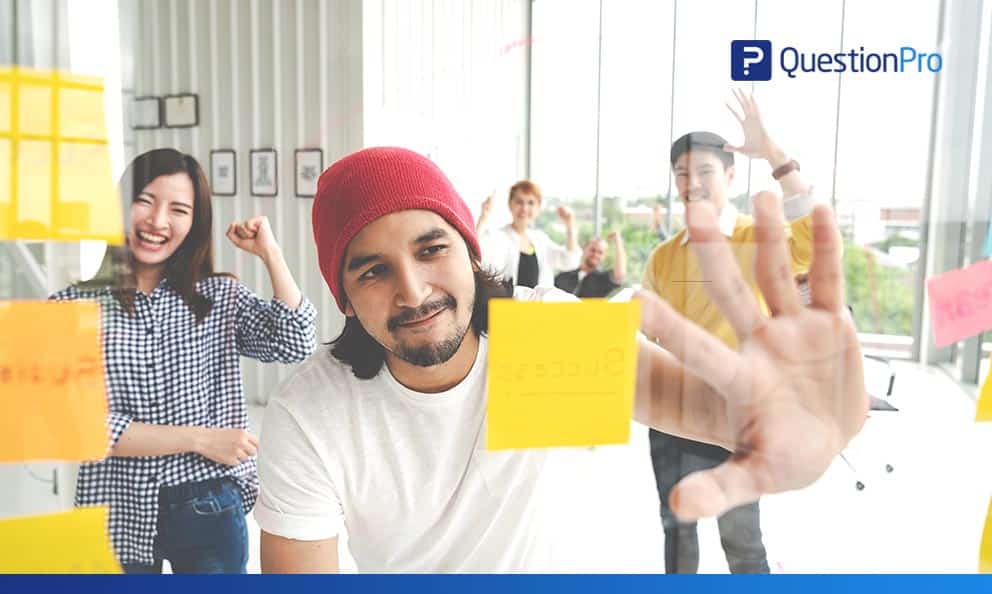 What is employee engagement?
Employee engagement is an approach resulting in all the right conditions, an employee experiences to give his/her best shot at work every day, with an increased commitment to the organizational goals and value. 
Employee engagement is based on integrity, trust, commitment and above all the willingness of an employee to be able to continue with his/her association with the organization. Employee engagement leads to business success. Either it can be encouraged and nurtured or it can be completely lost. 
In order to keep the employee engagement levels high, organizations need to think out of the box and be innovative with their take on this. In this blog, you will read about the top 16 employee engagement ideas that will help you improve the levels of engagement amongst your employees. 
Learn more: Top 25 Employee Engagement Survey Questions
Top 16 employee engagement ideas that work
It is important to work towards improving the level of employee engagement and it is well known to the organizations, it is not a cake walk! But it doesn't need to be this way forever. 
As leaders of your organization, it is your responsibility to make sure you provide your employees with a conducive atmosphere and all the necessary resources in order to ensure your staff is highly efficient and engaged. 
To do so, you will need to innovate, in this section I will talk about the top 16 employee engagement ideas that will help you bring the team together and not only facilitate engagement but also employee empowerment and improved performance. Keep these ideas handly and see your business grow: 
1. Awesome On-boarding experience
Onboarding is not just restricted to the Human Resource department. The most important role is played by the immediate managers, they are truly responsible to make sure employees feel welcome to the team, provide them with access to resources and be the first one to communicate with them. 
A new hire will start forming a perception about your organization right from day one, so take this opportunity to kick start engagement amongst employees. Start with covering the basics- expectations, goal setting, team introduction and so on. 
While you are at it, make sure to have some fun, don't make the process mundane and boring.  Consider organizing a team dinner to welcome the new employee, organize ice-breaker session or Friday games to help the new employees experience the organizational culture first-hand. 
2. Effective communication is the key
It is common for employees to hesitate to speak their minds at workplaces. This discomfort can be due to a number of reasons, but the most important thing here is to break the stereotype and encourage more and effective communication. It is not just one of the employee engagement ideas, but it is one of the most important ones. 
If you want your employees to be comfortable with what they want to express, you as an employer need to provide them with that environment, where they feel safe, not be subjected to criticism or judgment. 
Open door policy is essential and you can encourage your employees to come and talk directly with the concerned authority or Human Resources department, whatever they are comfortable with. The more you foster a safe space for communication, the more likely that your staff will bring in great ideas. 
3. Provide them with a conducive environment
In this competitive work atmosphere, where targets, goals, meetings, etc. are taking a toll on the employees, do your bit to make the work environment easy and fun. Don't make your employees slog for long hours or even make it a compulsion to sit at their desk and work. 
Provide them with makeshift standing desks or a common area with some tech-friendly facilities like high-speed internet, work desks, resting chairs to help them break the regular routine that might be wearing them. 
4. Get your employees to know each other 
In larger organizations, it is quite common that employees go through the day, weeks or even years not knowing people from other departments. The plight is when they don't even know people from their own team. The bigger the company more are the chances of disconnect 
The management of the organization should take initiatives and lead in making sure the organization is well connected. There are a number of fun ways of doing it. Plan inter-department games and get your employees to participate. 
Music is a great way to bond, encourage your employees to form a band and perform, alternatively, you can also organize happy hours at the end of the workweek. You should let your staff interact with each other and even outside work without having to worry about what they will discuss. 
5. Be a mentor, not just a boss 
There is going to be a time in every employee's lifecycle where they will face issues with engagement, it is essential to address the concern sooner than later. Some managers fail to take the personal approach to get to the root cause of the problems rather they rely too much on the canned methods and like to stick to the old techniques. 
Remember every employee is different and will need a different approach, offer your help as a mentor and not just as a boss or a manager. Setting aside some time to help your team member, is not going to incur losses to your organization, rather if you don't deal with the engagement issue, this is going to severely pinch you in the long run.
6. Focus on collaboration 
Take a good look at your employees whose engagement levels seems to be dwindling, observe carefully, they have a pattern, they like to work alone. Collaboration is one of the important thing organizations need to focus on improving as this can drastically improve the quality of ideas, cut down on wasted hours and most importantly improve engagement. 
7. Flexibility is the key
The best mentors are those managers, that hold their employees accountable for their performance, but also give them the flexibility to get things done. Professional adults don't need someone breathing down their neck all the time. It is difficult for someone to just lose control over employees, especially if they have been in a leadership role for long. 
Having said that it is also essential to realize how much difference can flexibility make. There are "n" number of ways to prove to your employees that you are willing to be flexible when it is needed. Allow them to work from home, let them take a personal day, keep a mental health day off. 
Please note it is important to keep an eye on how certain employees use this flexibility, some may take things too far. On occasions like these, intervention is recommended to make sure discipline is not compromised.
8. Celebrate your employees
Your employees are more than just their accomplishments at work. Take every opportunity to celebrate their achievements even outside work. A simple way could be bringing a cake for their birthday, attending weddings, recognizing rewards outside work. There are many things you can do differently to create that impact on your employees. This not only increases their focus at work and increases engagement, but also these gestures go a long way with them. 
9. Ask your employees for their advice 
Each of your employees has a unique strength, remember as a manager you cannot do everything on your own and that is exactly the reason you have a team in place. Ask employees for their advice. When you ask for help from your employees you are actually acknowledging their strengths. 
Consulting your employees shows you respect their opinions. Promote win-win employee engagement ideas. Make sure you follow up on feedback, so your employees see their ideas in action and know their opinions truly matter.
10. Let employees be themselves
When employees bring their whole self to work they tend to be more engaged and productive. Remember you are dealing with real humans- blood and flesh and not factory line robots. Simply knowing their favorite sport, travel destination, etc. can help employees unwind at work. 
Employee engagement levels drop when you assume all your employees to be identical in all manner. Encourage them to be themselves and they will be at their best at all times
11. Cover employee's insurance costs
Health comes first! Want to keep employees happy? Keep them healthy! to build employee engagement, it all starts with a good Health insurance plan that covers most of the medical expenses if need be.
12. Offer on-site fitness facilities
Employees will love the time and cost savings, and converting an empty office or conference room to an on-site gym may be less expensive than you think.
A healthy exercise routine not only keeps an individual fit but also considerably reduces work stress which in-turn uplifts employee engagement. There are many organizations that incorporate physical fitness into their daily work environment. Either on-site gym access could be provided or the gym fees could be subsidized for employees living in remote areas. Google is an example with amazing employee perks and its health and wellness on-site facilities certainly don't disappoint.
13. Health and fitness competitions
One of the best ways to promote individual well being is by making them participate in a fitness competition and incentivize the winner. For examples all overweight employees who shred 20% of their weight will receive a 20% bonus on their monthly salary.
14. Sponsoring employee events
While we always stress on the job work environment, outside social gathering is equally important to strike a work-life balance and promote overall employee satisfaction. Some of the ideas:
Mystery Dinners, Trampoline Parks, Karaoke Nights, Go Karting, Painting Class, Sports Competitions
All these activities are bound to increase employee morale and bonding.
15. Ditch the dress codes
A study conducted at QuestionPro found that dress comfort makes the employees happy. As long as the employees meet minimum dressing standards we see no reason why employees shouldn't be allowed to dress up the way they want. There are many top organizations that have embraced a casual dress code from the start and its an important part of their organizational culture.
16. Action-oriented Engagement Surveys
How often we see organizations conducting surveys and then the findings gather dust as no action is taken. Doing this will only lower the future employee response rates and will set a negative company impression that their feedbacks are taken for granted and not adhered to. You don't need to bombard the surveys with 20 questions, just keep them short and precise facilitating easier completion and only ask them when you are sure to take action on findings. A monthly survey will enable you to spot trends in engagement and hence make a more frequent adjustment.