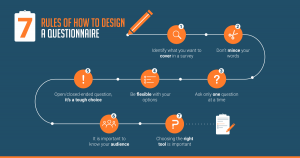 Conducting research studies are one thing, but conducting a questionnaire that actually generates insightful data is another. A well-written questionnaire can provide the client with invaluable customer insights. While questionnaire methodology may seem intimidating to those who are unfamiliar with market research, it doesn't have to be.
No questionnaire can receive a successful response without a  good questionnaire design. I bet! Most of us have been in a situation where we have made a purchase from a certain brand or dined at a restaurant and have received a questionnaire to register our response or feedback on the product or the services offered.
How many of us simply don't respond to the questionnaire because it is confusing or too lengthy? In most cases, the questionnaire design drags down the enthusiasm of the respondents and they fail to answer it. Questionnaires should be designed in a manner such that it is relatable and extremely easy to understand by the respondent.
The questionnaire is an integral part of market research. Without a well-designed questionnaire, it is not possible to extract the right information from the respondents. Conclusively the research has no meaning unless the data collected is of substantial use to the survey deployer.
How to create a good questionnaire design
Questionnaire design is a multistep process that requires attention to details at every step. Designing in itself is a complicated process, designing a questionnaire is equally complicated because a survey might be based on varied topics (not all at once!) with varied details.
Researchers are always hoping that the response they get, yields a good data. At the end of the day it all boils down to, how good or bad is the data that one receives through these surveys. If it is too complicated, there is a fair chance that the respondent might get confused and is unable to respond aptly.
A survey creator may administer a pre-testing of the same to a focus group during the development process to get a better understanding of how the respondent in that focus group responds. Pre-testing is a good practice as the survey creator can comprehend in the initial stages if there are any changes required in the survey.
Steps involved in questionnaire design
1. Identify what you want to cover in a questionnaire: Even before you think how your questionnaire will look, think what your questionnaire is going to include. Clarity of topic is of utmost importance as this is the primary step in designing the questionnaire. Once you are clear on what the questionnaire is going to be about the rest of the steps simply follow.
2. Don't mince your words: It's essential that the words or phrases that you use while writing the questionnaire are easy to understand because there are chances that not all respondents will understand the meaning behind it. If the questions are unclear the respondents they may simply choose any options, leading to inaccurate data at your end.
3. Ask only one question at a time: At times a researcher may be tempted to add two similar questions as one. However, this is also something that should be avoided as each question might have a different outcome. It may seem like common sense, but it's an easy trap to fall into when compiling questions. If any of your questions contain the word "and", take another look at it. This question likely has two parts, which can tamper your data quality.
4. Be flexible with your options: While designing, the survey creator needs to be flexible in terms of "option choice" for the respondents. Sometimes the respondents may not necessarily want to choose from the answer options provided by the survey creator, in such a situation it helps to have "other" option.
5. Open-ended or closed-ended question, it's a tough choice: The survey creator might end up in a situation where he/she would need to make distinct choices between open or close-ended questions. Again the question type should be carefully sorted as it defines the tone and importance of asking the question in the first place.
If the questionnaire requires the respondents not to restrict their thoughts, open-ended questionis the best choice. But, if the surveyor wants a specific response then close-ended questions should be their primary choice. The key to asking closed-ended questions is to generate data that is easy to analyze and spot trends; not to mention, closed-ended questions are easier for the survey taker..
6.It is important to know your audience: As a thumb rule, a researcher should know their target audience. For example, if the target audience is Spanish, sending the questionnaire in any other language will not yield desired responses. Something that may seem clear to you may be confusing to your respondents. Use simple language and terminology that your respondents will understand, and avoid technical jargon and industry-specific language that might confuse or frustrate your respondents.
7. Choosing the right tool is important: QuestionPro is a simple yet advanced survey software platform that the surveyors can use to create a questionnaire or choose from the already existing 250+ questionnaire templates.
One last yet an important note before we conclude, save personal questions for last! Sensitive questions may cause respondents to drop off before completing. If these questions are at the end, the respondent has had time to become more comfortable with the interview and are more likely to answer personal or demographic questions.