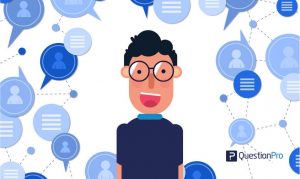 "Feedback is the breakfast of the champions"- Ken Blanchard
Monday mornings are usually hectic and Monday blues don't make things any easy. You want to grab a quick bite and there is a long queue at the cafe, suddenly, someone comes along and asks for a feedback on the cafe! How will you react?
Well, this is pretty much the same situation at work. Feedbacks have become a very common practice at workplaces but can be annoying. Organizations or businesses feel the need to be informed on how their employees are doing at work, but there needs to be a more subtle mechanism involved here.
360 degree feedback is a practice that allows an employee to give a feedback to themselves and their manager, peers or direct reporting authority also provide feedback about the employee. So it's basically a two-way path that facilitates assessment at work and helps improve the work culture.
Let's understand some of the advantages of 360 degree feedback tool:
1. Helps increase self-awareness
This feedback tool helps increase self-awareness within the employees. Since it's an anonymous feedback process, an honest feedback regarding the behavior of an employee is usually registered. Employees can go through the feedback and mark their areas of improvement.
2. Reduces blind spots
As the name suggests 360 degree feedback is an overall feedback method that helps analyze the strengths and weaknesses thus reducing blind spots and increasing the efficiency of an employee. This feedback is a good way of exploring hidden strengths as it's not single directional and helps the employee identify their hidden talent.
3. Helps build confidence
This feedback mechanism helps build confidence and increase the morale not only of the employees but also of the leaders. Leaders start to feel better about the organization and the people they are working with and vice versa. This effectively improves the decision-making capacity of the leaders as the feedback is usually given in a constructive manner.
4. Creates a better workplace culture
This feedback helps create transparency in an organization. Although the process is anonymous, the feedback is given directly to the employee by the manager and peers and vice versa. This helps reduce animosity towards each other and facilitates better workplace culture.
5. Fosters a culture of equality at work
According to a study, only 46% employees in the U.S feel they have a voice at work. 360 degree feedback is bound to change this stats. Through this feedback, employees have the equal advantage of giving a feedback to their leaders, managers or peers. In this manner, the employees have equal say in the evaluation and this promotes a culture of equality in the workplace.
6. It reduces turnover
Many organizations face the heat of severe employee turnover. This damages their market reputation as not many people want to be employed at a place where there is less job security. This feedback system gives chances to employees to identify their weakness and work on it, thereby reducing the efforts to fire the employee.
7. It's a continuous improvement process
The best attribute of this feedback is the continuity of the process. It's not a one time process, where a feedback is given and forgotten. Many organizations encourage this process and there is no fixed time to conduct feedback or assessment, unlike the traditional ways. Therefore, a continuous cycle helps both, employees and their leaders to improve themselves during their tenure of employment.
360 degree feedback is a tool that covers most aspects of behavioral competencies of an employee or their manager or management. It is a system that promotes transparency in the system of feedbacks and reduces animosity thereby making it extremely popular amongst organizations.