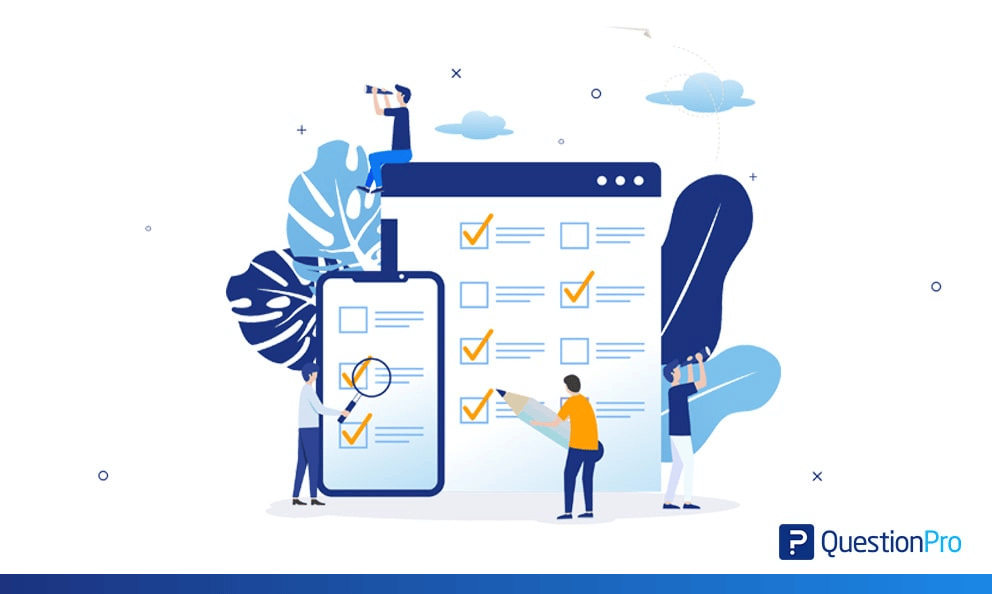 As a business, you must have tried to collect your customers' feedback through various methods to offer them the best experience. As a customer, you might have wanted to share your views with the product or service vendors to let them know your honest opinion. No matter which role you played, feedback was the center stage. Well, an online questionnaire will make your life easier either way.
Gathering and providing valuable information is getting easier quickly thanks to technology and the constant improvement in survey software like QuestionPro. Keep reading and learn what an online questionnaire is.
What is an online questionnaire?
An online questionnaire is a series of questions specifically structured to gather information about a target audience or group of people conducted online. The interviewees will answer the form easily, accessing it through an internet connection. This type of questionnaire is a tool that allows us to get feedback about a product or service and collect data for research, thanks to an online survey platform.
Online surveys are fully customizable and differ in format, length, and design. A database provided by the survey software sorts the information obtained from online questionnaires, along with valuable results for data analysis.
Create questionnaires the way you want using professional survey software and achieve greater reach by quickly sending them to your target audience.
What is an online questionnaire used for?
Online questionnaires allow the process to be effective. Researchers can reach a wider audience, obtain the results in real-time and collect large amounts of information for better decision-making.
We can use questionnaires to:
Differences between an online questionnaire and a paper questionnaire
Advantages & disadvantages of developing an online questionnaire
Online questionnaires can be a powerful tool if used correctly. They can help your company gather valuable information to improve products or services. They can also define and implement strategies to gain market share.
What is the benefit of an online questionnaire?
Some of the benefits of developing an online questionnaire are easy to identify; others require more attention. Let's get to know some of them to understand better what you should be getting from the best online questionnaire.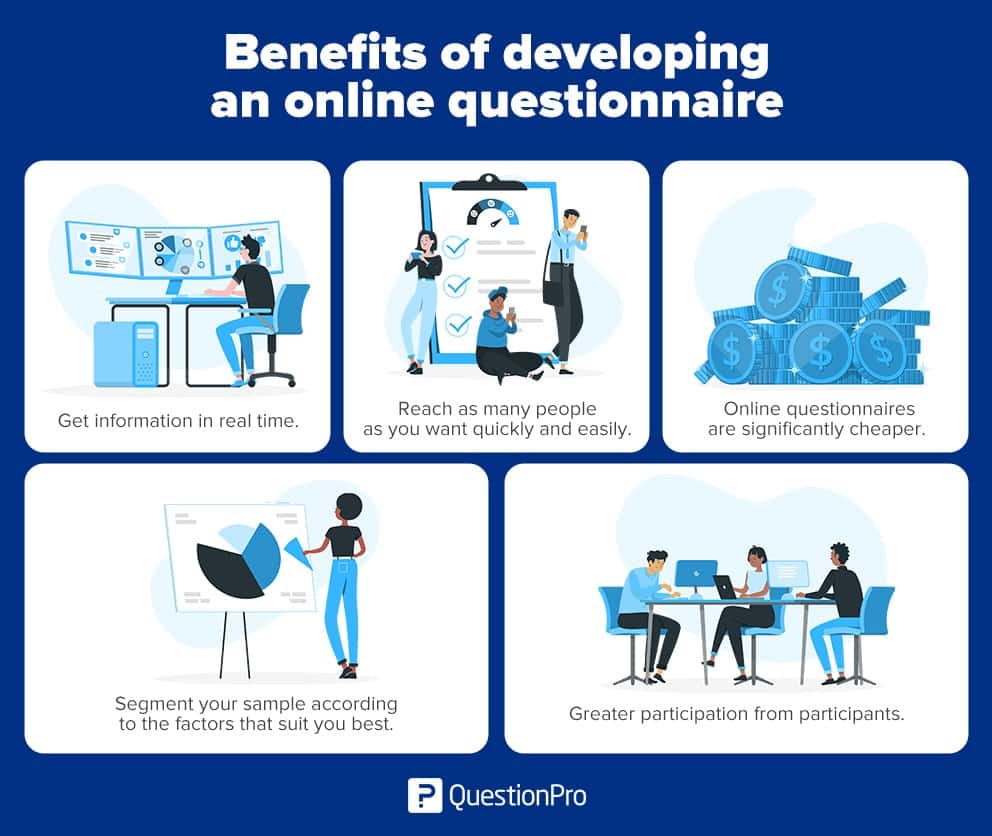 Disadvantages
Those responsible for implementing questionnaires know how valuable this tool is for obtaining information and developing future projects. But often, decision-makers prefer to use other data collection methods.
Some of the disadvantages of developing an online questionnaire are:
An online questionnaire is valuable for a fast and efficient research process. With QuestionPro, you can do it easily and get the information you need to make the right decisions for your organization.
In this video, you can learn a little more about our platform.
Examples of online questionnaires
Here you will find some examples of questionnaires that can serve you as a guide to design your following survey and get the results you want.
Mobile App
With QuestionPro, it is possible to leave behind the paper and use the app for questionnaires that will allow you to add any type of questions and survey logic that the platform has. With solutions for companies, tech entrepreneurs and small businesses.
In addition, it is possible to conduct user surveys without the need for internet access. Respondents can answer the questions at their convenience. The responses are stored locally, and once they reconnect with the internet, the answers transfer to the server. QuestionPro users can generate reports, export results or download them for offline use.
Some of the features available in our app for questionnaires are:
In addition to the many other features of our survey app, it is also possible to use a wide variety of questions that can be effective for your research process:
Creating your online questionnaire
The best way to use online questionnaires to your advantage is to design the perfect mix for your customers and their needs. With QuestionPro, you can get the information you need through the best online questionnaires using the features of our powerful tool. 
Create a free account, and let's start designing your online questionnaire. No credit card is required.