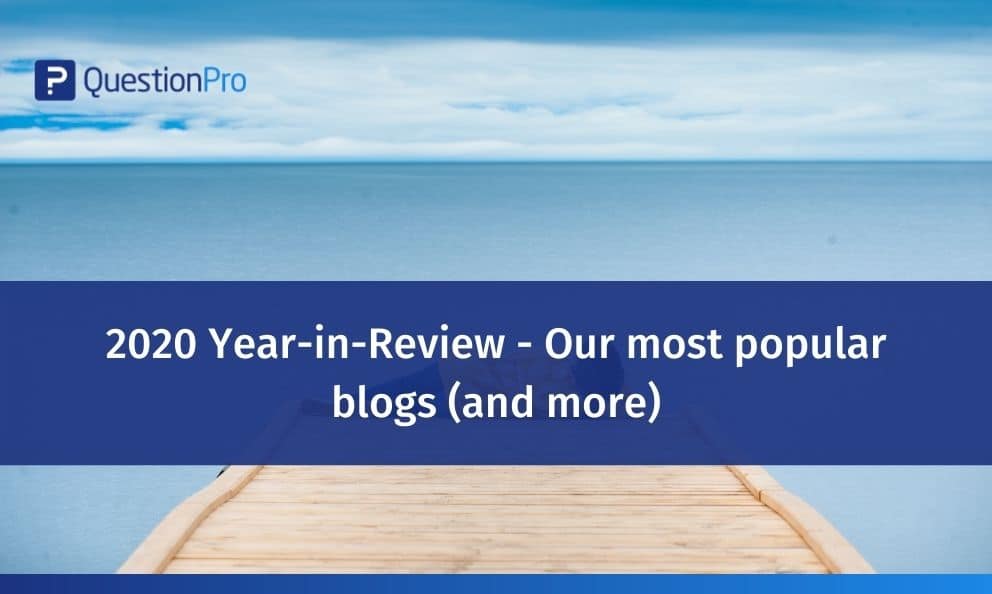 With 2020 being such an eventful year around the globe, QuestionPro was busy supporting our customers, advancing research, and helping our users make the most of our applications.
From launching new features, offering the highest number of free features in the research industry to moving the headquarters to Austin (and then moving to WFH!), it was quite a year for us like any other business. 
Here we bring to you an end of the year roundup of our blogs, webinars, case studies, and releases, just in case you missed it! 
Below are some of the resources that would help you get a quick recap of all the major developments at QuestionPro.
Blogs
New features
We keep enhancing our products to meet the agile needs of our customers and the evolving nature of the market research industry. Below are some of the prominent features we added in 2020.
XDay 2020 
 North America

 LATAM

 MENA

 APAC

 Germany
We hosted our XDay, an annual user conference, online for the first time and received a tremendous response from our speakers, customers, and attendees. It was a one-day event planned for each region on a different day.
Watch all recordings here.
Webinars
We conducted 20+ webinars last year on surveys, advanced research, customer experience, and more. Below are the ones our attendees found quite interesting and engaging. 
View all webinars here.
Case Studies
We're delighted to transform customer success journeys into stories that can inspire and educate others on how they can use QuestionPro platform to collect data, measure experience, and gain actionable insights.
Hope you find them interesting as much as we enjoyed them creating! We'll be back in 2021 with new features, events, and content that will help you conduct surveys and collect insights better.
Till then, happy researching!