What is Closed Loop Feedback?
Closed Loop Feedback is a response-based ticketing system. It is a vital part of Customer Experience. Closed loop feedback is when a business responds to or acts on customer feedback through an online or offline survey. This system is designed to help a user to manage automatic tickets and manual tickets in one convenient place.
Why is closed-loop feedback important for customer experience?
Closed-loop feedback is a customer-centric process that involves gathering feedback, analyzing it, taking action, and closing the loop with customers. It starts by collecting feedback through surveys, reviews, or direct communication, followed by analyzing the data to identify areas for improvement. Actionable steps are then taken to address the feedback, such as resolving issues or refining processes. Closing the loop entails communicating with customers, providing updates or solutions. Continuous improvement is integral, with ongoing monitoring, evaluation, and incorporation of feedback into decision-making. This iterative process enhances customer satisfaction, trust, and loyalty, while driving organizational improvement.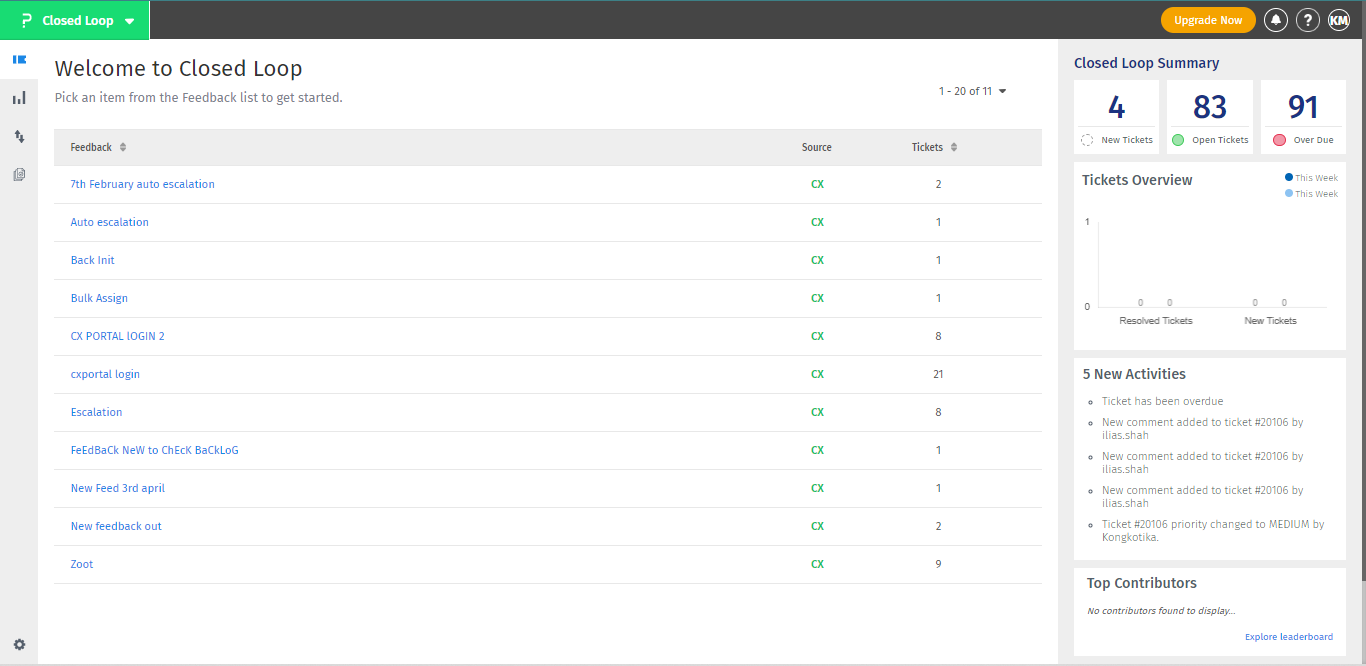 How does CLF work?
Closed-loop feedback improves products and services. It is the process of contacting customers who have provided feedback. Closed loop feedback begins with a business surveying with the customer in mind. Once the survey is made and sent to customers, they give their feedback, and the business collects and looks at the data. With closed-loop feedback from QuestionPro CX, businesses can do the following:
Customer identification
Collecting information for action
Follow-ups can be automated
Case management that is efficient
Identification of the internal problem
What are the key features of CLF?
CLF is an innovative ticket management solution that offers a range of features to help users manage their tickets efficiently and effectively. The key features of CLF include:
Auto Overdue: CLF includes an auto overdue feature that displays alerts next to ticket ID's when they become overdue, enabling quick identification and resolution of overdue tickets.
Auto Escalation: CLF incorporates an auto-escalation process for assign tickets automatically to assignees based on predefined rules, ensuring timely resolution and minimizing delays.
Root Causes and Actions: CLF empowers users to set root causes and corresponding actions in the settings, enabling the identification and resolution of underlying issues for tickets, enhancing efficiency, and elevating customer satisfaction.
Three Different Views: CLF offers three different views of tickets including list, feed, and kanban views, providing users with the flexibility to view their tickets in the way that best suits their needs.
Email Templates: CLF incorporates customizable email templates in the settings, allowing seamless communication with customers by sending regular updates on ticket status, ensuring effective and transparent communication during the entire resolution process.
In which industries CLF ticketing systems can be commonly used?
QuestionPro is a customer experience management platform that provides closed-loop feedback ticketing systems to a wide range of industries, including:
IT and technology support
E-commerce
Telecommunications
Transportation
Banking and finance
Healthcare
Government and public sector
Hospitality and tourism
Education