Frage zur Heatmap-Analyse
Eine Heatmap ist eine grafische Darstellung von Daten, bei der die in einer Matrix enthaltenen Einzelwerte als Farben dargestellt werden. Fractal Maps und Tree Maps verwenden häufig ein ähnliches System der Farbcodierung, um die Werte darzustellen, die eine Variable in einer Hierarchie annimmt. Mit Heatmaps können Sie sofort ein Gefühl für ein Gebiet bekommen, indem Sie Orte in Kategorien gruppieren und deren Dichte visuell anzeigen. Je dunkler die Farbe ist, desto höher ist die Dichte.
How can I add a Heatmap - Image Testing question to my survey?
Go to: Anmelden »Umfragen (Umfrage auswählen)» Bearbeiten »Arbeitsbereich.
Klicken Sie auf die Schaltfläche Frage hinzufügen.
Klicken Sie unter Erweiterte Fragetypen »Bild / Multimedia auf Heatmap frage.

Die Heatmap-Frage wird in Ihrer Umfrage angezeigt.

Bild hinzufügen: Klicken Sie auf das Standard "?" Markieren Sie das Bild und wählen Sie es aus dem Einblendmenü (Meine Bibliothek) aus oder laden Sie ein neues Bild hoch.
Wie beantworten die Befragten die Heatmap?
Um die Heatmap-Frage zu beantworten, müssen die Befragten auf den Bereich im Bild klicken.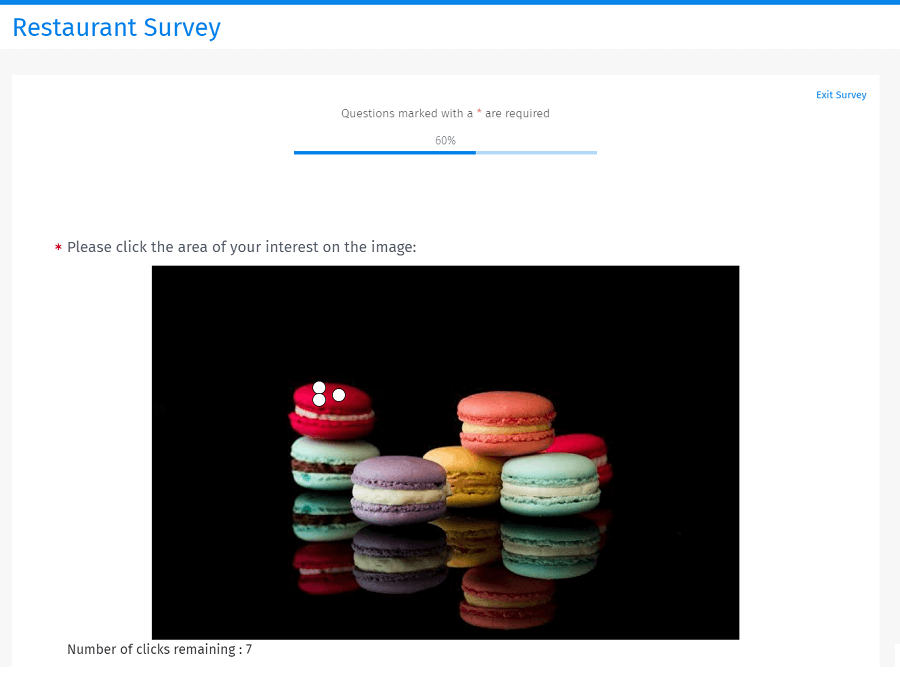 What type of analysis / reporting do I get for the heatmap data?
Mit der Survey Analytics Enterprise Platform können Sie die Heatmap-Daten auf sehr komplexe Weise analysieren. Sie erhalten eine Bilddarstellung Ihres Originalbildes für die Daten. Der Bereich, der am häufigsten von den Befragten gezogen wurde, wird dunkelrot hervorgehoben. Je seltener ein Bereich gezogen wird, desto schwächer wird seine rote Farbe hervorgehoben. Die Bereiche, die noch nie gezogen wurden, werden blau hervorgehoben. Sie können den Trend / Fokusbereich der Befragten leicht erkennen, indem Sie nur das Bild betrachten.
Gehe zu: Anmelden »Umfragen (Umfrage auswählen)» Analytik »Analyse» HeatMap-Analyse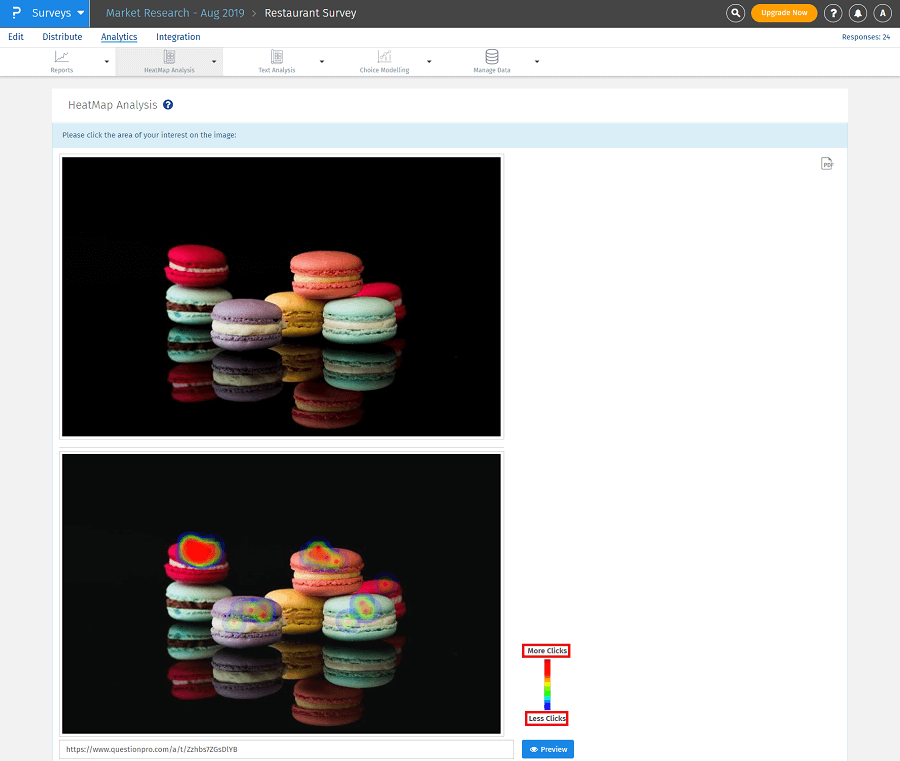 Lizenz
Diese Funktion ist mit der folgenden Lizenz verfügbar: