Spam Index
Was ist der SPAM Index?
Wir lassen Ihre hochgeladene E-Mail-Liste durch eine Reihe von Filtern und Algorithmen laufen, um objektiv die Qualität Ihrer Liste festzustellen. Die folgenden Ergebnisse sind möglich:
Good - Keine gravierenden Probleme festgestellt
Fair - Einige Probleme festgestellt
Poor - Liste ist höchst SPAM-verdächtig. QuestionPro wird NICHT akzeptieren, dass Sie E-Mails an diese Liste senden, ohne das Sie vorher das Einverständnis von einem unserer Mitarbeiter eingeholt haben.
Restricted - Nicht akzeptabel. - Diese Liste wird von QuestionPro nicht akzeptiert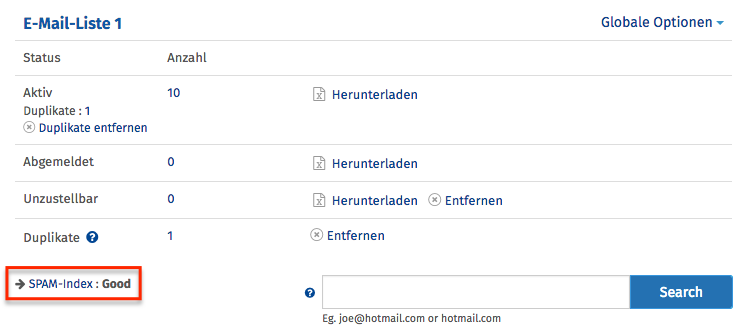 Welcher Algorithmus wird verwendet um den SPAM Index zu ermitteln?
Dies ist vertraulich und wird nicht offenbart.
Ich habe meine E-Mail-Liste hochgeladen und der Spam Index ist "Poor" -- Was kann ich tun?
Bitte wenden Sie sich an den Kundenservice und stellen Sie Ihm folgende Informationen VOLLSTÄNDIG zur Verfügung:
Ihre aktuelle Lizenz und wie lange Sie schon Kunde sind
Das Land in dem Ihre Firma tätig ist, Anschrift und Webseite
Explanation on how you obtained this email list
Wann haben Sie zuletzt Nutzer über die E-Mail-Liste kontaktiert?
Have users explicitly opted-in to receive email from you? If so, do you have IP address and timestamp logs of the opt-in process?
Unser Kundenservice wird sich Ihrer Daten annehmen und unter Umständen weitere Informationen verlangen. Sollten wir überzeugt sein, dass Sie mit Ihrer Liste keine Spam-E-Mails verschicken wollen, können wir den Status überschreiben. Der Status wird dann in "Poor (Phone Verified/Override)" oder "Restricted Phone Verified/Override" geändert.
Wie lange dauert dieser manuelle Verifizierungsprozess?
Unter der Woche und zu den regulären Geschäftszeiten, dauert dieser Prozess zwischen einem und drei Werktagen, in Anhängigkeit von unserer Auslastung.
Lizenz
Diese Funktion ist mit den folgenden Lizenzen verfügbar:
You may also be interested in...