QR Code-Reader Frage
Ein QR-Code ist ein maschinenlesbarer Code, der typischerweise zum Speichern von URLs oder anderen Informationen verwendet wird. Diese Informationen können über die Kamera von Handgeräten oder Smartphones ausgelesen werden.
Der QR Code Reader Fragetyp kann auf QuestionPro oder SurveyPocket App verwendet werden. Es gibt dem Benutzer die Möglichkeit, die QR-Codes mit seinem Smartphone während der Umfrage zu scannen.
How to Add the QR Code Reader question?
Login >> Umfrage auswählen >> Frage hinzufügen >> Erweitert >> Mobile >> QR Code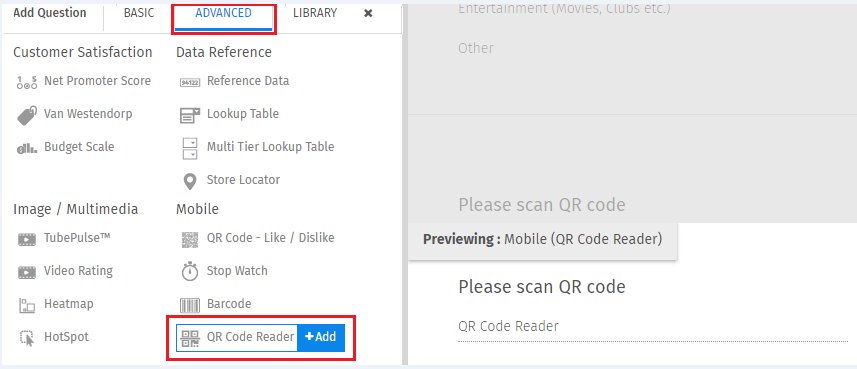 So wird es auf der QuestionPro oder SurveyPocket App aussehen: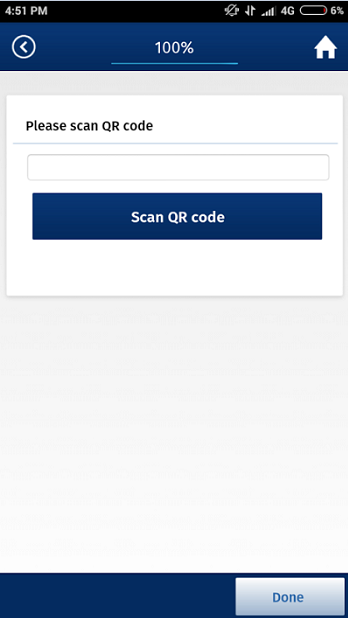 Funktioniert es auf dem Handy ohne App?
Ja, es funktioniert auf dem Browser Ihres Gerätes, egal ob Handy oder Computer, sofern es mit einer aktiven Internetverbindung verbunden ist.
Note: Wenn Sie es im Browser betrachten, handelt es sich um ein numerisches Textfeld, in das die Befragten die Informationen eingeben müssen.
Funktioniert es mit alles Smartphones?
Wenn Sie die Offline-App verwenden, dann ja. Um mehr über die Offline-App zu erfahrenklicken Sie hier
Für die Online-Befragung über den Browser können Sie jedes mobile Gerät mit aktiver Internetverbindung mit Browsern wie Safari, Chrome, Mozilla, etc. verwenden.
Lizenz
Diese Funktion ist mit den folgenden Lizenzen verfügbar: