Multiple Choice: Einfachauswahl
Was ist eine Multiple Choice Frage mit Einfachauswahl?
Mit Hilfe dieses Fragetyps können Sie den Befragten auffordern eine Antwort aus einer vordefinierten Auswahl von Antwortoptionen auszuwählen.
Wie füge ich meiner Online Umfrage eine Multiple Choice Frage mit Einfachauswahl hinzu?
Gehen Sie hierzu auf: Umfragen >> Bearbeiten
Klicken Sie auf die Schaltfläche Frage hinzufügen.
Ihnen werden nun die verschiedenen Fragetypen angezeigt. Klicken Sie unter Standardfragetypen auf Multiple Choice >> Eine Option auswählen

Geben Sie den Fragetext und die Antwortoptionen in das entsprechende Eingabefeld ein.

Mit Hilfe des umfangreichen Texteditors können Sie das Look and Feel der Online Umfrage mit wenigen Klicks anpassen.
Sie können auch Bilder mittels HTML-Tags aus Ihrer Bildbibliothek einfügen. So geht's
Einstellungen:
Es gibt verschiedene Einstellungsmöglichkeiten für diesen Fragetyp: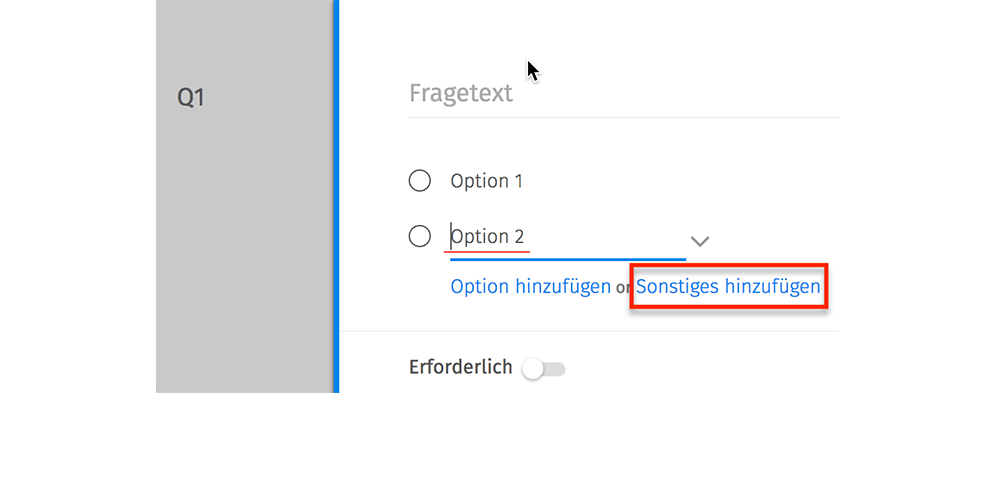 1. Validierung und Anzeigeeinstellungen: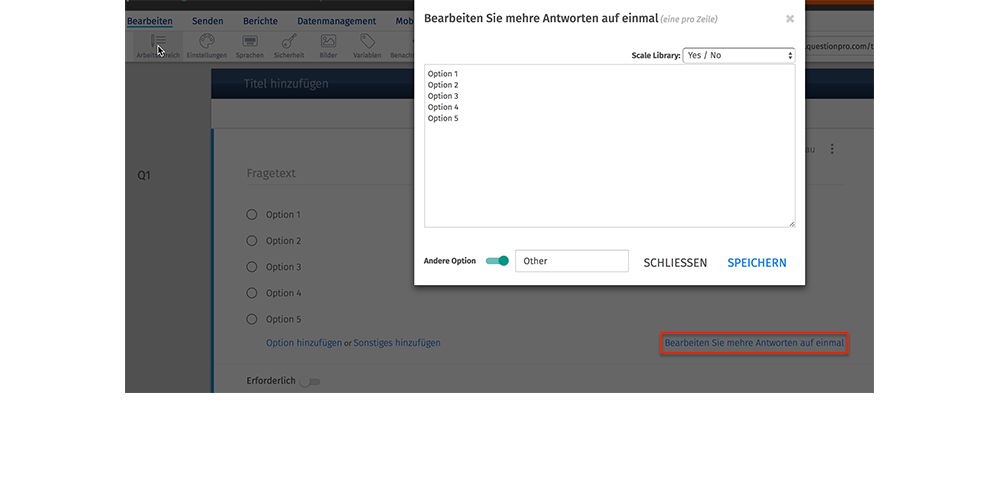 2. Look and Feel: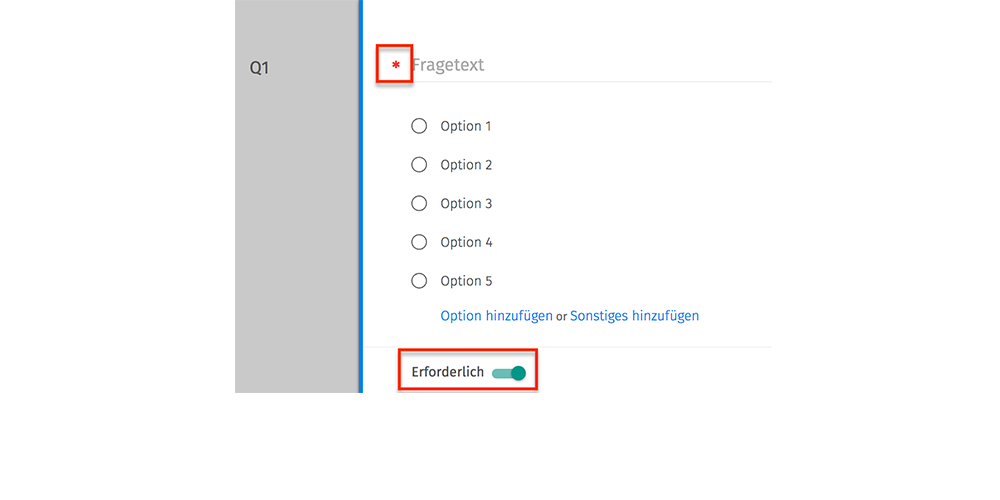 Anweisungen/Kopfzeile: Sie können Anweisungen in Textform eingeben, die dann oberhalb der Frage angezeigt werden. So geht's
Sortierreihenfolge: Sie können die Daten "Aufsteigend" oder "Absteigend" sortieren.
Video einbetten: Sie können ein YouTube-Video oder ein Video aus Ihrer Bildbibliothek in die Online Umfrage einbetten. So geht's
Location search: Sie können eine kleine Karte am Rand der Online Umfrage einbauen.
Anzeige: Sie können abwechselnde Farben für die Antwortoptionen auswählen, sodass sich die Online Umfrage einfacher lesen lässt und besser aussieht. So geht's
Breite von Fragen und Antworten: Sie können die Breite der Frage und der Antwort anpassen. So geht's
3. Tipps: Geben Sie Tipps zum Beantworten der Online Umfrage, um dem Befragten die Teilnahme zu erleichtern und Verwirrung zu vermeiden. So geht's
Community:
Community-Link-Fragen werden benutzt, um die Antwortwerte der Online Umfrage mit einer Community zu verknüpfen.
Lizenz
Diese Funktion ist mit den folgenden Lizenzen verfügbar: