Face detection on kiosk mode
What is face detection?
When a device is set in kiosk mode, you can display a video, gif, or an image carousel to attract attention or to get respondents interested.
Once the device detects the face of an interested respondent, the survey will get started..
Here's an example: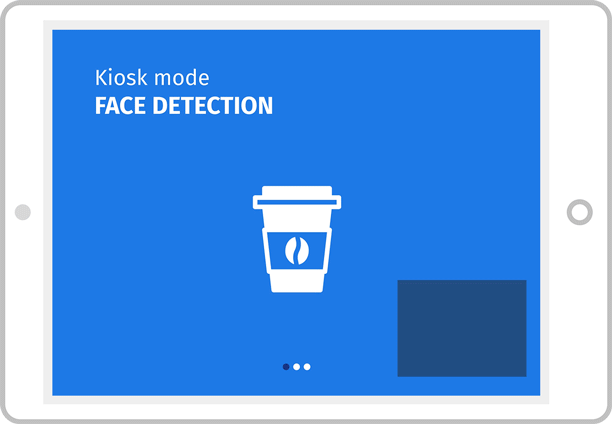 How do I enable face detection?
Log into your QuestionPro account and go to Mobile » My Devices
Click on the name of the device for which you want to activate this feature to open the settings.
Go to the Kiosk tab and toggle the face detection option.
Please disable the Loop Survey option under the Settings tab when using face detection.
How does the Inset Camera Screen option work?
When you enable face detection, the Inset Camera Screen option is enabled by default.
This means that a live display of your camera feed will appear on the screen, which is generally helpful when testing.
You can disable this option when going live so the camera screen is not displayed on the device.
Can I use custom backgrounds?
Yes. When face detection is enabled, you'll notice that a gif is set as the default background for the device.
But you can use your own custom media. We provide support for the following types of files:
Custom Gif
Video
Image Carousel
To use a custom background, just choose the type of file you wish to use, upload it and click save.
Once saved, sync your device, and upon entering kiosk mode, you'll be able to see your custom background. If you have multiple surveys on the device, simply select the survey before entering kiosk mode. It will be started as soon as a face is detected.
License
This feature is available with the following license :