Data Quality - Plagiarism Detection
We have added plagiarism detection to our data quality checks. When plagiarism detection is enabled under data quality, we identify responses if they were submitted by bots like ChatGPT or other automated or AI solutions available. If a response is detected as submitted by bots, the response will be flagged and can also be terminated for data quality. We can detect text responses if they are pasted instead of typed in by respondents. These checks allow you to weed out bad responses and making sure that your data is clean and of the highest quality.
Here is a quick glimpse of how plagiarism detection works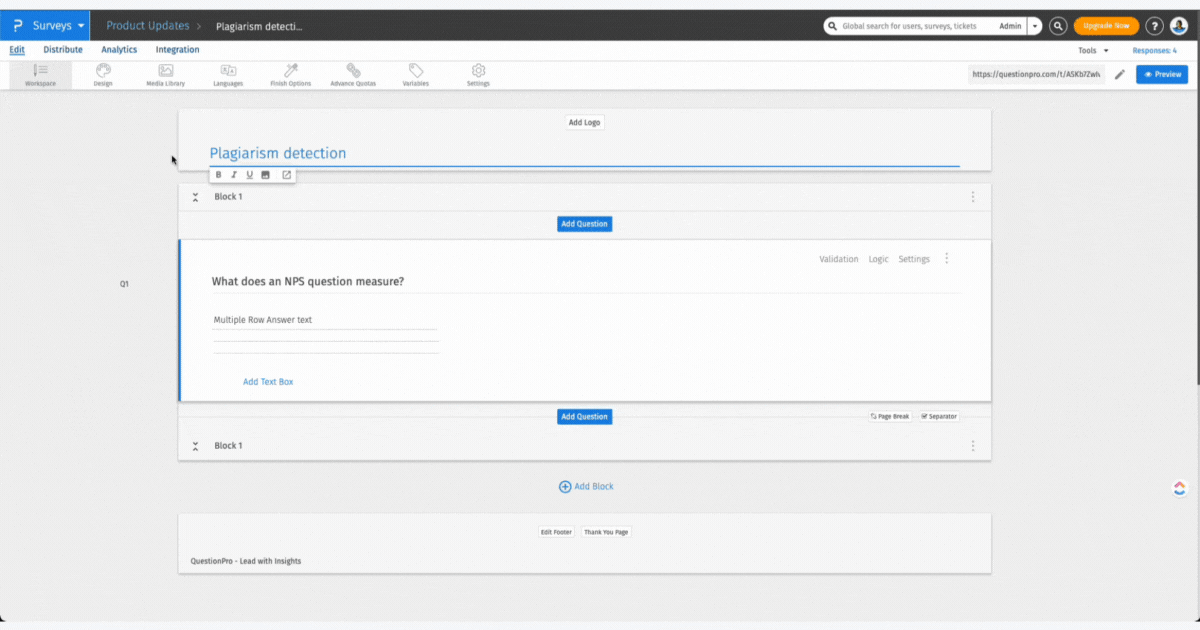 How do I enable plagiarism detection for a survey?
Go to: Login » Surveys (Select Survey) » Analytics » Manage Data
Under Manage Data, select Data Quality option.
Switch on the toggle for the
Plagiarism Detection
data quality flag. Responses collected after enabling selected modules will be screened for the quality checks.
You can click on the settings link for plagiarism detection to switch on/off
Copy/Paste Detection
Bot Response Detection
How is the response flagged for bot detection?
We have or special sauce to score response against bot responses. Responses with similarity score above 80% match will be flagged for bot detection.
How to terminate a response if a bot response is detected?
When data quality flags are enabled, by default the responses are only flagged. If you wish, you can also terminate responses. You can combine multiple flags under terminate logic.
To terminate responses for plagiarism detection flag, you can select it under the terminate response option.
Where can I check flagged responses?
Go to: Analytics » Responses
Here you can view the flagged responses.
Click on the response ID and the response will open in a popup.
License
This feature is available with the following license :